Keratin Hair Treatment Prep: Getting the Basics Down
Get ready for straight strands with a keratin hair treatment. 
We're always on the hunt for the best possible ways to achieve pin-straight locks. Seriously, us gals are really dedicated in our quest to achieve perfect hair that we often blast it with heat, apply globs of questionable products and follow our favorite bloggers for insider tips and hair treatment ideas. One such treatment that's been getting a lot of buzz is the keratin hair treatment. Believed to reduce blowdrying time by up to 70%, powerful keratin smoothing treatments can get rid of frizz, making your locks silky, smooth and manageable.
You can say that we are impressed. However, since this procedure changes the structure of your hair, it's really important to know all about it and how to get your hair ready, if and when, you decide to go through with this professional keratin hair straightening option. Read on to discover exactly what you should do before your get a keratin treatment:
What is a Keratin Hair Treatment?
Our hair is comprised of keratin, a protein that makes locks strong and tough. Over time, keratin can weaken and become more susceptible to damage. Of course, we aid in that process with chemical treatments, heat styling, hair coloring and product overload, to name a few! The best keratin treatment works to revive and rearrange the bonds in your hair by filling in what you lost, making your hair smoother, healthier, easier to manage and more resistant to frizz.
How to Prep Your Hair for a Keratin Hair Treatment
Without breaking the bonds in your hair, keratin treatments products and treatments work to make your hair healthy over time and are also said to protect your hair from heat and damage from the sun. The procedure however, is temporary, and your hair will eventually go back to its natural state in around three months after the treatment is completely washed out.
1. Know the facts.
Before you book your appointment, make sure to do your research on the best keratin hair treatments to better understand the process and how your hair will change. This isn't simply a new haircut; you're adding chemicals to your hair to change its protein structure.
2. Don't color-treat your strands.
Your hair is about to undergo a huge chemical treatment, and the last thing it needs is even more damage. Be sure to stop coloring about four to six weeks before you get a keratin treatment.
3. Consider a trim.
Split ends are split ends: There's no magic formula that's going to make them disappear. Since you're about to get straighter and more manageable locks, you should also make sure that they're healthy-looking. A small trim—about two inches—should be sufficient.
4. Relax.
Any new treatment option can bring on a host of newfound anxieties. Once you make it to the salon, chill with your favorite magazine and rest assured that your tressed as well-prepped for this moment!
How Long Does a Keratin Treatment Last?
Your treatment should last around two-three months. You'll have a don't-wash period (usually a day or so to let the chemical properly sit and work on the shaft), but after that you're free to style it as you please and even get it wet without worrying that your natural texture will return.
Be sure to use one of the best shampoo for keratin treated hair like the Suave Keratin Infusion Smoothing Shampoo and the Suave Keratin Infusion Smoothing Conditioner whose formulas work to clean your hair while also making it frizz-free.
Are you thinking about trying a keratin treatment? Be sure to share the results with us over @AllThingsHairUS!
Prev Article
Next Article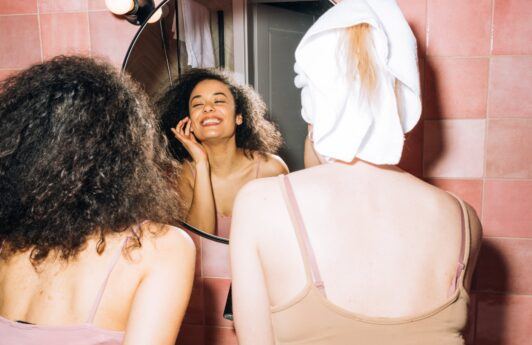 Article
Keratin Smoothing Treatment Do's and Don'ts
The easiest route to silky soft strands.
See article
All Things Hair on Instagram