Why the Faux Hawk Fade is the Perfect Day to Night Style
Tame it down or turn it up—your choice.
If you're in the market for a versatile new look that has personality in spades, look no further than the faux hawk fade. It's a hairstyle that can be worn up or down depending on the circumstance and, depending on your tastes, can look either buttoned-up for the office or totally turned up for after-hours.
The faux hawk fade, which is essentially an undercut that's styled upwards to look like a mohawk and is shaved into a skin fade on the sides, isn't as subversive as it sounds. Read on for a quick and easy way how-to on styling this look for work and play:
How to Transition Your Faux Hawk Fade from Day to Night
Day: Brushed-Back Combover
For work or more formal, solemn occasions, you can opt to style your faux hawk fade into a brushed-back look. To start, prep hair with a moisturizing system to lock in some healthy bounce and shine (we like Dove Men+Care Complete Care Fortifying Shampoo + Conditioner) and gently rough-dry with a blowdryer. Next, take a finger-swipe amount of non-greasy shine pomade, such as AXE Signature Clean Cut Look: Classic Pomade, and apply it on the tops of your hair. Use a boar-bristled brush to refine the finish and form your part, brushing hair to the back at a 45-degree angle.
Night: Funky Faux Hawk
Nights and weekends are the best time to take your faux hawk fade out to play. Take that undercut to new heights and spike it up haphazardly with some firm-hold gel. Start with a clean canvas (residue and product buildup can weigh hair down), so washing hair with a clarifying shampoo like Bed Head for Men by TIGI Clean Up Daily Shampoo can rid hair of any gunk and grease. Blow-dry on a medium setting until hair is just damp, and apply a quarter-sized amount of gel, such as AXE Adrenaline Spiked Up Look: Extreme Hold Gel, from root to tip, sandwiching the hair between palms to create that flat, spiky shape. Finish by spraying some firm-hold hairspray, such as TRESemmé TRES Two Extra Hold Hairspray, around 12 inches from your faux hawk, by keeping your look budge-free.
Want more hairstyling tips? Check out our quick guide to fade haircuts.
Prev Article
Next Article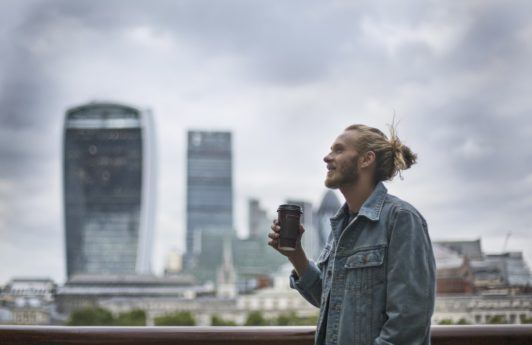 Article
Laid-Back Hair for Guys Is the Secret to Nailing Effortless and Sexy Vibes
It doesn't get more straightforward than this.
See article
All Things Hair on Instagram