30 Best Asian Hairstyles for Men in 2023
Get inspired by these awesome hairstyle ideas.
Looking for cool, new Asian men hairstyles? Then, you've come to the right place.
If you're an Asian guy, you probably find that your hair is thicker and coarser, and while that may mean it can be more stubborn to style, your natural texture does lend itself perfectly to all manner of cool, creative, and unique looks.
Here's our run-down of some of the hottest Asian men's hairstyles you should try now.
Trending Asian Men Hairstyles
1. Spiked Mohawk
We love this rebellious, yet put-together style that will work really well on Asian hair. Use your thick locks to your advantage as you sculpt the right length. You can also increase the edge factor of this look by shaving the back and sides of your hair. This edgy look is one of our favorite Asian male hairstyles.
2. Short Cropped Asian Male Haircut
A cut like this has an extremely classy look. A huge benefit: Short and tight crops allow you to show off your facial structure as it accentuates your features. To make a look like this less serious and more relaxed, rough and dry before styling to create texture and a more tousled feel.
3. The Pompadour
With or without a fade, the pompadour hairstyle is one of the most popular short Asian hairstyles to try. Asian hair usually falls on the fine or super straight end of the spectrum, so achieving hairstyles like this can seem tricky, but it can be done. To recreate the look, use a pomade on dry hair to give your style hold and control.
Smooth some Axe Natural Clean Cut Look: Classic Pomade throughout your hair to slick it back. Next, use a fine-toothed comb to remove any excess and to evenly distribute the product throughout the hair. Finally, use the tail of your comb to lift your top section at the root to create your pomp, and you're done!
4. Layered Combover
A layered cut like this can be worn more than one way and it's one of the most popular Asian men haircut options. One option: styled to the side with bangs or an offset part. Another option: Comb it over, as above.
To get the combover look, use Dove Men + Care Sculpting Paste to sleek your hair over to one side.
Editor's note: Go easy on the product application if you want volume.
5. Textured Combover
Give your fine hair a boost of texture with a style and cut like this textured combover. Axe Spiked Up Look: Styling Putty is your weapon of choice when it comes to styling a look like this.
Use the product to create sharp, spiky styles with the right amount of definition and hold.
6. The Man Bun
The man bun has quickly become a modern-day classic that's not going anywhere anytime soon. Whether you opt for a  full man bun or a man bun undercut, this style is an easy option for rocking your longer hair in a way that's either more grungy or more polished depending on the rest of your look.
7. Add Some Color
Have a little fun with color and consider dyeing the top layer of your hair another shade. Go bold with a vibrant hue of red or consider something more subtle and only stray one or two shades from your natural color.
8. Polished Hair
Similar to the fade but with a slightly more dignified air, this on-trend style is a great way to rock longer hair while still being school or work-appropriate.
9. Slicked Back
Wet hair has been making a comeback everywhere lately and this look is super easy to recreate with the right products.
A few generous pumps of Dove Men + Care Well defined Taming Gel to saturate your hair without going overboard. As one of our favorite trendy Asian male hairstyles, it's best suited for a night out.
10. Buzz Cut
Because Asian men's hair is typically straighter and thicker in dimension, those who want a super low-maintenance hairstyle should go for an ultra-short, shaved cut, a.k.a the buzz cut. If you're looking for an Asian short hair men hairstyle, this is the look for you.
To achieve this look, ask your barber to keep it tight all over, but don't be afraid to request for a little extra length on top if you want a more defined overall shape.
11. Long Choppy Bangs
With its distinctive, choppy long fringe and relatively long, layered sides, this on-trend look is also incredibly easy to style – which is always a bonus! This medium-length haircut has become increasingly popular in recent years, thanks to the many K-Pop stars who've made this boyish, bangs-anchored look their cut of choice.
12. The Half-Mun
Love it or hate it, there's no denying the popularity of the man bun – and did we mention it looks great on Asian men's hair, too?
Cool and contemporary with a traditional twist, this half-up, half-down mun suits all face shapes but is particularly ideal for gents with more angular features or strong jaw lines.
13. The French Crop
Despite its name, the French crop is actually a really universal style – and it suits Asian men's thicker, coarser hair textures perfectly. For those after a hairstyle that requires minimal styling efforts, you can't go wrong with this classic, masculine cut that essentially involves a traditional short back and sides. The top is usually kept slightly longer and can be combed forward into a fringe.
14. Curly and Wavy Layers
Get a natural-looking curly or wavy hairstyle by raking Axe Natural Look: Softening Cream through your wet hair. With this hairstyle, layers make the look. If you don't already have a set of layers, ask your stylist or barber to create shorter layers at the crown of your head.
Asian hair falls on the sleek and straight end of the spectrum, so don't be afraid to whip out a flat iron. Yes… a flat iron. Bump the ends of the layers with the iron and use your fingers to muss it up.
15. Bright Colored Hair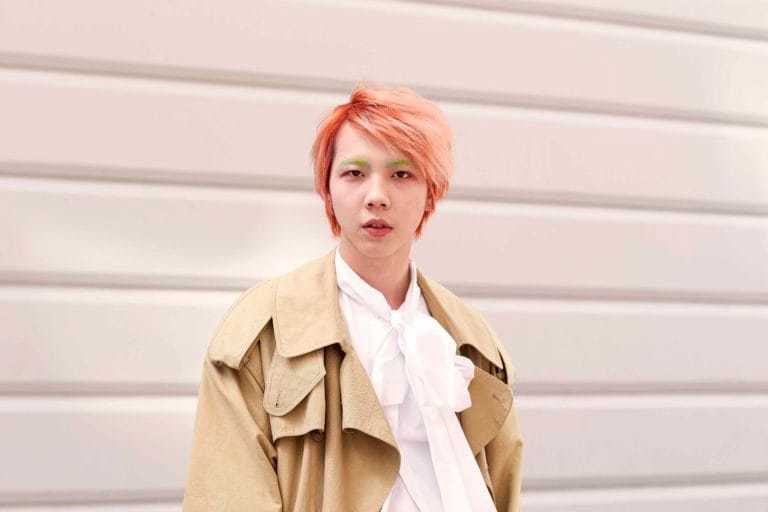 Blonde or blue or maybe even pink? Whichever hue you choose, dyeing your hair is up to you and your mood. But know that on dark hair, the hair must almost always be bleached first to obtain the hair color you want. Give it some thought before making a drastic change.
When you're ready, make sure to keep your hair's overall strength intact with a wash and care system like Dove Men + Care Fresh and Clean Fortifying 2 in 1 Shampoo + Dove Men + Care Fresh and Clean Fortifying 2 in 1Conditioner.
16. Bleached Short Asian Male Hair
If you want to go bright but aren't into the whole colored thing, then why not just bleach your hair? This color is always a bold choice, but it pays off.
17. Textured
Play up your texture with the right product designed to embrace a wavy hair type.
We recommend Dove Men + Care Thick + Full Shaping Putty. This product creates a thick and full, natural finish with a high hold and medium shine, perfect for a textured style.
18. Slight Side Shave
Give the appearance of more volume by shaving the sides of your style. This will make the longer lengths on top look thicker and much more voluminous.
19. Straightened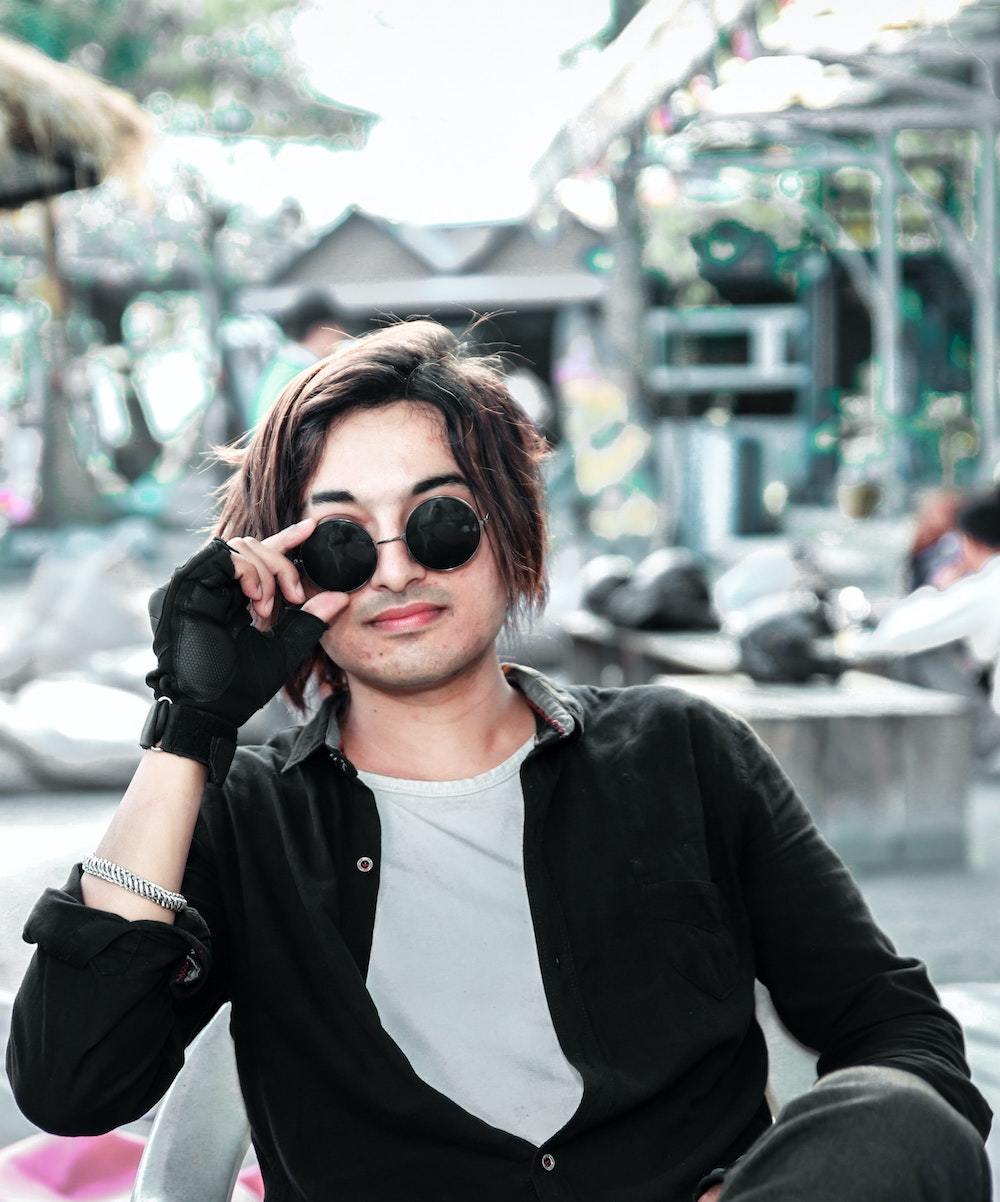 Changing up your texture can be as simple as taking a straightener to your lengths!
20. K-Pop Cut
Who can resist the charm and youthfulness of the K-pop cut? this heartthrob look makes everyone swoon and wonder which K-pop group you're in.
21. Side Shave into Facial Hair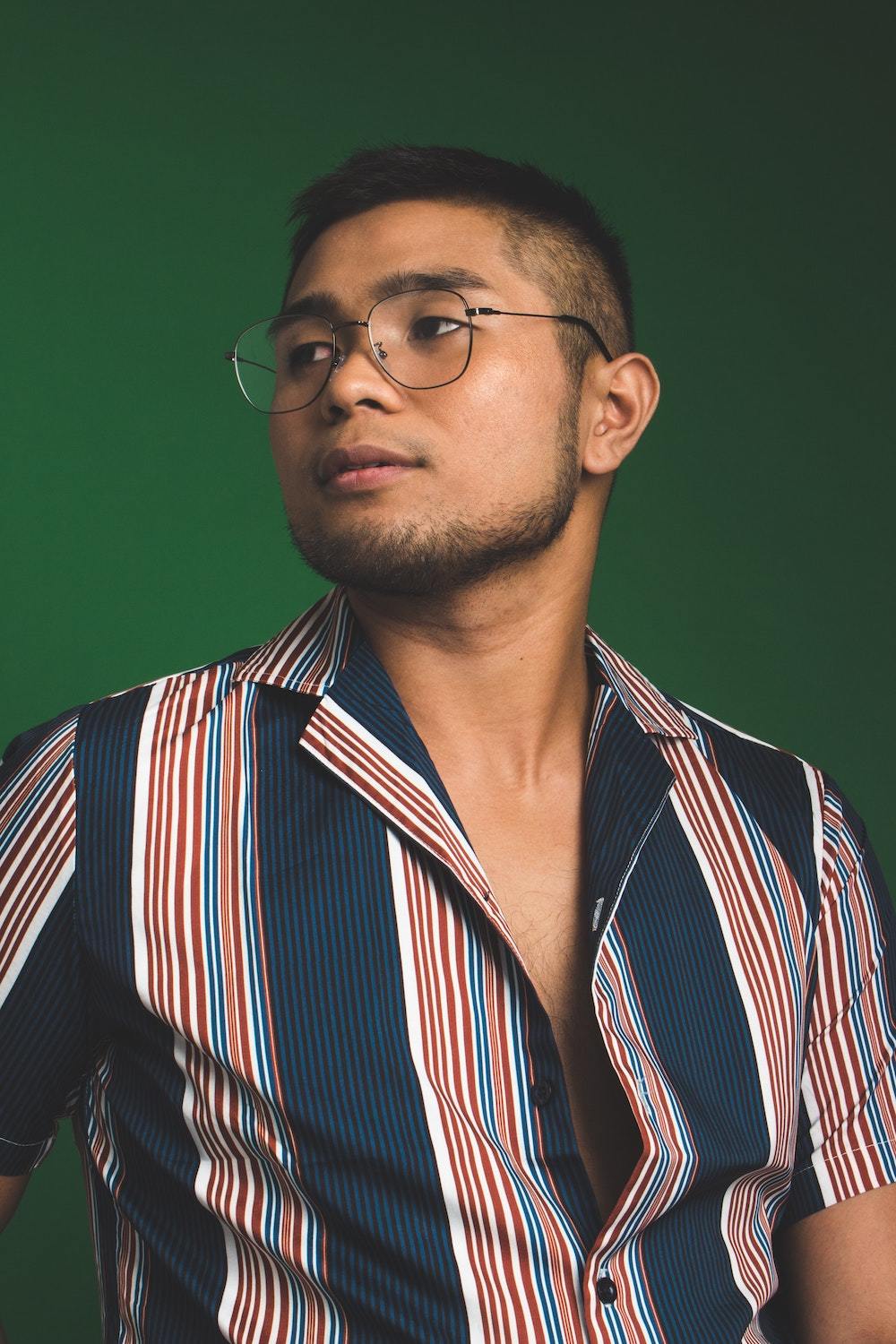 Create some continuity in your look by making your side shave and facial hair the same length. This look is smooth and clean.
22. Major Flow
Embrace the flow with a side swoop style. This look is full of volume, body, and the best kind of movement. To really lock in the style, run some AXE Texturizing Cream through your mane for extra hold and shine.
23. Short Asian Male Hair: Choppy Bangs
Go for a more rebellious look with the choppy bangs style. This look is simple to create but makes quite the statement.
24. Long and Flowing
If keeping up with hair styling and cutting isn't your thing, why not try out a longer length? We think everyone should try out a flowing style at least once.
25. Enhanced Side Part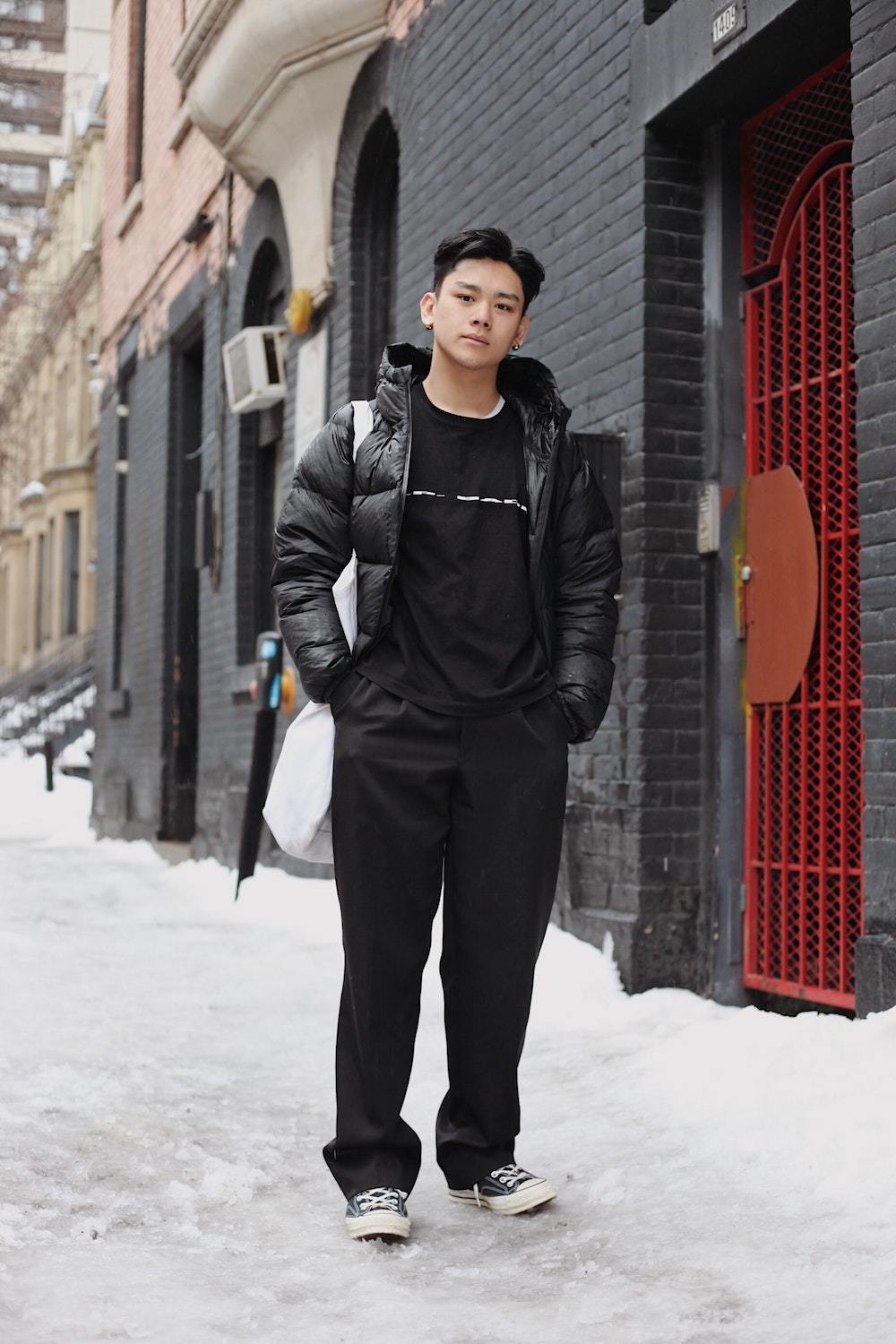 Create some slight layers in your cut to add more volume and drama. With a deeper side part comes more personality and fun.
26. Medium Choppy
You can't go wrong with the surfer-dude-inspired medium-length choppy cut. This style is perfect for anyone with a slight curl or bend in their hair.
27. Curtain Haircut
Take it back to the 90s with this chic and nostalgic haircut. The curtain style keeps taking over runaways decade after decade for a reason. Choose it if you want to look cool with minimal effort.
28. Textured Cut with Fringe
This short Asian haircut gives volume and texture to your mane without adding extra weight. The fringe is the extra detail that makes it a hot style for any season.
29. Curly Mullet
We can't stop raving about the mullet comeback and this curly Asian male haircut is no exception. Romantic and super trendy is the perfect look to rock from the office to the after-hours.
30. Ear-length Haircut
This short Asian male hair inspo is a cool take on the lob. You can play with lengths and keep it as short or long as you want. And if you need to switch up the style, you can simply change the parting!
There are so many Asian men's hairstyles that are trending in 2023. We hope you found some inspo for your next stylish cut! Make sure to grab a picture of the cut you choose and tag us over @AllThingsHairUS!
Prev Article
Next Article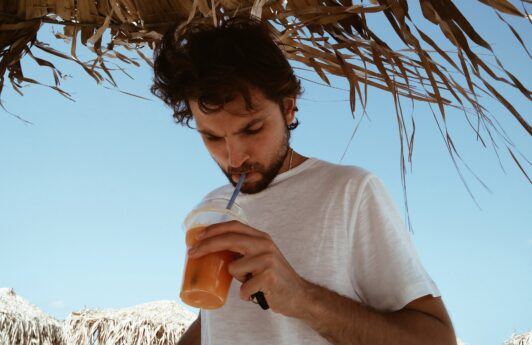 Article
How to Grow Hair Faster for Men and Avoid a Receding Line
Can you really speed up your lagging hair growth?
See article
All Things Hair on Instagram