20 Best Hairstyles and Haircuts for Balding Men in 2023
Discover the best ways to embrace or mask your spot with these hairstyles for balding men.
Hair loss is a bummer, no question. It's usually an inevitable occurrence that plagues most people at some point in their lives. Perhaps some earlier than others, but still. What's worse, premature balding has also become an issue for scores of men and women these days due to numerous factors: genetics, illness, life events, and even stress. We're here to help you out by showing you receding hairline buzzcut hairstyles you can try.
Dealing with hair loss is not for the faint of heart, especially when it comes to styling. Do I embrace it? Cover it up? Try hair loss shampoos for men? These questions are probably what you've asked yourself the minute you realized your scalp was becoming more and more prominent over time. There are definitely stylish ways to get around this, and it may be much easier than you've ever thought.
Top 10 Receding Hairline Buzzcuts For Men
Scroll down for some haircuts for balding men that are actually, dare we say, kinda hot.
1. The Buzzcut for Overall Thinning Hair
If your hair is beginning to thin out, why not cut your hair into a buzz cut? We love this look with its sleek cut and easy maintenance. On shorter hair, make sure to grow your hair long enough to take your balding area away from being the center of attraction. The short stubble blends in nicely with thinning hair.
2. Short Layered Cut for Crown Balding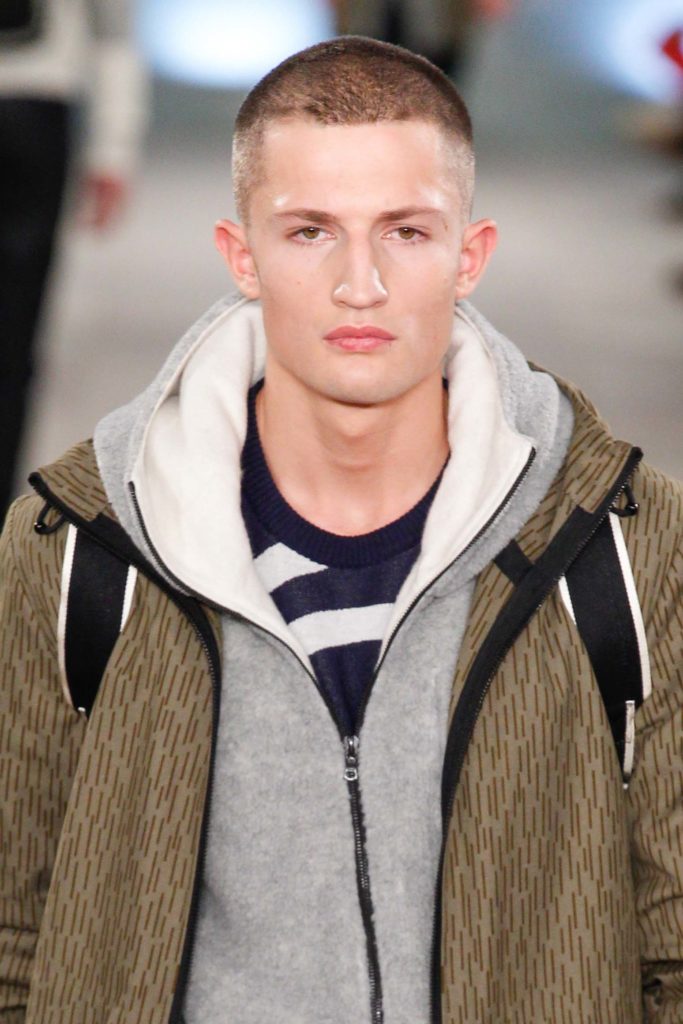 With the help of a blowdryer, give your bald spot the illusion of thicker hair. Using a concentration nozzle, blow-dry your wet hair in the direction it grows. Pick up your strands with your hands or comb and concentrate the airflow at the root to add volume to your hair. With the help of a styler like Dove Men+Care Defining Pomade, rake the product through to keep your hair in place and mask the balding area at your crown.
3. Short Comb-Over Cut for Receding Hairline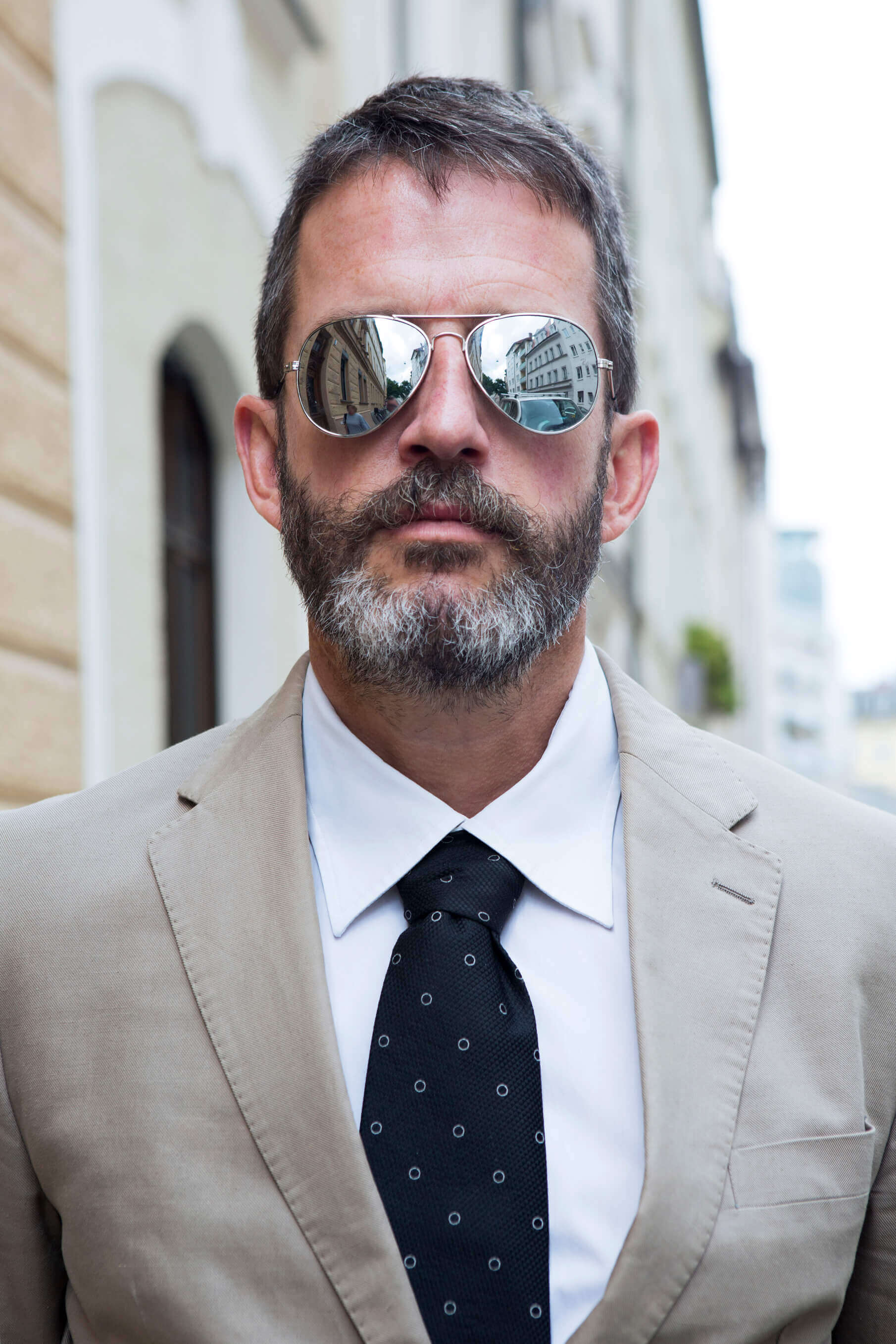 Guys, no man buns allowed, at least not for a while. If you fancy this hairstyle, it may be the reason you have this hairline in the first place. Give it a rest. Mask the weakened corners of your hairline with a short comb-over-inspired cut. Ask your barber to taper your sides but leave enough hair at the front corners of your hairline for room to hide the receding area. To style, use Dove Men + Care Sculpting Paste so you can reshape or style throughout the day, making sure your corners are covered at all times.
4. Textured Receding Hairline Buzzcut
On wavy or curly textured hair, you can opt for a shorter crop. This haircut is ideal for guys who just started to notice thinning of their hair. The layers of this short crop work with your texture to camouflage the appearance of thin hair by allowing it to look fuller. Work in some gel-like Dove Men + Care Control Gel to give your layers a stronghold.
5. The Clean Shave for Guys Balding from Front Hairline to Crown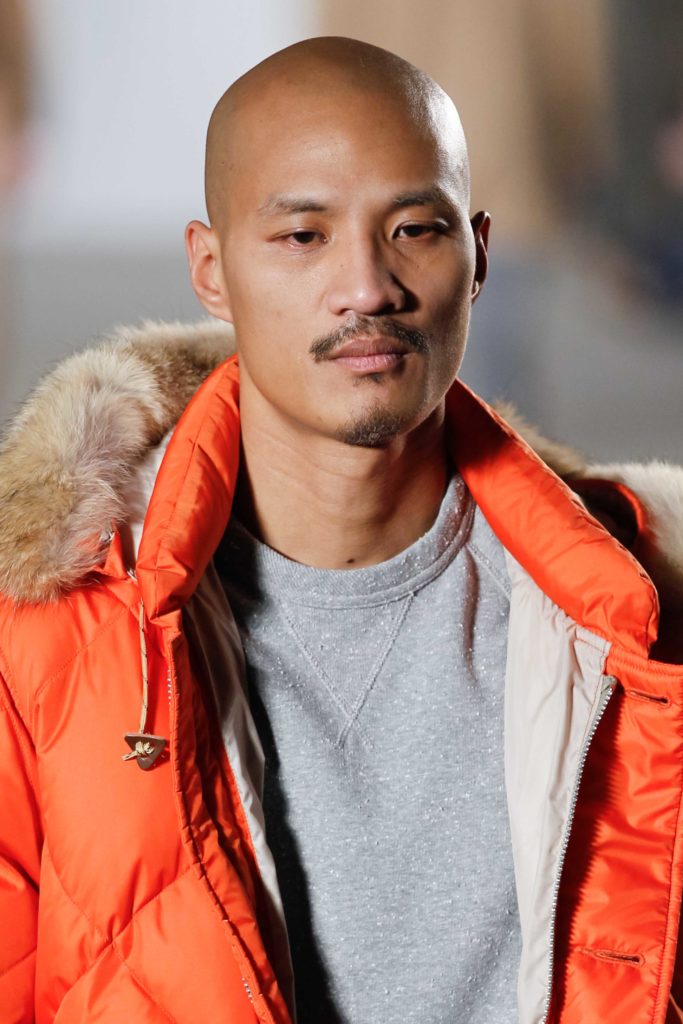 It may be time to own your new look. The clean shave is one of the hairstyles for balding men that many end up going for. Blending or masking may not work this time around. Try out a clean shave— you can gradually work your way into getting acclimated to this look by going lower and lower during each of your haircut sessions. No need to go for the plunge right away!
6. Mohawk or Faux-hawk for Severe to Mildly Receding Hairline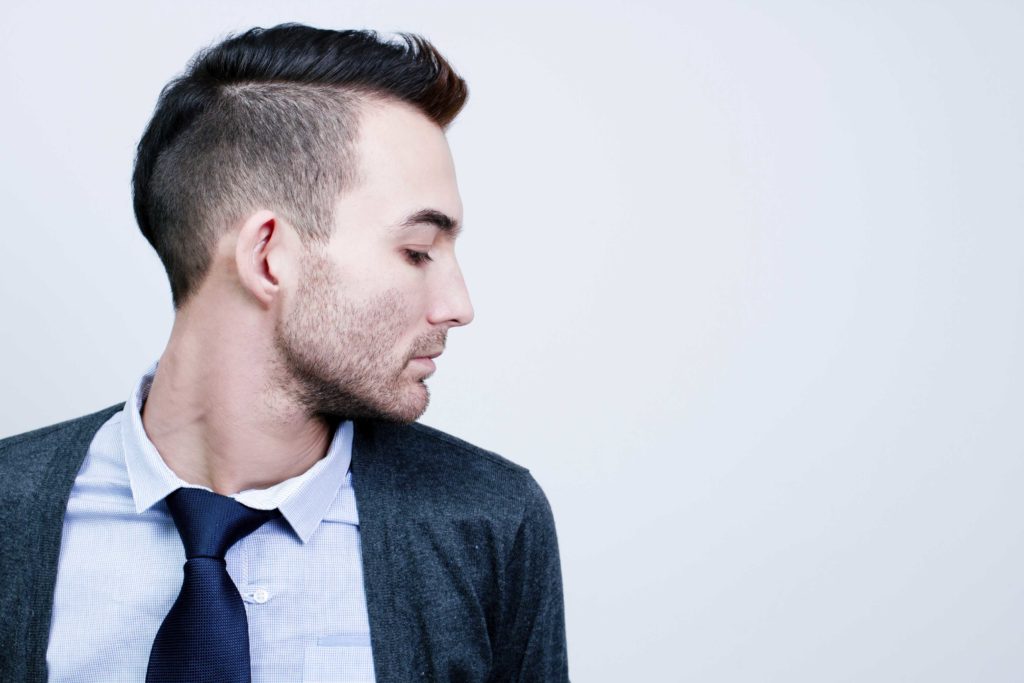 Whichever works best for your personal style, go for it. The mohawk haircut helps mask or hide the thinning edges of your hairline. Style the hair forward and work in some holding paste-like Dove Men + Care Medium Hold Molding Paste to keep the hair intact.
7. Slicked-back Undercut
Whether you wear this as a preppy side comb-over version or go full gangsta and slick it back, the high undercut is an ingenious way to hide a growing bald spot in the middle of your head via the longer hair you still have. Ask your barber for a high taper on the sides in order to make it look deliberate. Style with a high-shine pomade, such as AXE Signature Smooth Look: Shine Pomade, for the coolest results.
8. Close Scissor Receding Hairline Buzzcut
 As the name suggests, this look entails just cutting hair with an all-over taper, keeping the sides tight and the tops gentlemanly brushed to one side. Best for dudes who have an all-over thinning problem, this is a cool, classic way to settle into your new, larger hairline without any jarring edges.
9. Baby Caesar Receding Hairline Buzzcut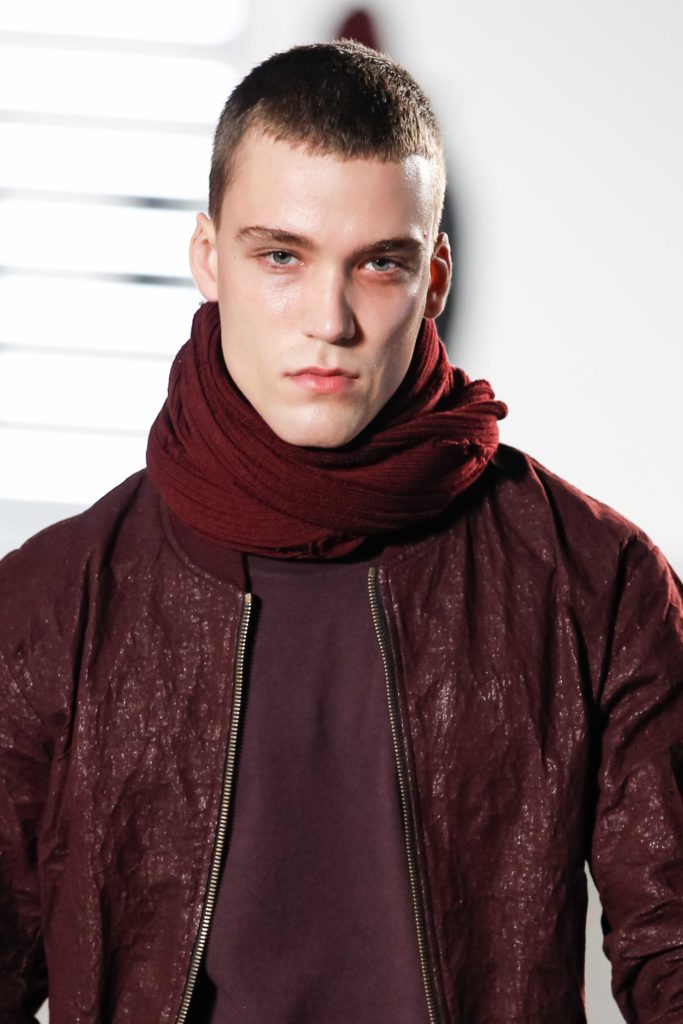 A spinoff on the '90s favorite, the baby Caesar haircut retains the short, straight hairline of the original—this works especially well on receding hairlines—and the front micro fringe. The difference is in the length, which in this case, is shorter and thinner, but deliberately so.
10. Punk Mullet
If you've still got some rockstar left in you because who hasn't (or okay, are relatively young and beset with early-onset baldness), why not take a stand with a punky, edgy mullet? The latest, coolest variations feature more natural texture at the front and subtle, less rednecky layering at the back. A soft styling cream, such as AXE Natural Hold: Understated Cream, can help give control to longer layers but still keep this cut's fun details pretty obvious.
11. Temple Fade Receding Hairline Buzzcut
If your "devil's horns" (a.k.a. the two receding bumps above each temple) are coming in, try out a temple fade. This haircut thins out specifically where the tip of each "horn" starts, blending it more seamlessly into the rest of your hair—it evens out the hairline, making the recessed areas less obvious. It also actually makes the thinning look deliberate and kinda stylish too, which is always the goal. Bonus: It's wash and wear hairstyle for balding men!
12. Close Crop Receding Hairline Buzzcut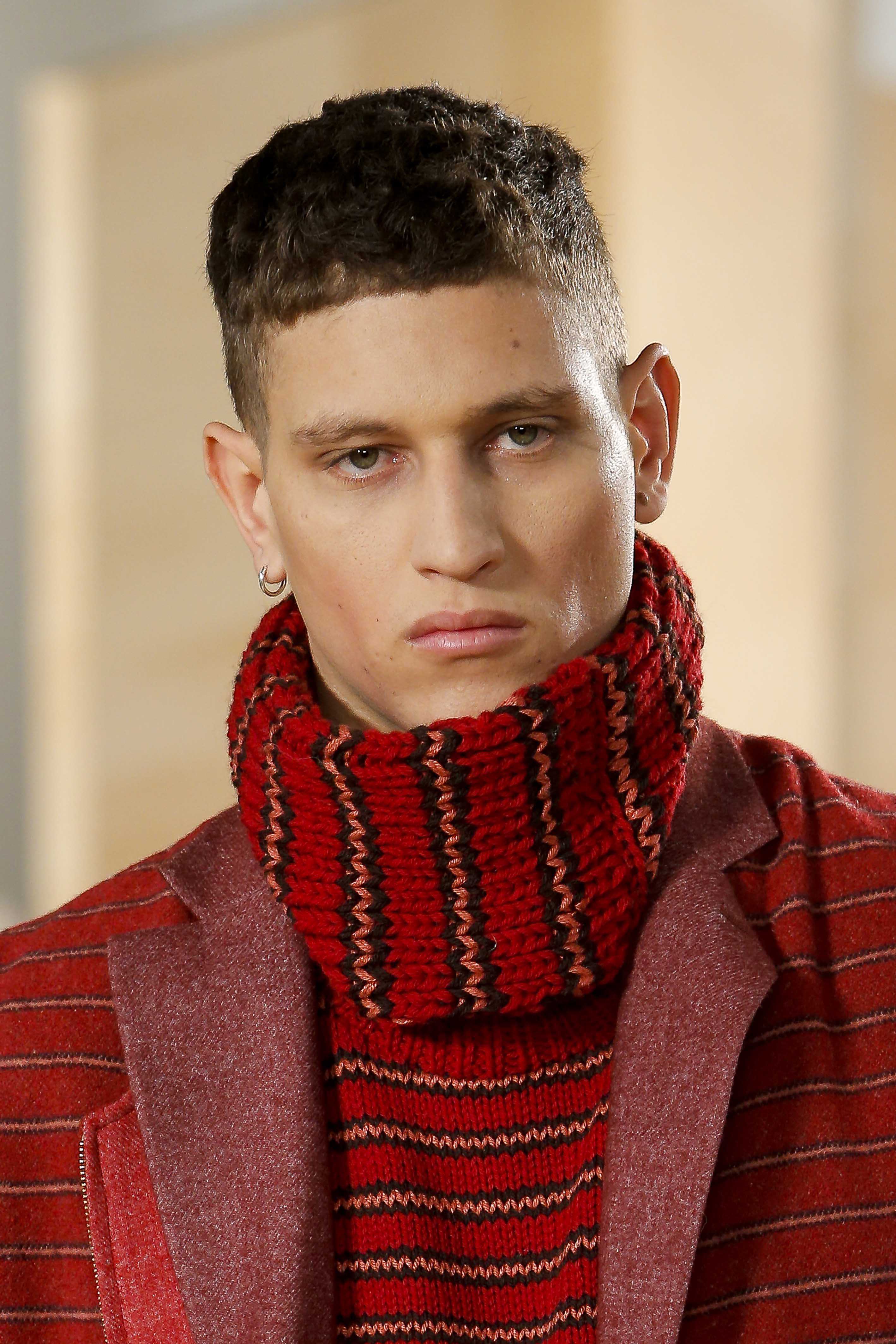 If your hair is too straight for a textured look, and you're not quite ready for a buzzcut or a fade, try the gentleman's option: the close crop. Like the curled combover, it uses around a #3 to #4 clipper guard on the sides and back, with the top trimmed using a point-cutting method (where your barber holds the scissors at an angle while snipping), which is a technique that helps add fullness. This is another wash-and-wear look that's also spiffy enough for the office.
Ed's note: It's also super-sexy with facial hair; just saying.
13. Buzzcut Fade
It may sound like an oxymoron, but a super-short fade that starts off as a longer buzzcut on top then blends into a skin fade at your neckline, is actually really flattering. Guys who are experiencing an all-over thinning of hair (and no actual patches of obvious balding) can mimic some fullness with a buzzcut fade. Want to take the extra step? Dyeing hair a lighter color can lessen the contrast between your hair and your forehead, making any receding hairlines less harsh.
14. Faded Pompadour Receding Hairline Buzzcut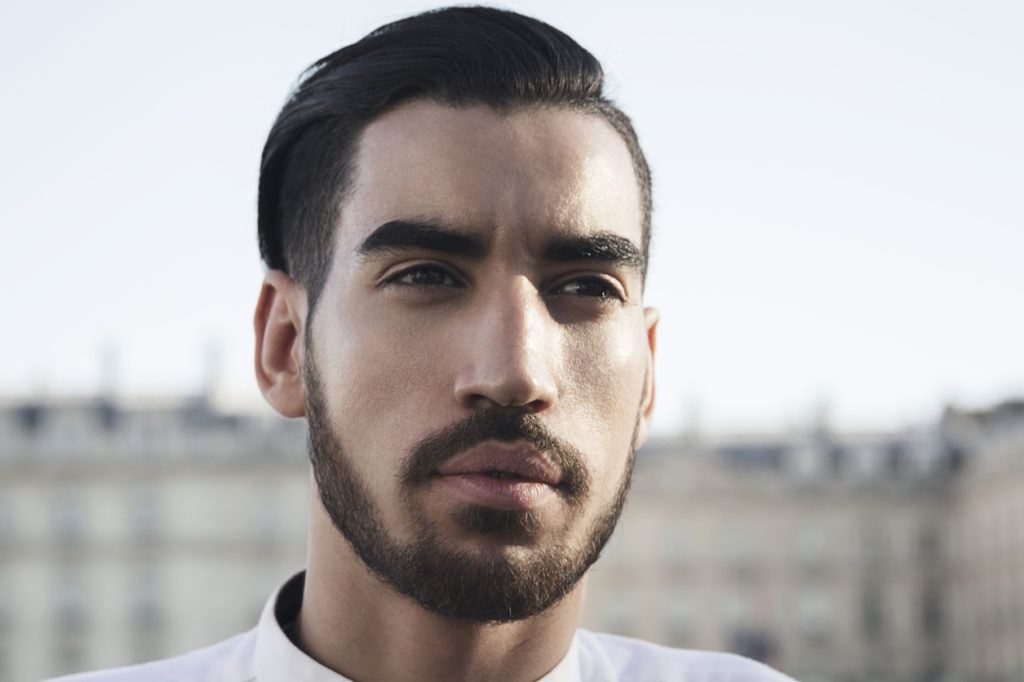 If you're dealing with a receding hairline or bald patches towards the back of your hair, this faded pompadour haircut includes shorter sides with a swept-back middle section–perfect for concealing any bald spots.
15. Graphic Shaved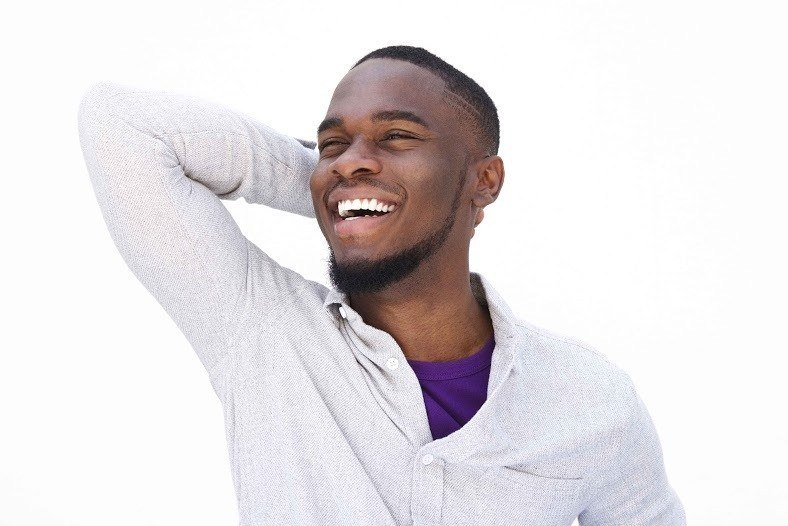 Sometimes a short-cropped look is the way to go when dealing with balding. Ask your barber to shave a graphic design or shape into the sides to add more interest to the look.
16. Ivy League Haircut
If you still have volume left in your mane, the Ivy League style is one of the trendiest haircuts for balding men. This tapered look works on all types of hair and it's perfect to conceal a receding hairline.
17. Comb Over
Incorporate your hairline in your haircut and use it to shape and define it. The comb over gives the illusion of more voluminous and thicker hair, while using your hair's natural style.
18. Slicked Back
This hairstyle is perfect both for men with receding hairline or a widow's peak. Having your hair slicked back helps define your facial features and look more chiseled.
19. Short and Messy
This dishevelled haircut for balding men is really easy to maintain and style. Simply apply some pomade after showering, like Axe Clean Cut Look: Classic Pomade,  then dry with a towel and voila!
20. Spiky Hair
Travel back in time to the 90s with this trendy hairstyle, but make it more modern. Spikes can be softer and more natural looking for a cool messy look.
Best Shampoos for Balding Men in 2023
Now that you have a new haircut selected, you'll need a shampoo for balding hair that helps keep your fresh cut in shape, and that also combats hair loss. Look for ones that are sulfate-free and have scalp-stimulating additives like peppermint and citrus—this will reinvigorate your hair follicles and assist them in going strong, thick, and healthy.
1. Dove Men + Care Cooling Relief Cleansing Shampoo with Menthol
Wake up your scalp with this refreshing shampoo. It has menthol, which cools the scalp and calms any irritation and inflation that your scalp experiences.
2. AXE Thickening Shampoo
If you're experiencing thinning hair, stop it in its tracks with this shampoo. The AXE Daily Thickening Shampoo adds volume to your hair and prevents breakage that damages hair. With consistent use, you will notice your hair looking healthier and feeling full of volume.
3. Dove Men+Care Complete Care Fortifying 2-In-1 Shampoo + Conditioner
There are many hairstyles that will help to conceal your balding hair or show it off, depending on what you're going for. You're sure to find a hairstyle for balding men that is sure to make you feel confident!
Prev Article
Next Article
Article
Why the Faux Hawk Fade is the Perfect Day to Night Style
Tame it down or turn it up—your choice.
See article
All Things Hair on Instagram