20 Gorgeous Ways to Style the Natural Hair Two Strand Twist
A round up of all things twist hairstyles! Scroll through to find your favorite.
It's pretty evident that we have an obsession with twists and braid styles, more specifically with natural hair two-strand twist protective styles. Don't blame us! We can't help but fall in love with all of the popular two-strand twist styles, and braided hair looks for black women that we're coming across. Whether the look is being worn for fun, as a protective style, or as a vacation style, above the rest (for now), the two-strand twist look is yet another hairstyle we just can't get over.
20 Natural Hair Two Strand Twist Styles
Below we're taking the time to not only talk about these gorgeous styles but to also give you a little background on the hairstyle, plus a few styling and prep tips for how you can recreate the look just the way you like. From long to short, skinny and thick, here's your ultimate two-strand twist styles gallery.
1. Havana Twists
We're currently having an obsession with this twisted style, especially since learning how Khalia Harrison of the Coveted K used it as her vacation style. We love the look of this style above, which is installed with Marley braiding hair. Maintain your style and soak up any unwanted oils with the Love Beauty and Planet Coconut Water & Mimosa Flower Dry Shampoo.
2. Yarn Two-Strand Twists
Here's a little fun fact: Besides being drawn to the look, many women opt for yarn-twisted styles because the cost of twisting tools is price friendly. Yarn two-strand twists can be created with acrylic yarn that you can possibly find for a few bucks in an arts and craft store. While we love any hairstyle that doesn't break the bank, this isn't the only reason why we love this twisted style. The texture is what we're truly in love with.
3. Short and Curly Kinky Two-Strand Twists
Like many other natural hair protective styles, two-strand twists can be styled in various ways. You can recreate anything from a short bob haircut to a curly hairstyle or even wavy hair. If you'd like to stay away from the curling iron, you can opt for wet and wavy braiding hair that curls up when wet.
To get this kinky effect above, however, use kinky hair so you'll get this soft and loose natural-looking effect. Then, roll the ends of your hair with rollers to create a curly look.
4. Senegalese Two-Strand Twists
If you like the idea of wearing two-strand twists with a traditional feeling, take cues from the African heritage and adorn your twist styles with a gorgeous printed turban or head wrap. Match your head wrap with your outfit and have fun with the look while showing your appreciation for the culture. This style, in particular, is the Senegalese style, in which twists are created with a rope-like effect. As the hair is twisted, the stylist (or yourself) coils the hair while twisting it down to the ends.
5. Two-Strand Twists Styles on Box Braided Hair
Zoom in just a bit, and you'll notice this two-strand twist style starts off as a box braid and ends with a Senegalese-style two-strand twist. Mixing and matching the styles is a great way to get the best of both worlds.
6. Twist Braids
Give your twists an extra twist by putting your style into a boxer braid. We love the textures this creates! The beauty of this look is that it can be worn in a variety of partings. Whether you wear it in a middle or a side part, this look creates the perfect look for work, school, or a casual day out.
 7. Side-Parted Two-Strand Twist Styles
Just like your everyday blowout hairstyle, a two-strand twist hairstyle can be updated by changing the direction of your part. Try a middle part or side part, as demonstrated above, to alter your overall look.
8. Two-Strand Twist Bun
Most girls like to switch up their two-strand twist styles and create updos like buns for special occasions. You can even dress your twisted updo up with hair accessories like headbands to take your styling game for fancy events one step further.
9. Micro Two-Strand Twist Styles
In this style above, individual two-strand twists are made in small sections with super straight ends. This style takes quite a few hours to finish, but the gorgeous result is worth the wait. To touch up your style and refresh your hair while your twists are in, use SheaMoisture Moringa & Avocado Power Greens Hair Tea Rinse. This is a great product to use because it'll provide a light cleanse as opposed to a shampoo, which can be a bit harsher.
10. French Braid on Two-Strand Twist Styles
Other than an updo, another way to gather your twist into one is by creating a neat French braid. Pull all your braids to one side, braid till you reach the ends, and secure with a hair tie. Braid your twists loosely to get this chunky effect. This style can also be used in your nighttime maintenance routine.
11. Two-Strand Twist Styles with Accent Braids
No matter what kind of twist style you wear, there's always a way to have fun with the look! This style takes accent braids up a notch with a fun pop of color added to it. Go bold and try some of your favorite hues.
12. Chunky Two-Strand Twist
If multiple twists aren't your style, you can opt for this chunky twist updo. We feel you, some of us don't have the patience to sit in a chair for hours getting our hair done. This hairdo is simple, easy, and is also a great protective style all year round. Keep your style tamed and edges maintained with Suave Max Hold Sculpting Gel. This gel will keep your style frizz-free and create a silky texture in your strands.
13. Blonde Natural Hair Two Strand Twists
Ready for a bold look? Create a high-contrast look with blonde twists. This look can be achieved by either bleaching your hair, avoiding the root, or weaving in synthetic blonde hair and twisting.
14. Multi-Colored Natural Hair Two Strand Twists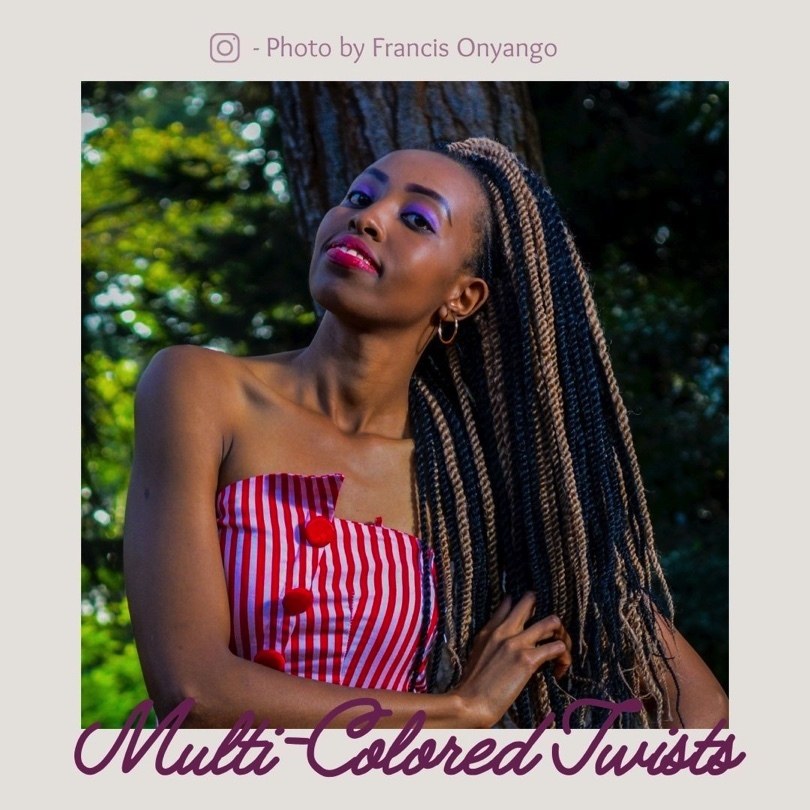 Multi-colored twists can be done with either your natural hair, synthetic hair, or yarn. This look creates high contrast and can be such a fun way to play around with color.
15. Hair Clips on Natural Hair Two Strand Twist Style
Who doesn't love hair accessories? Go for an exciting, bold look by adding statement hair clips to your twists. You can opt for anything from cute words and sayings to bright patterns to soft matte colors.
16. Loose Bobble Tie Twists
We love the contrast looser twists have compared to the typical two-strand twist. To make your look stand out even more, add bobbles to the ends of each twist. Have fun with this by changing up the colors!
17. Top Knot Natural Hair Two Strand Twist Style
Top knots are a classic style. They can be worn for fancy occasions or for everyday functions. Gathering your twists into a top knot keeps them out of your face and shows off the volume in your hair.
18. Boho Passion Twists
This boho passion twist style is perfect if you're looking for a unique protective style. It's effortlessly bold, and we love the texture and interest this type of twist adds to your look.
19. Ombré Natural Hair Two Strand Twists
Opting for an ombré look with your twists is a great way to add interest to a look. The ombré effect can be done either by dyeing your hair or using synthetic hair in your twists.
20. Natural Hair Two Strand Twists With Cuffs
Adding cuffs to your twists is a fun way to change them. This adds a little extra sparkle without being very dramatic or loud.
Are you thinking about trying out one of these styles? Be sure to take a picture and tag us @AllThingsHairUS!
Prev Article
Next Article
Gallery
How to Flat Twist Natural Hair: A Step-by-Step Guide
So many reasons to love this style!
See article
All Things Hair on Instagram