Multi Colored Hair Ideas: Colorful Hairstyle Ideas for Pride and Beyond
A statement-making look, in all aspects.
Mermaids, unicorns, and now, rainbows—oh, my! It's a great time to be alive, and though this trend's Instagram-worthiness is not lost on us, it's the bigger conversation it embraces that we're truly grateful for. Multi colored hair is great for pride and beyond pride.  Hairstyles dyed in rainbow colors akin to the symbol of the LGBTQIA+ community, have been taking to the streets long before we celebrate Pride Month in June. Check out the guide below on multi colored hair ideas for pride month and beyond.
Multi Colored Hair Ideas: Colorful Hairstyle Ideas for Pride and Beyond
Bright, creative, original, and most importantly, a show of solidarity and support for diversity (hence its many colors), multicolored hair in its truest form pays homage to the gay pride flag, which first became the symbol of the gay community in June 1978.
Originating in San Francisco, it has undergone several revisions due to fabric unavailability and is now made up of six colors, with a meaning assigned to each stripe: red (life), orange (healing), yellow (sunlight), green (nature), blue (peace and harmony) and purple (spirit).
And just as the beloved ROYGBIV stripes have found their way into fashion and pop culture, countless versions of rainbow hair have also been spotted, with people taking to social media—and the streets—to show off their awesome hair color.
Do you change your hairstyle and hair color to avoid judgment?
We conducted a survey about Pride hair and were pleased with the results. We love how your hair identity narrowly prevails over any societal judgments.
Multicolored hair ideas to try at least once in your life
From the classic eight-colored arc to neon mash-ups, here's to celebrating a fabulously multi-faceted existence. One that also encourages us to live and love happily and freely, regardless of gender, sexual, and lifestyle orientation. Love, peace, and hair grease!
Ed's note: If you're going for a stunning rainbow color, you'll need some dyed hair-friendly products to keep your style vibrant and alive. We recommend washing with a duo like TRESemmé Keratin Smooth Color Shampoo and TRESemmé Keratin Smooth Color Conditioner to protect your rainbow colors and extend the vibrancy of your bold style. Additionally, if you experience sensitive scalp or hair breakage, protect your hair while dying with Dove Hair Therapy Breakage Remedy Leave-On Scalp Treatment.
Do your accessories confirm your hair identity?
Yes! Accessories are the best way to express our identity through our hairstyles; rainbow hair is definitely on-trend.
Prev Article
Next Article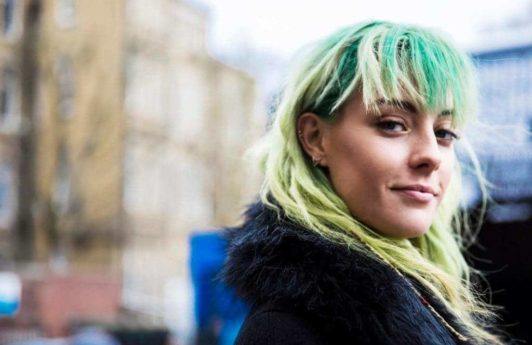 Gallery
Green Hair: 10 Wearable Shades of Green Hair Color
Luck for the new year, anyone? Check out these 10 fresh, wearable shades of green hair color to consider.
See article
All Things Hair on Instagram