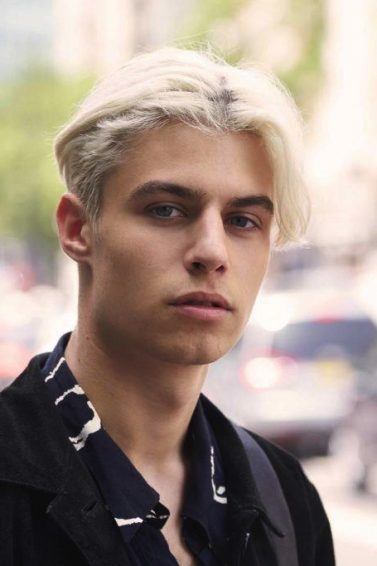 6 E-Boy Hair Looks for 2022 and How to Style It
This aesthetic is everything for men in 2022.
There's no doubt about it, e-boy hairstyles are here to stay for 2022. This specific hairstyle is characterized by a longer length at the front, with a middle part and cascading strands, giving the hairstyle a curtain feel. The rest of your hair can be the same length, shorter, or even longer. However, e-boy hair is most commonly paired with hair that is slightly shorter in the back. Guys trying our e-boy hair also aren't afraid to experiment with color. From electric blues to red hues, it's common to see vibrant colors with this look.
Keep scrolling to discover more about the e-boy hair trend, get inspiration, and learn how to style this look.
All About E-Boy Hair
What is an E-Boy?
E-boy is a term that stands for electronic boy and often refers to someone who has a large social media presence. It's also an aesthetic that got started on TikTok. The look includes alternative fashion choices with heavy '90s influences. Think: Grunge meets skater with a touch of bold colors. This aesthetic translates into everything from hair to fashion.
How to Style E-Boy Hair
So, you got the e-boy haircut, but now you're not sure how to style it? Check out products you can use to easily style this look.
One way to get your curtain look under control is with a bit of mousse and a blow-dryer. On damp hair apply a hair mousse, like Suave Extra Hold Shaping Mousse. Apply a small amount of mousse throughout damp hair, comb through, and then use a round brush to blow-dry hair. This will help define curls if your hair is curly, and add volume to your look.
Have wavy, natural, or curly hair? This SheaMoisture Men Argan Oil & Shea Butter Waves Pomade is perfect for styling your e-boy hair. Work a small amount of pomade in your hands, and apply it throughout your strands. We love this product because it will add a lightweight hold to the style while using argan oil and fair trade shea butter to help keep hair soft.
If you don't have naturally textured hair, that's ok, you can still sport this style and add an extra boost to your e-boy hair curtain look. We love Bed Head for Men by TIGI Pure Texture Molding Paste because it helps promote texture while adding control and volume to our strands.
E-Boy Hair Inspiration
If you're not sure how to wear this trend, check out these e-boy looks below.
1. Piecey E-Boy Hair with Texture
Adding a piecey texture to your e-boy hair gives the overall look a messy, yet still put-together style. Who doesn't love a hairstyle like that?
2. Twisted E-Boy Hair
Any hair type can take part in this trend. If you have natural hair and want to focus on a protective style, you can still try out this e-boy look. Create a middle part with twists that fall right around ear length. Feel free to accessorize the look with small hair cuffs.
3. Bleached E-Boy Hair
Sometimes e-boy hair is all about making a statement. Turn heads with your look by opting for an on-trend bleach blonde color.
4. Longer Length
If you want an all-around longer look, this wavy e-boy hairstyle is perfect for you. It shows off your natural texture while adding movement, making it a naturally effortless look.
5. Curly E-Boy Hair
E-boy hair is a great way to show off your hair curls. To define them, use SheaMoisture Men Argan Oil & Shea Butter Defining Cream. We love this cream because it helps define hair while adding shine and manageability without weighing hair down.
6. Short Strands
Want to join in on the trend, but not go for a dramatic look? Opt for the e-boy curtain look at the front of your head, and pair it with a shorter length, keeping your strands their natural color.
From longer twisted looks to classic curtain e-boy hair, there are many ways you can sport this aesthetic.
Prev Article
Next Article
Gallery
39 Hair Colors for Men to Inspire Your Next Look
Filed under: how to rock trendy hair all year round. 
See article
All Things Hair on Instagram