Beauty Editor's Take: Inside Our Assistant Editor's Summer Morning Routine
My summer morning routine unpacked.
I graduated from college two years ago and I have to be honest: I'm still not used to my winter schedule bleeding through spring and right into summer as far as my routine goes. The long-awaited end of the spring semester and a grueling week of finals used to separate the school year from summer freedom and adjusting to this aspect of adulthood has taken some time. Apart from a weekend away here and there, summer pretty much looks the same as the rest of the year, albeit the weather is a little more enjoyable. And plus: writing articles from my front stoop sure beats layers of sweatshirts and blankets on the couch any day. I've been trying to find ways to make summer still feel summery while keeping to my regular work schedule. My morning routine with my hair is a huge part of this process and as you've probably heard countless times, it really sets the tone for my entire day. Keep reading to hear more about my morning routine and how it's changed for the warmer months.
Summer Morning Routine: The Hair Edition
Between the 90-degree weather we've been enjoying here in New York and a messy train schedule that has me waiting on the subway platform for far longer than is comfortable, I've been washing my hair a lot more frequently than I do in the winter months. While I'm still going through can after can of my favorite dry shampoo, most days my hair needs a real wash. Pair that with a new morning workout I've been trying to make a regular thing and I can't get away with only washing my hair every three days like I used to.
My day generally starts with a glass of cold water (when I can push off my coffee long enough to guzzle it down) and a quick splash of cold water on my face, followed by a simple face moisturizer (SPF included)! I throw on my workout clothes and do a quick 30-minute toning workout. By the end, I'm pretty sweaty and my hair is not looking too good. It's usually falling out of a ponytail and I've got a not-so-cute halo of frizz around my hairline.
Next, I shower.
The TRESemmé 24 Hour Body Shampoo and the TRESemmé 24 Hour Body Conditioner are a new favorite duo of mine. The shampoo instantly lathers up,  leaving my hair clean and smelling fantastic. I follow up with the conditioner and let it sit in my hair for the duration of my shower confident that it's softening my strands and ensuring major body.
1
TRESemmé 24 Hour Body Healthy Volume Shampoo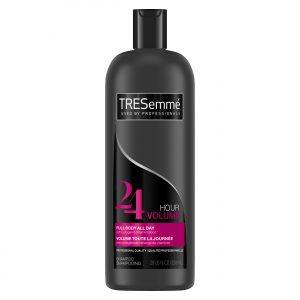 2
TRESemmé 24 Hour Body Healthy Volume Conditioner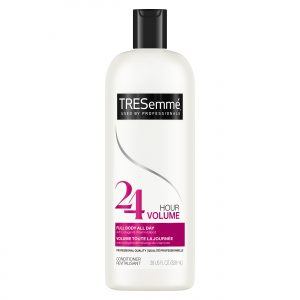 Generally, I'm a blow-dry every time I wash my hair kind of girl but when I'm washing my hair this frequently I can't really stomach that much heat damage. The Dove Absolute Curls Leave-In Detangler has been a lifesaver for the days when I hold back from using my heat tools and opt to air dry instead. This detangler emphasizes my natural waves and keeps my hair from inflating into a frizzy mess.
3
Dove Absolute Curls Leave-In Detangler
I'll move on to breakfast (yogurt with fresh blueberries when I remember to pick them up – hello summer vibes) and have my morning coffee as I sit down to write for the day. My hair is generally dry by midday and still smells amazing from the TRESemmé conditioner and the detangler combination.
Looking for more summer hair content? Check out five summer hair trends to try before the season is over. 
Prev Article
Next Article
Article
How to Grow Hair Faster: 7 Ways to Encourage Healthy Hair Growth
Insider tips on what you need to do...besides being patient, of course!
See article
All Things Hair on Instagram