Evaus is Suave: Quality Hair Care at a Lower Price Point
Suave Professionals is changing the meaning of bang for your buck. Here's why you should trust drugstore brands.
If we told you that when it comes to finding hair care products that deliver just as good as luxury or high-end salon products (if not better) doesn't have to be expensive, would you believe us? You're not alone! Suave recently went undercover as a luxurious brand called Evaus. The brand sent bottles of a chic, new niche brand called "Evaus" to millennial beauty influencers and celebrity stylists. They all loved the results of the new luxe collection but didn't know they were, in fact, using Suave Professionals. The influencers included in the experiment were invited to an exclusive casting call in New York City where Evaus' identity was revealed which completely blew them away. As drugstore brand non-believers, they all turned into #SuaveBelievers.
Believe it or not, consumers are conditioned to believe that when you spend more, you get more. Let's face it, majority of the time this rings true, but when it comes to Suave Professionals hair care, this is certainly not the case."We want to prove to women that they don't need to spend a fortune to look and feel beautiful," says Jennifer Bremner, Marketing Director for Suave.
Read on to find out the facts according to data and the testimonials that will change the way you think and view drugstore brands from here on out.
Evaus is Suave Professionals: What You Need to Know About This Drugstore Brand
"We're asking women to look past the label and reconsider Suave," said Jennifer Bremner, Marketing Director for Suave.

When shopping for quality hair care products, women tend to look at the packaging and the brand. If it's not a luxury brand, many automatically assume it won't work well or not at all. However, you can't really judge a book by its cover. "We're asking women to look past the label and reconsider Suave," said Jennifer Bremner, Marketing Director for Suave. "Give it a try. We're confident women will love their hair, and they'll love what they paid to get that hair."
According to research, data shows that millennial women, in particular, are looking for quality and value. In fact, 92% of millennial women agree that they would buy a lower priced hair care product as long as quality was not sacrificed*. "The truth is, many millennials are still playing financial catch-up and they don't want to overspend. Products and services that are high quality and with an affordable price tag are the perfect hybrid for them," says Farnoosh Tarobi, a millennial finance expert.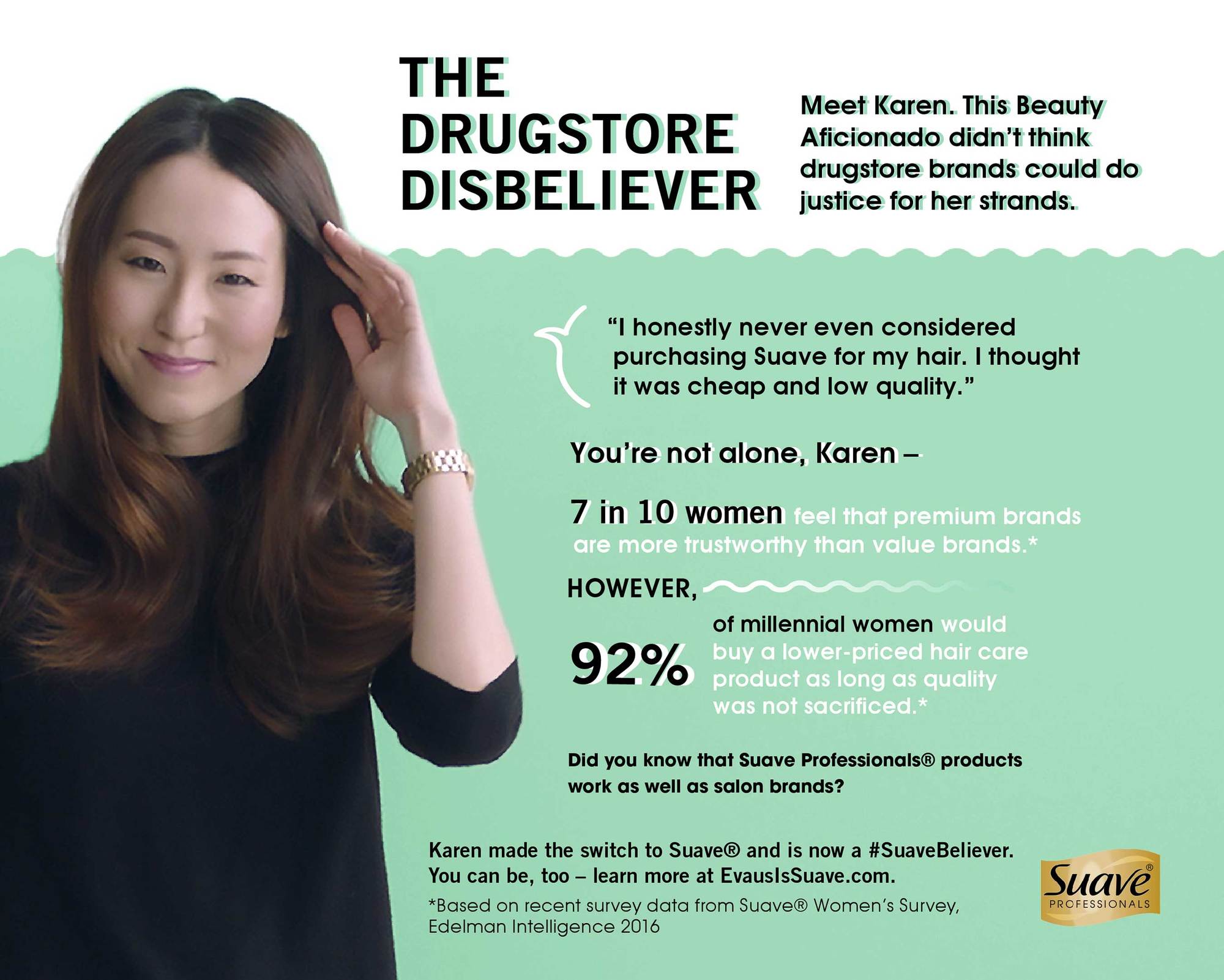 For 80 years, Suave has provided a collection of products that work just as well as premium brands but at a price point consumers can afford. Their belief: Value and quality should co-exist. The Suave portfolio includes collections that are suitable for any hair type. Therefore, every woman is sure to find the formula that works best for her without having to spend a lot of money on hair care.
Check out the video that we are sure will convince you to become a #SuaveBeliever.
Try it for yourself at EvausIsSuave.com. There you can take the Suave hair quiz to find your perfect products, get coupons, read and share #SuaveBeliever stories on Facebook, Twitter, Instagram, and more. For more of our hair care tips, head over to our Hair Care page.
Prev Article
Next Article
Tutorial
5 Hair Care Tips to Maintain Light Brown Hair
Your guide for getting the best hue yet. 
See article
Attempt to assign property "alt" on null
All Things Hair on Instagram