22 1920s Hairstyles that Bring Glamour and All That Jazz
It's official: '20s hair was the original party hair.
Whenever we think of 1920s hairstyles, an image of Prohibition-era speakeasies comes to mind: men and women glamorously decked out, all enjoying some spirited conversation, liquor, and great jazz in a dimly lit room. The now-iconic Flapper look, which features bobbed hair often embellished with a feathery accessory or two, is one of the most famous styles of this decadent, festive era—and as we'll come to see in the roundup below, certainly not the only one of note.
From revolutionary bobs to fabulous finger waves to yes, those Flapper-year headbands, scroll on down to get a deep dive into the most recognizable looks that work well beyond Halloween.
Glamorous 1920s Hairstyles You Need In Your Repertoire
As far as 1920s hairstyles for short hair go, bobs were certainly the definitive look of the decade. Women wore their hair (and hemlines!) in shorter lengths as a statement of independence, and accessorized it in a myriad of ways: Fascinators, ribboned headbands, and bejeweled pins were superbly in vogue, as well as playing up the dazzling opulence of the Jazz Age.
From sleek bobs to finger waves, check out these 1920s-inspired hairstyles that are so chic, they can still be worn today.
1. Blunt Bob
Precise and razor-sharp, the blunt ear-length bob remains a classic look of 20s hair to this day. You can never go wrong with a style like this. Pair the look with a dark-dyed hair color for a sleek look that looks especially great when going into Fall and Winter seasons.
2. Platinum
A bleached version of this classic style offers a bit of a modern edge to this iconic hairstyle. To keep your color looking vibrant and toned, use Nexxus Blonde Assure Purple Shampoo and Conditioner.
3. Floppy Hat
Offset the crisp silhouette of the helmet bob with a folksy, floppy topper hat. A hat like this also comes in handy when you're not having the best hair day. If you're looking to stay extra devoted to the 1920s style, we recommend opting for a 1920s style fedora.
4. Razored
There are no cutting corners with these sharp edges, which work best with a narrower jawline! This look can be achieved with a straight cut. For the most accurate precision when cutting this style, it is best to have a stylist assist in the styling of this look!
5. Super Short
Part Flapper, part punk, especially with a tiny hit of a micro fringe. This super short bob is a gorgeous look if you are willing to take a bold route with your bob style. Further frame your face with a full set of bangs or half bangs.
6. Multi-Strand Pearls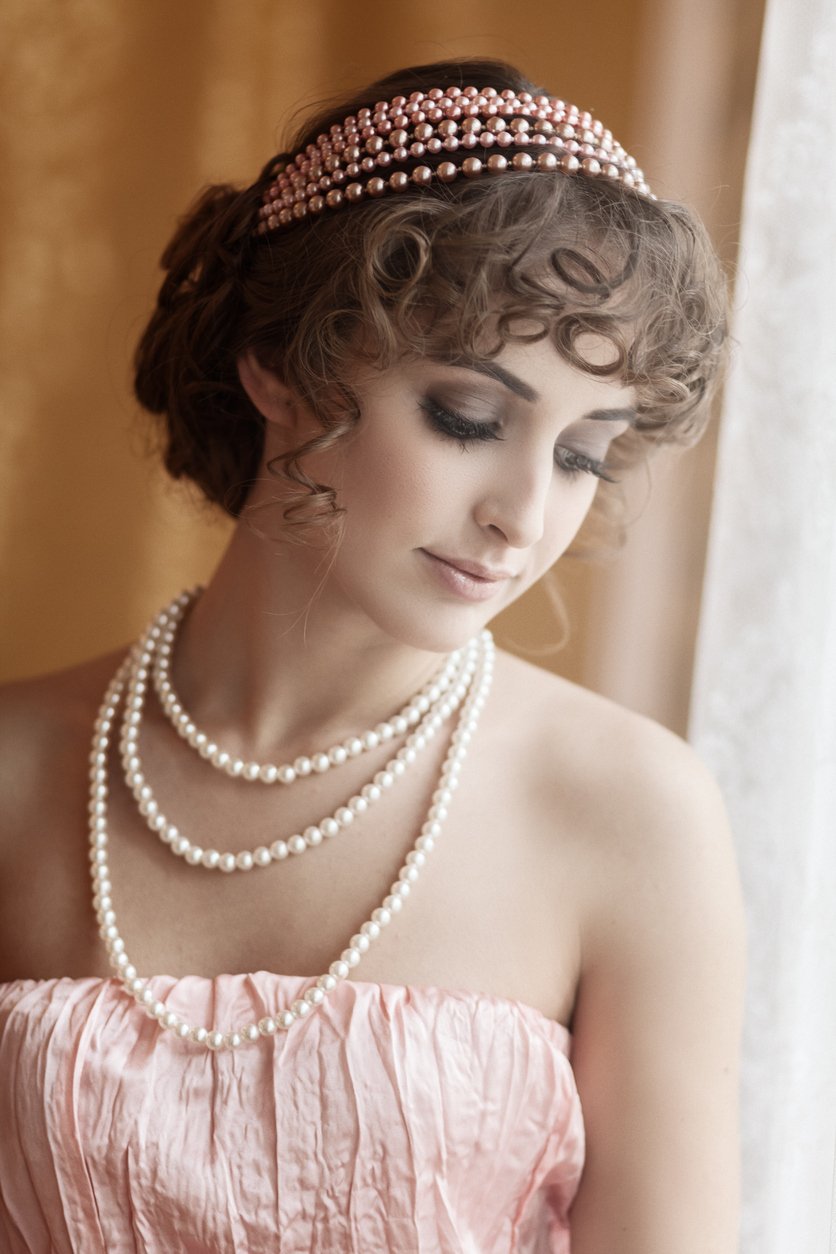 Before their renaissance on the latest runways, we first saw them during the 1920s as the gem of the decade, with women using them to adorn everything from their décolletage, via long-strand necklaces, to their hairstyles, as high-end hair accessories.
7. Curly
The bobbed length also lent itself to different textures, with the trendy zigzag finger wave being one of them. Pair this look with a visible and defined side part and baby side bangs to bring a touch of old glamour to the modern day.
8. Gelled
Slick your waves over to one side for a minimalist yet stylish evening look. We love the control and sheen we get from Emerge Style Goals Gel. For an enhanced look, we recommend also side parting your hair with a tail comb for a more sleek and sharp look.
9. Forehead Fascinator
Embellished headbands we usually wore above the brow, with an accent piece off to the side that mirrored the rest of your jewelry—and gave a short 1920s bob more pizzazz. This is a great way to spice up short hair, bobs, and pixie cuts.
10. Braided Headband
Elastic braided bands or embellished ribbons that cut across one's forehead were popular looks for parties and social events. For an easy yet intricate-looking updo, troll the back part of your hair into the headband until the back part is hidden. Then, use bobby pins to hold the look in place for your day and/or night!
11. Rhinestones
Rhinestones and gem-encrusted lace offered women another glitzy option. This accessory will look especially great when worn with rhinestones or a frilled dress. It's also a great way to add some flair to a plain or solid-colored outfit.
12. Finger Waves with Low Bun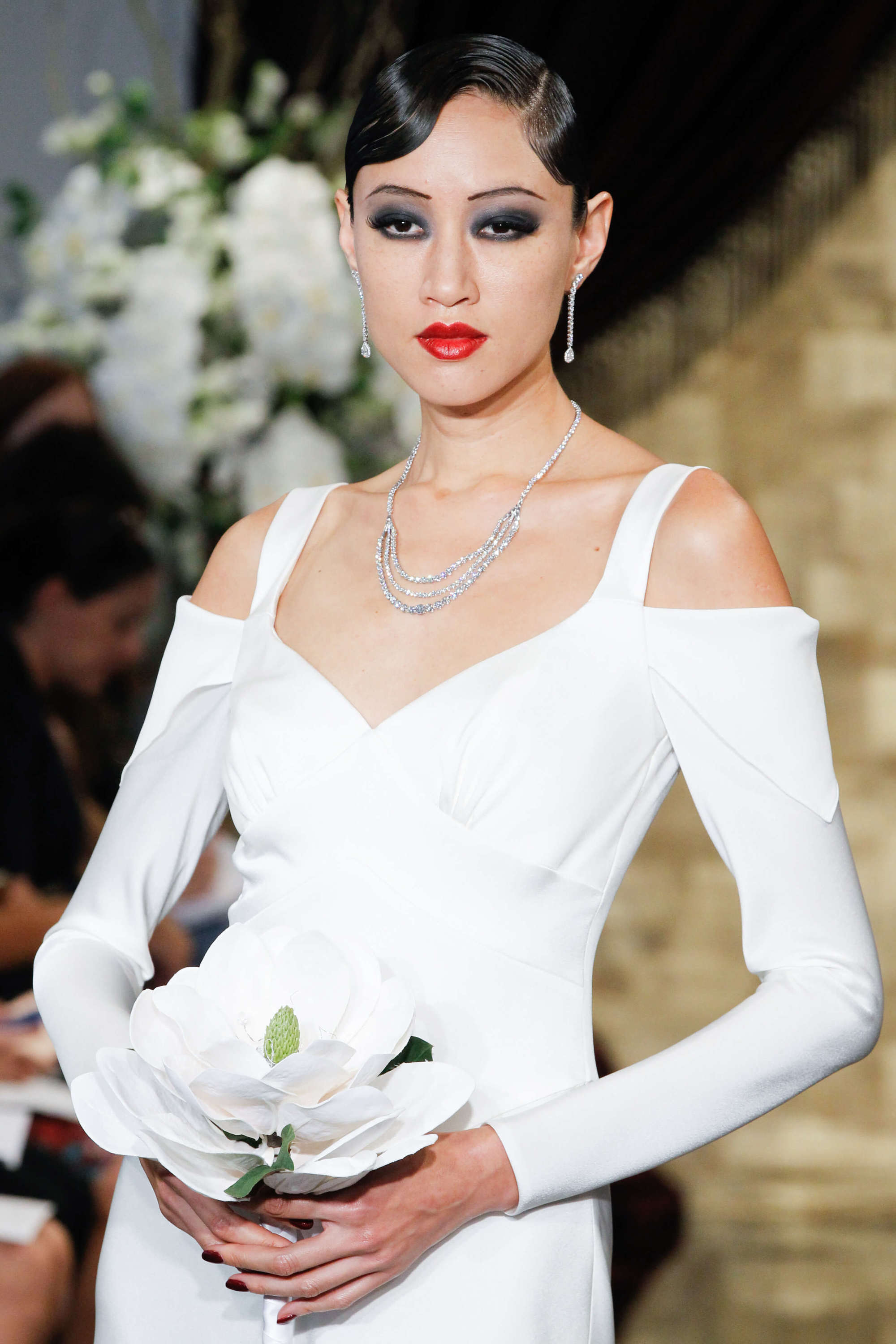 There were two wildly popular ways to texturize 1920s hairstyles for long hair during the Flapper years. The first was the finger waves technique, which entailed using your finger (surprise!) to mold hair in a zigzag strip down your forehead, sometimes using pins to secure it in place; the second was pin-curling, where hair was twirled around and pinned in place manually to set a curl.
Both produced solid, slightly damp-looking ringlets and bends, commonly reinforced with a bit of pomade, a widely used hair product during the time. To achieve this look, use a fishtail comb to mold the forehead fringe in a wide wave. Do the same on the opposite side and gather the back in a low bun.
13. Finger Waves with Gibson Tuck
Alternatively, you may also gather the rest of your hair in a loopy bun at your nape, commonly known as a Gibson tuck. This is the perfect look for longer hair lengths that may become too difficult to tuck away and pin down at times.
14. Low-Key Finger Waves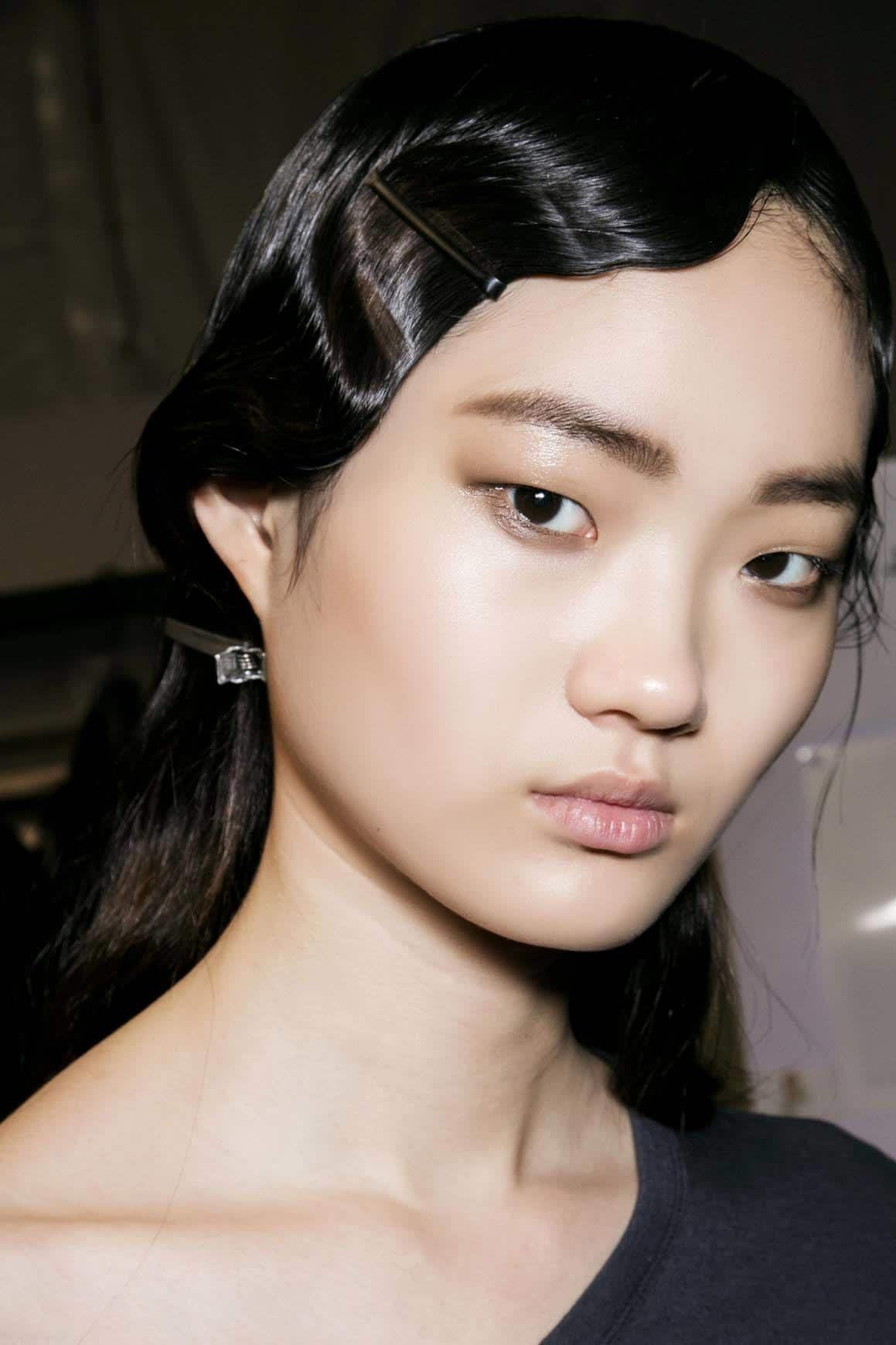 If you want a mere hint of the trend without going overboard, use fewer pins. We like creating a small crescent moon shape from the hairline, then tucking it back in with a bobby pin. Repeat one more time before the ear.
15. Finger Waves with 1920s Ponytail
This retro wave can also be made to glam up a regular low, curly 1920s ponytail. A shiny hairspray, like Bed Head by TIGI Masterpiece Shine Hairspray, keeps things gleaming and budge-free. This is the perfect look for special events where you want your look to make a mark, without having to go through the extensive effort of putting your hair in an updo.
16. Traditional Finger Waves
Looking for the ultimate 20s-inspired hair look? Then the traditional finger waves look was made for you. Hair hack: A closed flat iron achieves these true-blue Roaring Twenties look in half the time. Learn more about curling short hair with a flat iron.
17. Pin-Curled Fringe
Try curling your bang area inwards for a neo-noir take on evening hair. An inward curl instantly elevates your style so much. Tuck your hair and bobby pin it down for an elevated look that is bound to set trends in your local community.
18. Wet Look
Finger waves look both authentic and futuristic with a sharp center part and a wet finish. Think of this as a modern meets 1920s look. This style looks especially great on medium to long-length hairstyles.
19. Blown-Out Pin Curls
For a traditional, all-American take on the pin-curl, blow-dry hair and split it into several sections. Next, use your index and middle fingers to help curl each section inward on itself, securing the inseam with pins to your scalp. Tip: This is also an effective heatless curling technique, so skip the blowdry—and prep hair with a mousse, like Dove Curl Defining Mousse instead.
20. Tight Pin Curls
Repeat the pin-curl process, this time in smaller sections, for tighter corkscrews when unraveled. Once the pins are unraveled, lock the curls in place with hair spray, then you'll be all set! Wear this look out a day or two longer by combing out your curls and turning this look into gorgeous and voluminous waves.
21. Netted
A glamorous way to set hair in and out of the boudoir was to cover it with a scarf or snood, as seen here. Bring this into 2021 with the use of a trendy paisley-print twilly! This look can be achieved with a variety of scarf textures such as silk, etcetera.
22. Coiled
We're surmising this demure, pin-coiled fringe, teamed with rows of pearls, was the ultimate 1920 debutante's look of choice. This look is the perfect way to look simply elegant while keeping your hair out of your face.
Thinking about trying one of these 1920s hairstyles? Be sure to snap a picture and tag us @AllThingsHairUS! Also, for more hairstyle inspiration, be sure to subscribe to our newsletter below!
Prev Article
Next Article
Video
Tutorial: How to Create a Simple French Twist
A twisted updo that won't ever go out of style.
See article
All Things Hair on Instagram