12 Ways to Up Your Glamour Game with 1930s Hairstyles
Emulate the structured look of this glamorous, Hollywood-inspired era.
1930s hairstyles, as opposed to 1920s hairstyles, consist of more structured looks. The '20s, sometimes called "The Jazz Age," was an era that gave women the opportunity to express themselves. Women could finally vote, proudly hold down office jobs, walk the streets without an escort, and they could show off their ankles in clothing that didn't come down to the floor. To celebrate and symbolize their freedom, these "Jazz Babies," as they were called, cut their hair into bobs.
10 years later, women were living in apartments alone or with friends; they had careers and a vibrant lifestyle. 1930s hairstyles reflected those changes: As more women joined the workforce, they had money to spend on going to the salon. And with newer hairstyling tools, they had lots of options.
12 Trendy 1930s Hairstyles to Try
1930s hairstyles could seem more romantic hairstyles than the defiant bobs of the '20s. To accentuate hair, women used snoods, combs, flowers, and cute little hats to show off their personal style.
1930s hairstyles hallmarks are waves—particularly Marcel and finger waves. Marcel waves are controlled, set waves that are placed in the hair via curling irons. Finger waves are created with fingers and a comb and form that distinct "S" shape.
Watching period movies, you've probably fallen in love with 1930s hairstyles. Good news: Updated 1930s hairstyles are on the fashion runways, in music videos, and, of course, in real life. Check out our fave looks from the era below:
1. Finger Wave Bob
Get romantic with structured finger waves. When hair is wet, apply a dollop or two of TRESemmé TRES Two Extra Firm Control Gel to hair from crown to roots. Then, with a comb and your fingers, create S-shaped waves wherever you want them. Use bobby pins to keep waves in place until dry.
2. Curls and Flowers
Flowers and curls were a very big trend in 1930s hairstyles. Very curly hair was cut into layers, and often pinned into a simple bun where the curls reigned in a controlled style. Women would tuck a flower or two behind an ear and pin the flower(s) in place.
3. Waterfall Waves
Long staggered waves, waterfall waves, or Marcel waves—you can use any of the three terms—were a hallmark of Hollywood stars. To create a classic style on your long tresses, follow our tutorial.
4. French Twist
The French Twist sounds like a special coffee drink or a decadent dessert. And just like it sounds, the updo can be worn any time you're feeling extra special. Use Bed Head by TIGI Masterpiece Shine Hairspray to keep the updo up all day (and night) long.
5. Curled Bob
Women in the 1930s loved and wore teeny cocktail hats on a night out on the town. (Sigh!) To get that same vibe now, use a flat iron to add waves to your bob. Then wear a headband with attached netting (or D.I.Y. it, even), and you're ready for your night out.
6. Pin Curls & Front Wave Short Hair Updo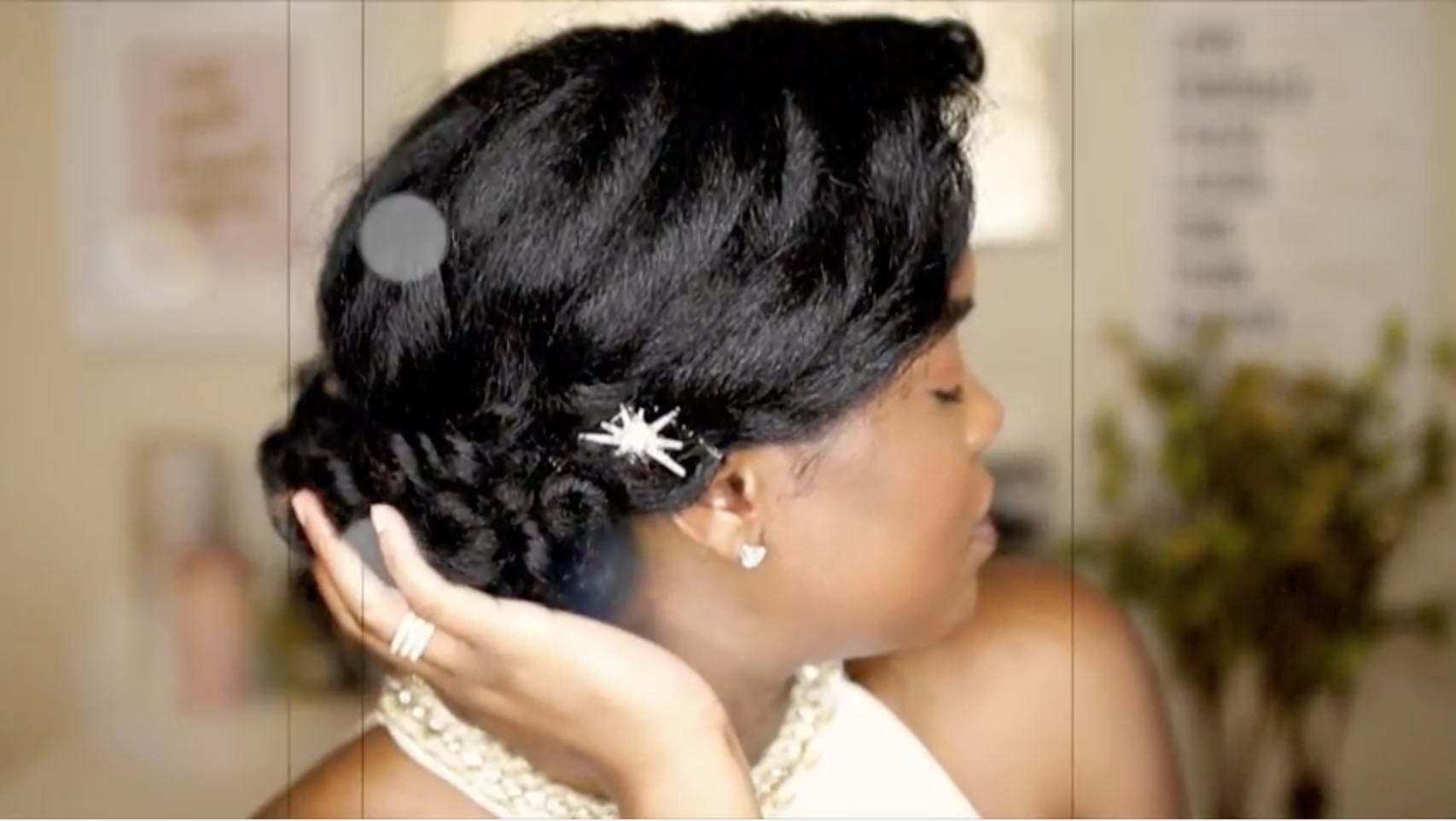 Really up your hair game with this Old Hollywood glam updo. Beauty vlogger Mini Marley has a video tutorial that gives step-by-step instructions on how to recreate this style at home.
7. Finger Waves and Low Pony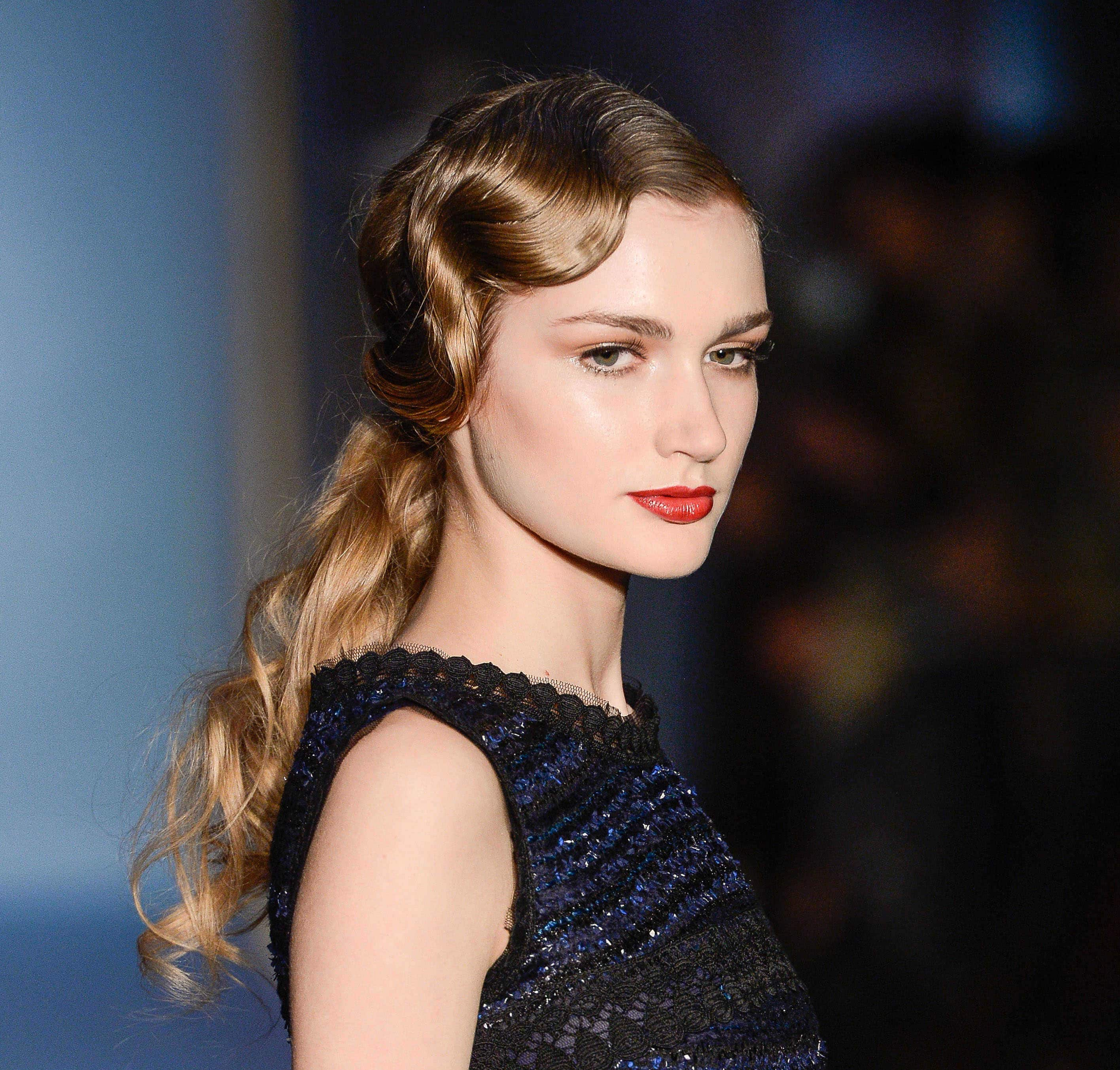 Long hair gets to shine with this style. To add finger waves to your hair, use TRESemmé TRES Two Extra Firm Control Gel to the front of your hair from crown to roots. Then, with a comb and your fingers, create S-shaped waves wherever you want them. Use bobby pins to keep waves in place until dry. To create the looser S-shaped waves for the pony, spritz on Dove Hair Therapy 7-in-1 Miracle Mist to dampen hair and let the spray dry. The heat-protecting mist protects hair against damage from heated tools while it makes hair look shiny. Once the spray is dry, use your curling iron to create loose waves.
8. Glitter and Curls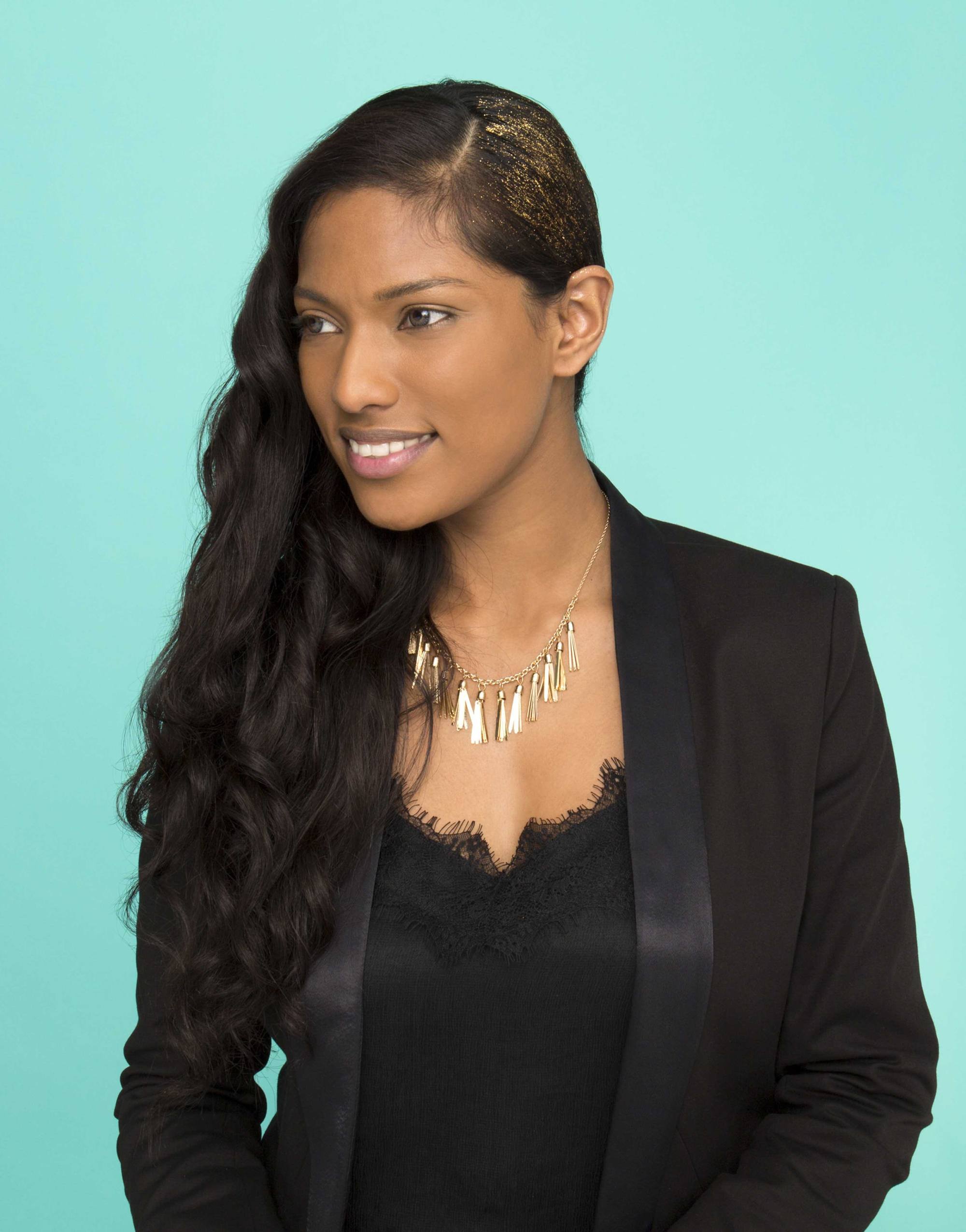 Add some glitter to your hair, and the look is complete. Perfect for a holiday party or extravagant date night out, this style is sure to turn heads every time.
9. Curly Pixie Photo
Curly hair is defined with slicked-back sides and height on top. To create volume at the crown, when hair is damp, spray Nexxus Unbreakable Care Root Lift Thickening Spray only at the roots. Then use your fingers to lightly pull the hair up and blow-dry the hair in place.
10. Rolled Bun
A rolled bun or Gibson Tuck can be created with any hair length, starting with a lob and beyond. The sleek bun is anchored at the nape. To accessorize the style, you could add sprigs of fresh flowers or place a jeweled barrette on either side of your head.
11. Marcel Waves Bob
Make a center part, and create long-lasting Marcel waves with your bob. After styling, spray Dove Style+Care Extra Hold Hairspray to ensure that your styles last all day and into the night. The hairspray offers firm control but won't make you feel like you're wearing a helmet.
12. Snood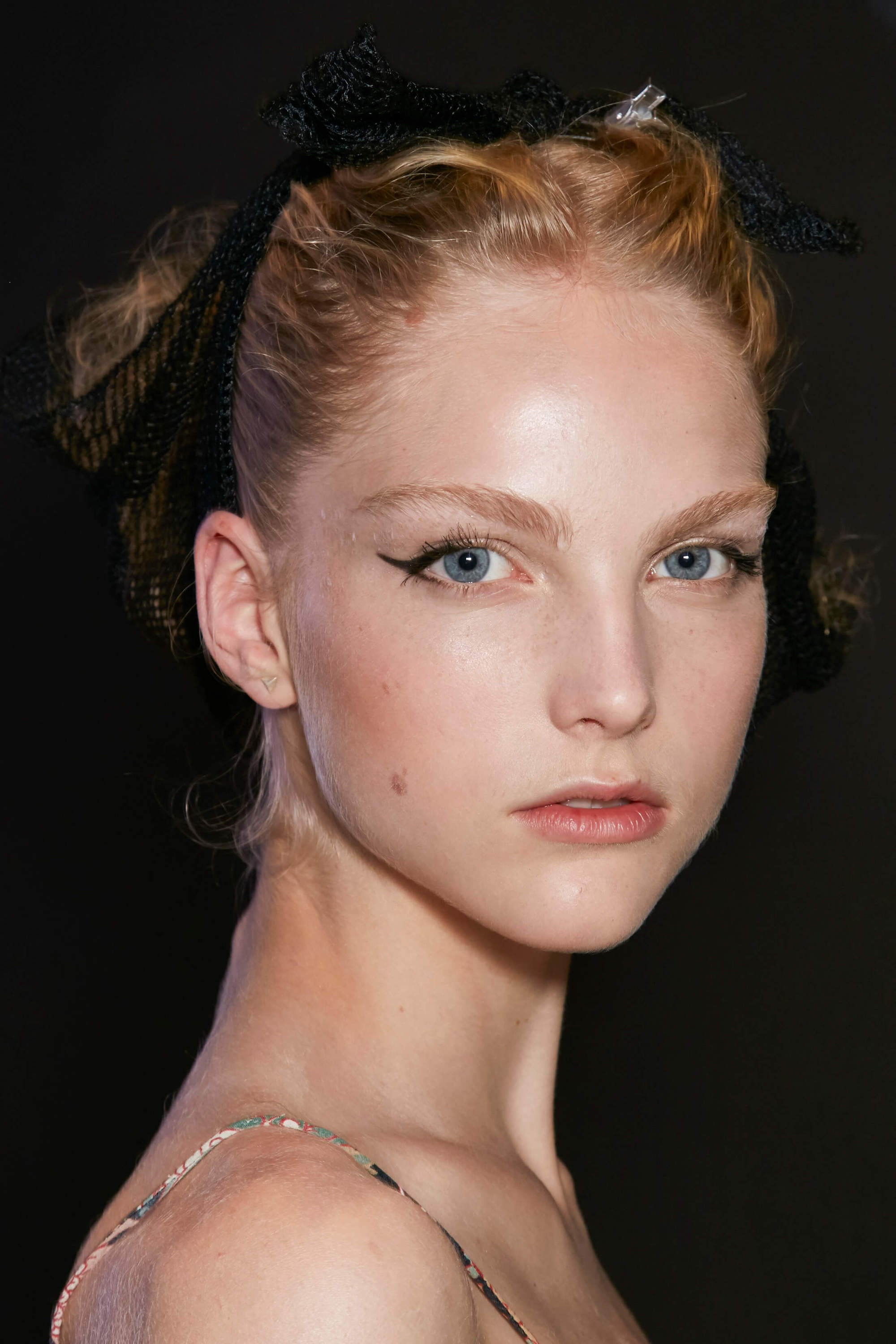 Add a snood to a ballerina bun to create a retro vibe. A snood was a 1930s hairstyle accessory that was worn for big events like parties and proms (and then became an essential once women started entering the factories ten years later). The actual snood is a small fabric, usually a netted bag that covers a bun. It had either an elastic opening or was pinned into place. The snood was festooned with rhinestones and embroidery. You can still find snoods in stores and online.
Thinking about trying out one of these 1930s hairstyles? Be sure to share the results with us over @AllThingsHairUS!
Prev Article
Next Article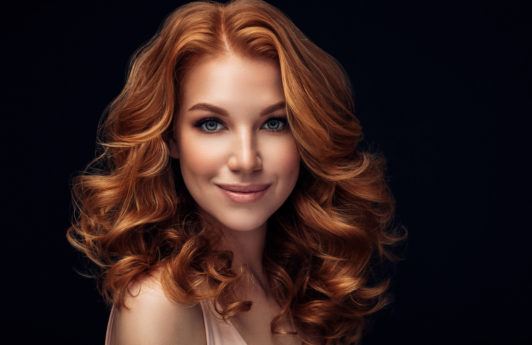 Tutorial
70s Hair: How to Do Feathered Hair with Hot Hair Rollers
Why, of course they're back!
See article
All Things Hair on Instagram