Pin Up Hairstyles Tutorial: How to Do the Glam Roll
Make your hair modern-day Hollywood glam.
You Will Need
The glam roll is a pin up hairstyle oldie but goodie that was one of the most ubiquitous back in the 1940s and 1950s. It features big, side-swept waves—fashioned via pin curling and water, back in the days of war-rationed hair products—pinned to one side. Rolled looks kept hair off of women's shoulders while operating machinery when they had to join the factory workforce during the war, which made this particular hairstyle one of the most iconic looks of that era.
Far from being ancient history though, this is a classic, party-ready look that only gets sexier with modern touches. Paired with some poppy-red lips, killer winged liner and a moto jacket, and you're set to stun under the mistletoe! Scroll down for an easy way to create these cool pin up hairstyles:
Pin Up Hairstyles Tutorial: The Glam Roll
1. Refresh your hair.
Refresh your hair by using some dry shampoo that'll absorb oil as it paves the way for bouncy, volumized looks, especially on finer hair. We like the weightless formula of Dove Style+Care Volume and Fullness Dry Shampoo.
2. Spray on a heat protectant.
Give hair a well-meaning spritz of a thermal protectant, such as TRESemmé Thermal Creations Instant Heat Tamer Spray, to shield hair from damage from your blowdryer, as well as provide some structure and softness.
3. Blow-dry your hair.
Using its medium heat setting, rough-dry hair with a blowdryer till 90%  dry. Your prep for a pin up hairstyle is almost done!
4. Prep with a flat iron spray.
Give your hair an extra layer of protection from hot tongs with a spray made for flat iron styling. We like how TRESemmé Keratin Smooth Flat Iron Smoothing Spray helps control frizz and imparts a shine, even after your curl has set.
5. Begin curling.
Start curling your hair in vertical sections, from one ear all the way to the opposite. To curl, first lock in the section between the hot tongs, then close the iron and roll the rest of the hair around the outside. Gently run hair downwards as it sets, then release.
[Editors's note: Curling this way via a closed flat iron results in a sexier, tougher-looking spiral that has a bit of an edge to it.]
6. Repeat on all sections.
Continue curling on all sections, leaving around an inch of hair free on the ends for a rougher, more modern finish. You can also opt to go in different directions with each section for a more natural feel.
7. Refine.
Put the finishing touches on the edges and the strands at the sides of your face, curling away from your face for a more flattering look. Now it's time to create some pin up hairstyle vibes.
8. Create a side part.
With the end of a rat-tail comb, section off the fringe area to create a side part.
9. Tease the fringe.
Tease your hairline to create volume at the root. You'll need this lift for your side-swoop.
10. Loosen your spirals.
Lightly take your fingers through your curls to loosen them up. One to two pumps of serum, like Nexxus Humectress Encapsulate Serum, can help to give an extra dose of shine and frizz control to your hair.
11. Pin your fringe.
Using two neutral-colored bobby pins, pin your fringe up to one side, aligning the pins so they create one straight line.
12. Apply hairspray.
To help keep your swoop in place, first give hair a spritz of finishing hairspray, like Nexxus Maxximum Finishing Mist. Then, take the part just below your bobby pins and twist it outward and away from your face, securing again with another hair pin.
13. And, you're done!
Make sure your swoop more or less hides your original two pins. Your pin up hairstyle is complete!
You Will Need
Prev Article
Next Article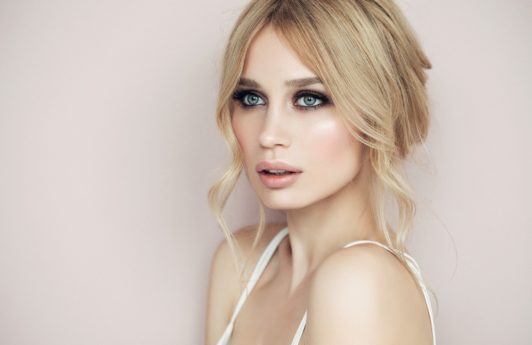 Gallery
20 Evening Hairstyles You've Got to Try
Stand out on your night out with killer hair.
See article
All Things Hair on Instagram