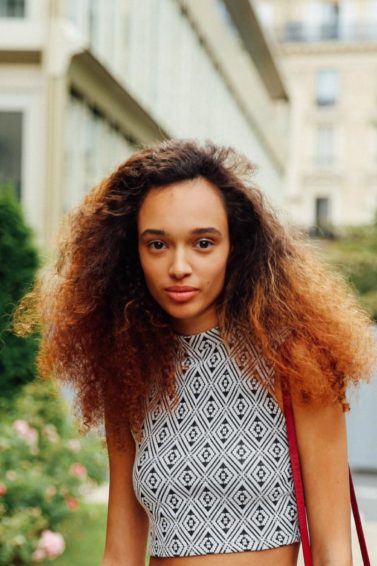 Trending Now: Brushed Out Hair
Different strokes for different folks.
Remember the days when you used to look at someone with undone hair and think that they probably didn't have time to do their hair, or that they were just straight up lazy? You have to admit, we've all judged! Well, those days are over. Undone hair is basically the new black in the hair world as it's now one of the best ways to achieve gorgeous, natural texture on hair.
Now, there are many ways to achieve hair with lots of texture. For one: It's a product to soak up oil, but yes, we agree it makes the perfect canvas for beginning a textured hairstyle. Two, backcomb with a fine-toothed comb—most of us are still getting the hang of this without creating hair knots. And, three: Using your brush to achieve the look. The latter, although not new, seems to be a street style trend at the moment, and yes, you guessed it, we're talking ALL about it today! Ladies, let us introduce you to the not-so-new brushed out hair trend! Read on to learn more about how you can get the look:
How to Achieve Brushed Out Hair
There's really no crazy and overcomplicated technique needed for this brushing method. However, your hair needs to be free from any heavyweight. What heavyweight you ask? No excessive oil or product that can cause heaviness and build-up in your hair. Your hair needs to be light and airy, but still have a proper dose of moisture.
Before trying your hand at this brushed out hair trend, begin on a clean slate. Opt for washing your hair with a moisturizing shampoo and conditioner like Suave Professionals Coconut Milk Infusion Deep Moisture Shampoo and Suave Professionals Coconut Milk Infusion Deep Moisture Conditioner. This way you can skip all the extra product at the end that is meant to help you achieve hydrated hair. However, if you need some extra moisture, then use a leave-in conditioner. We like Suave Professionals Honey Infusion 10-In-1 Leave In Conditioner because it also protects your hair from the damaging effects of heat styling tools (for those who may need a blowdryer for this).
Then all you have to do is air-dry or blow-dry your hair. If you're looking for a bit of curl, opt for braiding or twisting your hair (before drying), and release your hair when it's completely dry. Then take your brush (a boar bristle brush is a great option) and gently brush through your hair until it's super fluffy! There you have it: perfectly undone brushed out hair!
Prev Article
Next Article
All Things Hair on Instagram