32 Trendy Korean Short Hairstyles in 2022
Chic, on-trend, and most importantly, dripping with aegyo.
Some may say that Korean short hair has been one of the dark horses of this year in terms of trends, but honestly, we kind of saw this coming. After years of super long extensions, over-the-top blowouts and waves and curls as far as the eye can see, it was certainly prime time for a palette refresh. We first flirted with the concept with some bangs, where we were able to play around with length without really sacrificing all that much.
Then came that now-ubiquitous messy L.A. lob. Then came the '90s redux—a wispy, staticky fringe, minimal layers—and then here we are, in blunt bob central. And you can believe that South Koreans, being the lightning-quick trend-adapters they are, were definitely one of the first on this retro-charming bob train.
Korean Short Hairstyles for 2022
Not to say that bobs are the only Korean short hairstyles making the hot circuit right now: Several iterations of cropped cuts have gone wildly viral, thanks in part to Asian celebrities, models and ulzzang ("best face") influencers sporting the look. Scroll on to see if this trending look is one you'll be bookmarking soon:
1. '90s Korean Bob
This charmingly simple, low-key Korean bob hairstyle feature ends that are just slightly layered for an under-curve. This look is ideal for anyone looking for trendy Korean shoulder-length hairstyles that don't quite reach the shoulders. This length is so chic!
2. Asymmetrical Korean Bob Haircut
A bob where one side is marginally longer than the other is ideal for those flattering, tilted-angle "selcas," a.k.a. Korean selfies. This Korean bob haircut gives off such a chic vibe.
3. Blunt Korean Bob
Another 1990s-issue style, this look features ends that are relatively straight—giving rounder faces more heft at the jaw. We love this length for anyone looking to go short without going too short.
4. Short Hair, Korean Hairstyle: Bowl Cut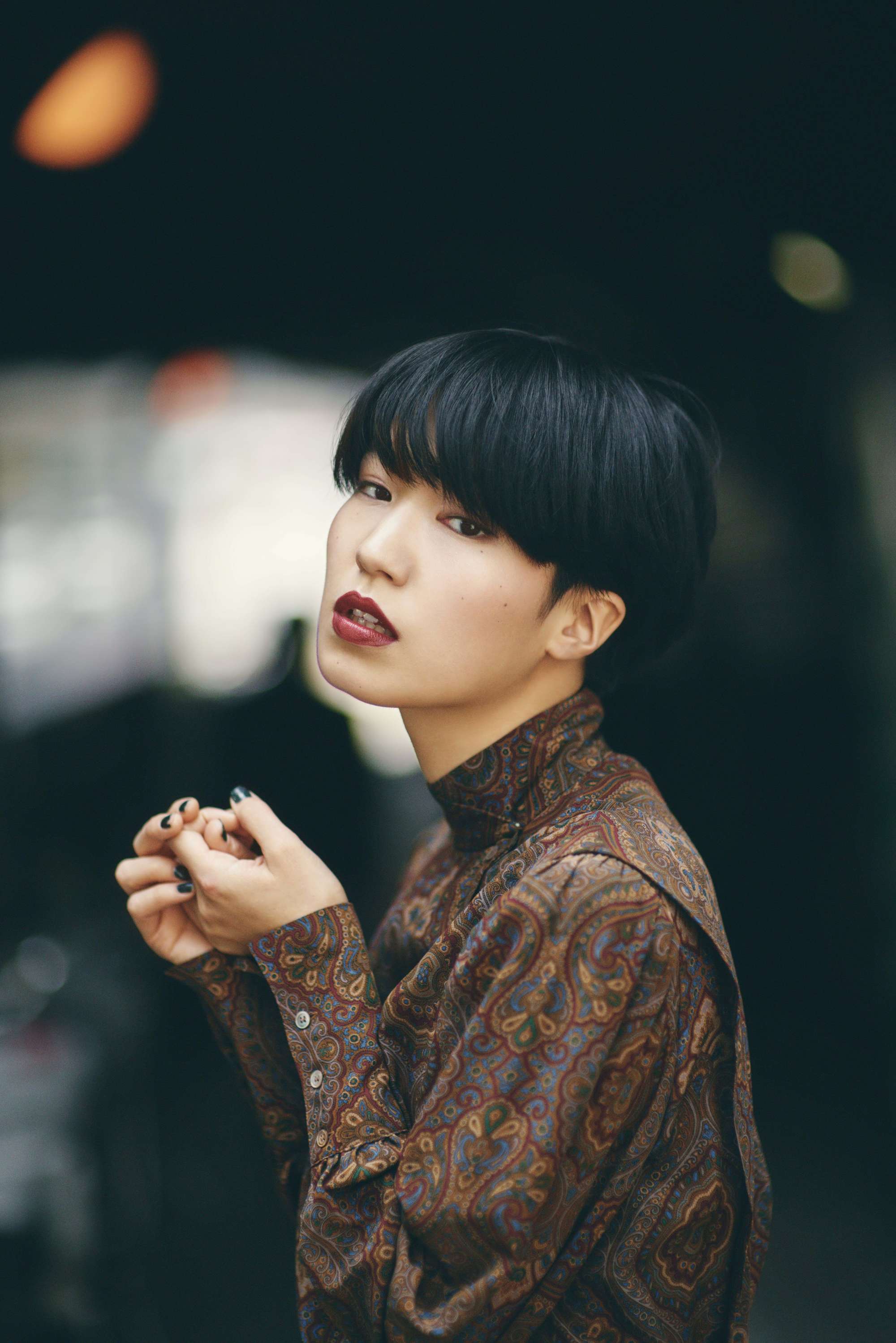 Edgy, directional, and unironically retro, a bowl cut is a gender-neutral Korean hairstyle that puts the spotlight on healthy, shiny strands. A serum, like TRESemmé Keratin Smooth Shine Serum, helps with that shiny gleam.
5. Rose Gold Lob
South Koreans are adept at experimenting with new hair colors and trends. A rose gold lob is one of those Korean short hairstyles you can sport that's both feminine and still rather ahead of the curve.
6. Burgundy Lob
Another big shade for fall, burgundy, and auburn are hot hues for South Korean markets—the warmth in the shades pop against yellow undertones. A color-safe system, like Nexxus Color Assure Shampoo and Conditioner, helps keep your red vibrant and long-lasting.
7. Ombré Flip
Flipped hair gets an even flirtier twist with a caramel ombré at the ends. This is a Korean hairstyle women love because the flipped-out ends lean into the 2000s trends we've been seeing.
8. Korean Hairstyle Female: One Length
A chic, elegant one-length bob is perfectly at home in more conservative or formal settings. Opt for a side part to change up your usual hairstyle or keep it centered for a more structured look.
9. Medium Korean Hairstyle: Shag
Alternatively, you can also certainly show your individuality with a bright blonde shag—a super hot, Korean layered hair look that hits two trends at once. The shag is all the rage in 2022 and this is a cool way to get in on the trend!
10. Concave Bob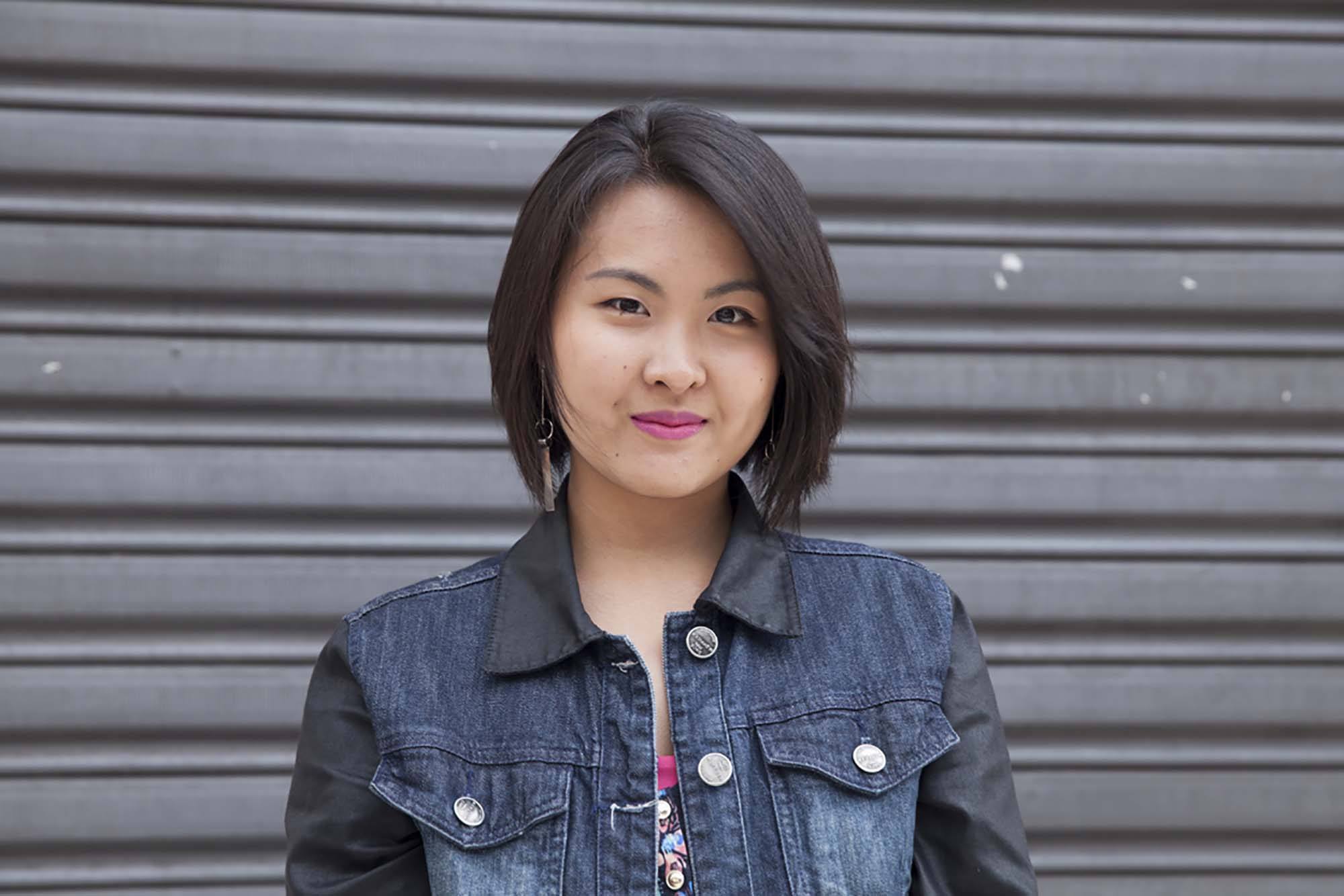 Round baby-faced shapes can play up their aegyo (winsome cuteness) factor with a youthful—and still somewhat slimming—angled bob.
11. Stacked Bob
A stacked bob is similar to the concave bob, but with a tad bit more layering at the back. Add an extra something with a fluffy fringe.
12. Korean Hairstyles Girl: Tucked Bob
Speaking of the '90s, where would we be without the tucked bob? This look shows off those wispy, see-through bangs the best, while also keeping those ears free for this season's trendy earrings.
13. Wavy Bob
A chin-length bob that has a bit of an air-dried curl or body perm at the ends is another trendy look that Korean short hairstyles have. Ed's tip: Use a small round brush and a tiny dollop of mousse, like Suave Professionals Captivating Curls Mousse Cream, to create that under-curl while blow-drying.
14. See-Through Bangs
When a Korean trend goes viral, it goes viral—so much so that you actually get a weird sense of FOMO if you don't partake. The wispy, see-through bang, particularly when paired with Korean short hairstyles, is one of those super-fashionable looks that has overtaken the landscape in a major way.
15. Trendy Korean Shoulder Length Hair: Blown-Out Lob
Even lobbed lengths get the wispy-bang treatment, but this time in a more ladylike, grown-up rendition: paired with flirty, romantic curls. This trendy Korean shoulder length hair is perfect for so many occasions.
16. Blunt Bangs
Youthful looks reign supreme in this region and this schoolgirlish concept of blunt bangs paired with a bob is still quite popular with those of us, cough, rather past middle-school age.
17. Add Layers
Adding layers and piecey bangs to your shoulder-length cut creates more depth! We love how the piecey bangs and layers look when you try out other styles with this cut too.
18. Korean Hairstyle Female: Half-Up Style
Not quite sure how to style your short hair? Pull back the top layer of hair for a half-up style. This style will keep your strands out of your face and keep you looking cute.
19. Side-Swept Bangs
Do you want to switch up the classic bob style? Add side-swept bangs for a unique twist! This short bangs length is on-trend and adorable.
20. 1920s Inspired Cropped Cut
Grab some inspiration from the 1920s with an ultra-short bob! This style is one of the Asian hair trends 2020 brought back and it has stayed relevant in 2021 too!
21. Kpop Short Hair: Light Pink Locks
Want to completely switch up your look? Go for Kpop girl hairstyles by dyeing your hair light pink! We love this frothy pink color — particularly on a short bob!
22. Collarbone Length Hair
Add face-framing layers to collarbone-length hair! These soft layers are flattering and effortless and will give your hair some instant lift.
23. Caramel Colored Highlights
Brighten up your look with some highlights! Opt for a caramel hue to add brightness without too much contrast.
24. Add a Side Part
Want to switch up your short hair, but aren't sure how? Switch your part to the side. This can totally transform your look!
25. Golden Colored Hair
Want to brighten up all of your hair and go beyond highlights? Dye your hair with this caramel / golden hue!
26. Slicked-Back Style
If you have absolutely no idea how to wear your hair, try this slicked-back style! It's chic and easy to recreate.
27. Classic Bob
Show off the true girl boss you really are with this classic bob. Hey, this style is always on trend! You can never go wrong with a look like this for any occasion.
28. 2000s Updo
There have been so many trends from the 90s and 2000s coming back lately. So, why not bring back the are trends too? Opt for a messy updo with blunt side-swept bangs for all the early 2000s vibes.
29. Korean Pixie Cut
Want to be daring? Go for this flattering pixie cut with a side part! Adding the longer side-swept bangs is a great way to ease yourself into shorter cuts.
30. Half-Up Top Knot
Keep your hair out of your face all day long with this half-up top knot style! Simply gather the top half of your hair and twist it back into a bun before securing it with a hair elastic.
31. Wavy Lob
A wavy lob is one of the most on-trend hairstyles right now. A style like this is definitely one of our go-to options!
32. Curl the Ends
So, maybe you don't want a straight lob, but you don't want a head full of curls. Curl just the ends of your hair. This will make your hair look very put-together when really, it took such minimal effort!
Whether you go for a trendy 2000s updo or a sleek bob, there are many ways you can style and show off your Korean short hair.
Prev Article
Next Article
Article
Five Facts About Dandruff You Need to Know
A few things you need to know about dandruff.
See article
All Things Hair on Instagram