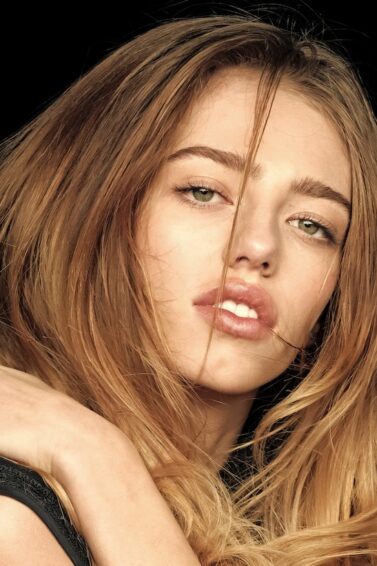 Why Concave Layers are the 90s Hair Trend Blowing Up In 2023
This fantastic haircut suits every face shape.
Do you feel you can't keep up with all the latest hair trends? We got you! The newest TikTok-led frenzy is concave layers, a take on the 90s C-cut that layers your hair inwards rather than outwards. Keep reading to learn about this hairstyle and how to get it at the salon.
What Are Concave Layers?
Like many trends, concave layers aren't new, but they've been revamped thanks to TikTok, where they count more than 38 million mentions. This 90s hairstyle consists of having your hair cut in an inward direction instead of outwards to create the illusion of more volume.
The hairdresser will achieve this style by lifting your strands and cutting with angled fingers, leaving short layers on the top and longer ones on the outside of your hair. Concave layers aren't only super stylish and remove weight from thicker textures while preserving volume and length. Literally the best of both worlds!
How Do You Ask For Concave Hair Layers?
Before you go to the salon, do some research and prep some inspirational pictures to show your stylist, as well as some pictures of what you definitely don't like. Your hairdresser will likely know the term concave layers, but if not, you can ask for a layered haircut to create movement if you have thin hair or layers to remove weight from your edges if you have a thicker texture.
Your hairstylist should adapt concave layers to your face frame to enhance your natural shape. If you're not sure you want to commit to this 90s style, you can also ask to have only layers on the bottom of your hair that you can hide easily by straightening your hair or pulling them back.
How Do You Care For Concave Layers?
This hairstyle is pretty simple and requires low maintenance. You can visit the salon every few weeks to remove split ends and keep the layers in shape. When it comes to your hair care routine, you want to keep your hair voluminous and healthy with the right products.
To minimize the appearance of split ends, we love Love Beauty and Planet Hope and Repair Coconut Oil & Ylang Ylang 3-in-1 Benefit Oil, which uses virgin coconut oil to keep your strand smooth and repair damage.
And to keep your hair at maximum volume, choose a nourishing and volumizing shampoo like Suave Papaya Volumizing Shampoo, which will make your concave layers look thick and healthy. Use it in combination with its conditioner for top results.
4 Unique Concave Layers to Update Your Look
1. Messy Concave Layers
Get the 90s it-girl to look with a shag cut and concave hair layers. The fake messiness will give you that model-off-duty vibe that is effortlessly stylish.
2. Medium Length Concave Layers
Concave layers do wonders if you want to volumize your straight strands. They also enhance your face shape and allow you to hide and accentuate certain angles.
3. Concave Layers Bob
The 90s trend isn't only for long hair! You can also create movement and volume in your bob by playing around with different lengths and cut styles.
4. Perfect Waves
Take your layers to the next level with waves. This involves adding crazy volume to your textures and making it look like you're fresh out of the salon.
Show us your take on this trend by tagging us at @AllThingsHairUSA
Prev Article
Next Article
Gallery
15 Ways to Wear Choppy Layers With Long Hair
How to work this choppy look with style.
See article
All Things Hair on Instagram