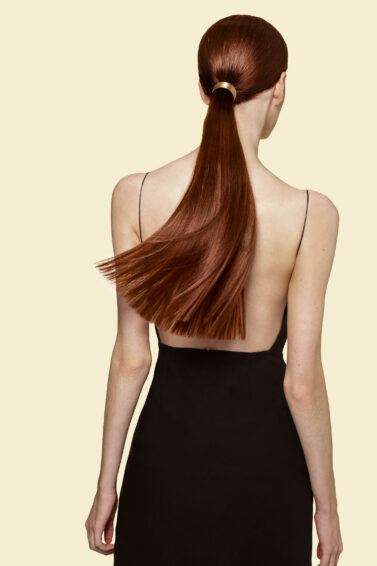 10 Proven Ways to Thicken Hair Naturally
Learn how to achieve fuller-looking locks in the comfort of your own home.
If it seems like you are always looking for ways to thicken your hair, you're not alone. Are your hair follicles feeling limp and thin? Do you wistfully dream of hair that can keep a style all day and all night? Do you wish you could take thin hair and make those strands thicker, shinier, and easy to style? It can be done with the right guidance! Below, we learn how to thicken hair naturally and rejuvenate strands in the process with a few simple tips:
How to Thicken Fine Hair
First, we will break down the possibility of finding ways to thicken your hair:
Is it possible to find ways to thicken your hair?
The short answer: Yes, but not in the way you think. Thick hair refers to the density of hair on your scalp (versus coarse hair, which refers to each strand's diameter), so the main concern here is increasing—or, in most cases, maintaining—the amount of hair that grows on your head.
So, to understand how you can make hair thicker, it's important to understand how hair grows. Hair is broken down into two structures: The follicle and the shaft. The follicle, which some people call the root, resides in your scalp. The shaft is the strand that covers your head. Most people are born with approximately 100,000 hair follicles on their scalp. According to the American Academy of Dermatology, hair, on average, grows about ½ inch a month (a.k.a. only six inches a year!), and male hair grows faster than female hair.
Also, it's not your imagination: If your hair seemed thicker when you were younger, it's because as you age, your scalp expands. In addition, as some people age, their follicles stop producing hair, resulting in either thinning hair or baldness.
You don't have to be dissatisfied with the state of your hair, as there are ways to make thin hair healthier, thicker, and fuller. Changes in your diet, taking the right supplements, and using the right hair care products can change your hair's health for the better and perhaps finally give you that fullness you desire. Read on:
Top 10 Ways to Thicken Your Hair
From your diet to supplements to hair care, find out the top 10 ways you can thicken your hair.
1. Thicken your hair by eating a fatty diet.
The old saying "You are what you eat" is a salient one. Eating healthier can help improve skin, hair, and nails. Add foods that are high in protein, biotin (which promotes hair growth), Vitamin C (an antioxidant that prevents hair damage), and Vitamin A (to promote sebum production), and include fatty foods like salmon, avocados, and mackerel as they contain Omega-3 fatty acids and assist in hair growth. Try adding the above, as well as Greek yogurt, sweet potatoes, spinach, or any dark green leafy vegetables, nuts, seeds, sweet peppers, meat, beans, shrimp, soybeans, sardines, and berries to any or all of your meals.
2. Keep hydrated to thicken your hair.
Your scalp is skin and, as such, is also vulnerable to skin-related issues. Drinking anywhere from 4 to 8 glasses of water a day can help keep your scalp hydrated and not as prone to problems like itchiness, dandruff dry flakes, and shedding due to breakage. If left unaddressed, this breakage can lead to an overall thinning of hair density, contributing to hair loss.
3. Choose the right supplements to thicken your hair.
In addition to eating healthier, as mentioned above, it's always a good idea to add supplements to your diet. A supplement tailored to promote healthy hair, like Nutrafol, can prevent hair from becoming brittle and damaged and can assist in creating a healthy scalp and thicker, shinier hair.
4. Increase blood flow.
Adding exercise to your weekly regimen can increase your blood flow and affect your hair. When you're active, it can stimulate your entire body and even invigorate sebum production on your scalp, which helps with hair growth and health.
If you don't have time for a daily workout but want to make sure your scalp is at its optimal best, try a scalp massage. There are devices that make self-scalp massaging easy to do. Try doing it in the shower after putting on a hair mask for a quick self-care session!
5. Brush properly to stimulate thicker hair.
Brushing your hair with a quality hairbrush can increase sebum activity and spread natural hair oils from your scalp to your ends. Deep brushing once a week can stimulate hair growth by stimulating the scalp.
6. Avoid over-washing your hair to thicken your hair.
If you have thinning hair, try not to wash it daily, as that can dry out your hair. Try to cleanse your hair a few times a week, and if your hair feels limp or dirty, use a dry shampoo in between washings.
Your hair will look and feel revitalized with a fresher texture. We love the 100% tapioca cleanser in TRESemmé Clean Pro Pure Dry Shampoo, which gives a fresh and clean look and feel with 0% aluminum, silicone, sulfates, parabens, or dyes.
7. Choose the right shampoo and conditioner.
Thin hair is delicate and more prone to breakage and damage than thicker hair. The right shampoo and conditioner can promote better hair health, shine, and manageability. If you have thin hair, avoid shampoos and conditioners that contain sulfates. While sulfate does a great job of cleaning hair, it also can strip the hair and scalp of natural oils and can make hair brittle and prone to breakage.
If you want to quickly plump up hair, look for shampoos and conditioners that are sulfate-free and have volumizing or thickening properties. Shampoos that contain ingredients like biotin, keratin, cellulose, hyaluronic acid, and Vitamin B can help your hair get stronger from the inside while also making your tresses shiny with lots of volume. If you want to enjoy hydrating benefits fully, try a hyaluronic shampoo and conditioner.
We like the light conditioning polymers in TRESemmé Thick & Full Shampoo and Thick & Full Conditioner, which are specifically tailored for fine and thin hair. The system also has glycerol that binds water and hair proteins to plump strands and encourages volume!
8. Invest in the right styling products for thicker hair.
If you have thin hair, look for styling products that have lightweight formulas like mousses, foams or styling sprays. Heavy styling products like gels or lotions can weigh hair down, making it look limp. If you must blow-dry your hair, the most important styling product one should buy is a heat protectant spray.
This product acts as a shield, preventing hair from damage and breakage while also acting like a pre-styler. We love the hardworking properties of Dove Style+Care Smooth and Shine Heat Protection Spray.
9. Practice responsible heat-styling.
Heat tools, a.k.a. blow-dryers, curling irons, hot rollers, and flat irons, help create intricate, trendy hairstyles in a short amount of time, but they also can dry out your hair and make strands more vulnerable. Dry hair is more susceptible to frizz, brittleness, and damage, which can then make hair more prone to hair loss from breakage. If you can, try letting your hair air-dry instead to minimize exposure to damage- and dryness-causing heat, or get creative with a hairstyle that you create overnight.
If you must use heated tools, always spray on a thermal protectant to protect your hair against drying out before using any heated tool. We love spritzing our locks with TRESemmé Thermal Creations Heat Tamer Spray before going in with any heated or mechanical tools for hair that's prepped and primed for safe styling. It's also in your best interest to turn down the temperature on your heated tools, as the lower the temperature, the less chance you have of frying your hair.
10. Try Some Curls to Boost Volume!
Curly hair often looks fuller, bouncier, and more volumized than thin, flat hair. To quickly create curls, use a curling iron (the smaller the curling iron rod, the tighter the curl) and then spritz with a hair spray to lock in the style (we like TRESemmé Compressed Micro Mist Level 2 Hold Curl Hair Spray). Alternatively, pin curls are easy to do and are an overnight hairstyle that keeps for a few days. In fact, there are so many heatless ways to create curly hairstyles your curling iron just may gather dust!
If you have thin hair fine hair, or a combination of the two, you don't have to settle. There are many ways to get and keep healthy, thick hair. Supplements from Nutrafol can give your thin, fine hair a boost as they're tailored to your needs. Visit their site and take the quiz to find out which formula works for you.
Prev Article
Next Article
Article
Inquiring Minds Want to Know: What Is Hair Made Of?
A mini lesson that's all about the structure of your hair!
See article
All Things Hair on Instagram