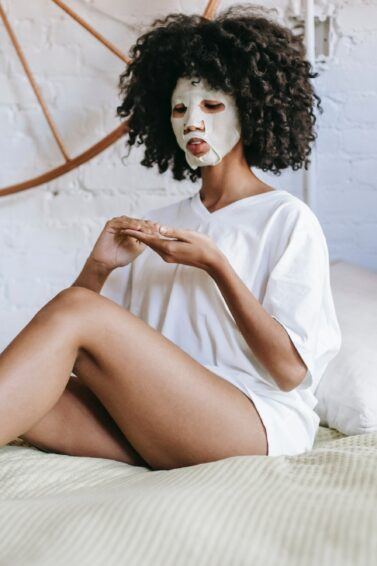 Hands Off! Tips and Tricks to Help You Stop Touching Your Hair and Your Face
How many times do you do this a day?
Confession time: Who here has caught themselves obsessing over frizz, split ends and dryness to the point where they can't stop touching their hair? Have you ever felt like acne pops up on your cheeks or hairline due to having your hair in your face? These are completely normal issues that many women deal with on the reg. And especially during a time when it behooves us to not touch our faces for health reasons, this is a habit we need to keep in mind now more than ever.
These little mannerisms can creep up on us subconsciously and cause us to tear at our hair or overwhelm it with hot tools and constant fiddling. So, what can help you to stop touching your hair and your face so often? We've got a few tips to get your hair out of the way and on a path to recovering without your pesky hands getting in the way. These tips are also a great way to prevent acne from popping up due to oily hair or your hands subconsciously touching your skin. Check them out here:
How to Stop Touching Your Hair
Keep Your Hair Smooth
One easy solution to stop touching your hair as much is to create a smooth style. If you're adding hair care and styling products that prevent frizz and don't create a texture that's tempting to constantly touch, you're less like to play with your hair. We recommend using a serum like Bed Head by TIGI Control Freak Serum to tame your frizz and keep your hair smooth.
Create a Style that Keeps Hair Off Your Face
Another way to stop touching your hair and prevent acne is by pulling your hair back. Whether it's a full updo or a cute half updo twist like this one, as long as your strands aren't out for the touching, you're in good shape. Creating a style that doesn't require heat is also a great option. Heatless styles won't cause further damage to your strands. Keep your style in place with a spray of TRESemmé Ultra Fine Hair Spray.
Notice Why You Touch Your Hair and Your Face
Touching your hair and your face can be a totally subconscious act, you don't even realize when you're doing it! One solution can be to recognize how you're feeling or what kinds of situations you're in when you catch yourself pulling at your hair or putting your hands on your face.
Sometimes playing with hair can be a sign of nervous energy, anxiety, or stress. Face touching can come from poor posture and leaning on your face for support. It can also be putting your phone right up to your skin and allowing bacteria to transfer and cause blemishes. Whatever the reason, take time to notice it. Try to calm yourself or change those habits to avoid unwanted hair playing or face touching.
Those are just a few tips to help you stop touching your hair and your face. It's not the worst habit to have, but it's one you can definitely break. Good luck!
Prev Article
Next Article
Attempt to assign property "alt" on null
All Things Hair on Instagram