Detangling Natural Hair: The Best Practices for Achieving Tangle-Free Hair
The tips you need for wash day.
If we took a poll and asked women with natural hair which part of their hair care routine they would streamline, they would probably all say the detangling step. Detangling natural hair is no easy feat for a lot of women, for one of two reasons (or both): They're probably doing it wrong, or they don't have the right products to help soften their hair before carrying out the process.
No one should have to dread washing their natural-textured hair because of the detangling process. It can be an easy and simple step! We have a few tips that will help you make detangling natural hair a breeze. Read on to find out what they are:
Detangling Natural Hair: How to Do It the Right Way
1. Detangle from the ends and work your way up.
First things first, you cannot—cannot!—detangle your hair from the root first. The detangling process should always happen in increments, and start from the ends of your hair. Once you've got the ends free from tangles, gradually work your way up to the roots of your hair. Do this process section by section, which makes things much easier to manage. If you start at the root, you're bringing all of the knots down making it harder to comb and causing breakage at the same time, not to mention also pulling hair out from the root itself as you detangle. Remember to always start from the bottom of your hair!
2. Use a moisturizing product to help with detangling dry hair.
If you're detangling prior to washing your hair, you can use a hair moisturizer or a leave-in conditioner to soften your hair before detangling. For coarse hair textures, we recommend using a creamy leave-in conditioner like Suave Professionals Honey Infusion 10-in-1 Leave In Conditioner, then gently detangle with a wide-toothed comb.
3. Use a sectioning method to prevent tangles while washing your hair.
While washing your hair, it may be wise to wash your hair in sections to help prevent tangles. When you combine all of your hair together during your hair washing routine, your curls tend to intertwine and cause tangles. If you wash it in sections, you have more control.
4. Use a detangling leave-in conditioner to help with the detangling process.
After washing your hair you can use a detangling leave-in conditioner to help remove any knots that were formed while washing your hair. Dove Absolute Curls Leave-In Detangler is a great option for making this process a breeze. Spray the product throughout your hair then finger-comb through to spread the product evenly throughout your strands. Then, take a detangling brush or comb to remove tangles from your hair.
5. Opt for hair care systems that aid in detangling hair.
Dealing with tangled hair want too often? Your hair care system may be the one to blame. Try using a shampoo and conditioner like TRESemmé Flawless Curls Shampoo and Conditioner. This shampoo and conditioner system cleanses and moisturizes hair. While using the conditioner, allow it to sit on your hair for 2 to 3 minutes for extra conditioning, then finger-comb to detangle. You can also follow up with a detangling brush to help smoothen your hair before rinsing out your conditioner.
Prev Article
Next Article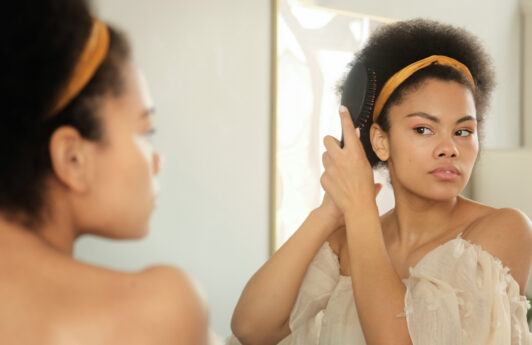 Article
Everything You Need to Know About Itchy Scalp Causes and Cures
Itchy scalp? It doesn't have to be a problem. Let's tackle it.
See article
Attempt to assign property "alt" on null
All Things Hair on Instagram