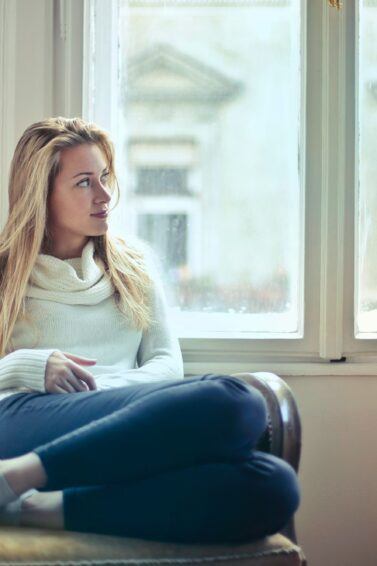 High Porosity Hair: Your Guide for Moisture, Products, and Top 3 Rules to Follow
Or: The real reason your hair probably always feels dry.
When it comes to figuring out what causes our strands to feel dry and brittle, All Things Hair tries to get down to the root (pun intended). One of the questions we encounter pretty frequently is one around hair porosity, particularly high porosity hair. Porosity takes on quite a comprehensive meaning as it pertains to hair. Read on as we discuss what this means as regards your own hair type:
High Porosity Hair, Explained
What is high porosity hair?
Porosity is the ability of hair to both absorb moisture and keep it in. When hair is very porous or has a high porosity, that means its cuticle layers are more widely spaced either due to genetics or, more commonly, due to damage.
How Do I Know if I have High Porosity Hair?
High porosity hair cuticles have a very tenuous structure and release moisture out quicker than normal. Unlike low porosity hair types, a high porosity hair type can be compared to a paper towel on a puddle: It sucks everything up. When dipped into water, high porosity hair soaks it all in. Sounds relatively harmless, right? Think again: "High porosity absorbs water instantly, [but also] needs a high level of conditioning to protect and leave it manageable," explains Unilever's Research and Development Senior Manager of Hair Care, Leon Van Gorkom.
Just because hair soaks up moisture doesn't mean said moisture will be retained. Here's why: The hair strands on high porosity hair types are composed of raised and chipped cuticles (much like raised shingles on a roof). This may be caused due to damage from heat styling, hair coloring, sun overexposure, or chemical treatments. Eventually, moisture leaks out from these raised cuticles. Then, you're left with dry, brittle, frizzy strands that are quite literally #thirsty for moisture.
How to Treat High Porosity Hair: Top 3 Rules to Follow
1. Deep condition… and go for the keratin stuff.
According to Leon, "High porosity hair may benefit from weekly masks and leave-in conditioning creams." Look for products that strengthen the hair, too, repairing any damage left on the strand's keratin (more on this in a bit!). Keratin treatments, or a system enriched with concentrated protein, like the Nexxus Keraphix system,  can help strengthen high porosity hair types.
For the uninitiated, hair is made up of a protein called keratin, and when hair is damaged from overuse of heat styling tools or chemical treatments, the cuticle is lifted, and spaces out wider and in a more irregular fashion, and hair becomes more porous (and frizzy—but that's another story!)
The four-step Keraphix system, which includes a shampoo, conditioner, reconstructing treatment, and mask, helps restore the healthy look, feel, and integrity of your hair by reinforcing protein back into the strand.
2. Pick up a leave-in product.
In terms of leave-in conditioners, you have plenty of factors to consider. You can choose a leave-in product suitable for your hair type (fine, oily, curly/dry, or color-treated); however, when it comes to finding a leave-in to treat high porosity hair, look for creams that help repair problem areas without contributing to the weigh-down. This can be counterintuitive by making strands harder to manage. One great option is The Good Stuff Complete Repair Balm. Its lightweight, the no-rinse formula is super fast-absorbing and strengthens and protects hair as it works its magic all day long. Pretty groovy, right?
3. Always use a heat protectant.
When styling, make sure to get into the habit of using a heat protectant. Not only does it act as a great pre-styler and detangler for drier hair types, but it also does an amazing job of shielding hair from heat damage during the styling process. We love how Dove Style+Care Smooth and Shine Heat Protection Spray moisturizes and encourages a shiny finish, too.
Knowing how your hair reacts to moisture is key to figuring out the correct hair care regimen, products, and habits for you and your lifestyle. This leads to seamless styling, healthier-looking and feeling strands, and ultimately, a good hair day, no matter the weather! Good luck!
Prev Article
Next Article
Attempt to assign property "alt" on null
All Things Hair on Instagram