Coconut Oil for Black Hair: Know the Benefits and How to Use It
We just can't get enough of this stuff!
You Will Need
Coconut oil for Black hair is a total game-changer. Nothing compares to the lightweight feel of coconut oil when it comes to hydration and moisture. Now the question many of us have is whether or not there is a version of coconut oil that is known as the best coconut oil for natural hair, and the answer is: in a sense, yes!
Read on to learn how to use coconut oil for natural hair and which coconut hair products for curls.
Coconut Oil for Black Hair: Why It's An Essential
Read on to find out how to use coconut oil for Black hair and which version of the oil you should aim to stay away from.
Why you Should use Coconut Oil
Let's first discuss why you should be using coconut hair products on your natural or relaxed hair in the first place. Coconut oil is made up of small molecules that are able to slip into your hair shaft which allows it to condition your hair from the inside out. If you ever find that your hair needs moisture after applying coconut oil just a few days ago, keep in mind that this is an oil that penetrates; it doesn't sit on top of your hair unless you're applying more than what your hair can handle at a given time. So, once the oil is penetrated into your hair, after a couple of days, it may need more moisture. When it comes to application, a few drops of coconut oil per section of hair goes a long way.
The Best Type of Coconut Oil to Use
The number of different brands and forms of coconut oils on the market can be quite overwhelming. They include coconut leave in conditioner, coconut cows, coconut hair conditioner, coconut hair serum, and even coconut sulfate free shampoo.
Trust us when we say they are different and will feel different on your hair. The best coconut oil for natural hair and relaxed hair types is unrefined and organic coconut oil. Steer clear from refined versions of coconut oil as the impurities from the oil are removed during the filtering process which also removes some of the nutrients in the oil that your hair benefits from.
How to Use Coconut Oil for Hair
This oil can be used from hair to toe which is why many of us love it. When learning how to use coconut oil for hair, use the oil to supercharge your conditioner. When adding it to your hair while deep conditioning, it'll deliver extra moisture to your strands whether you're relaxed or have natural hair. You can also use coconut oil to add shine to your hair after styling if you're opposed to using a shine hairspray.
If you want to create a hair care routine that is infused with coconut oil you can try a wash and care system like Love Beauty and Planet Hope and Repair Coconut Oil & Ylang Ylang Shampoo and Conditioner. This formula will help repair visible damage to your hair.
For an at-home treatment, you can also use Love Beauty and Planet Hope and Repair Coconut Oil & Ylang Ylang 3-In-1 Benefit Oil.
How to Use Coconut Oil for Hair: A Step-by-Step Guide
Ready to try coconut oil for yourself? Check out these four steps to start incorporating it into your hair care routine.
How to Create a Hair Mask with Coconut Oil
The consistency of coconut oil changes depending on the temperature of the oil itself. The colder the oil is, the harder it will be. If the oil is warm then it will have a completely liquid consistency. Store it in the fridge for a hard paste and in a room-temperature environment for a softer and more oily consistency.
When it comes to a D.I.Y. coconut oil hair mask the consistency will really depend on your process. If you're looking for a product to apply to your hair that you'll leave on for the duration of your shower after rinsing out your conditioner, using warm and liquid-like coconut oil is no problem. For a slightly more heavy-duty conditioning treatment, you can use coconut oil as a mask. When using coconut oil for natural hair, both liquid and solid forms can be extremely beneficial based on your needs.
D.I.Y. Solid Coconut Oil Mask
Learn how to create a hair mask using coconut oil.
1. How to Apply it
After you wash your hair, run the paste-like coconut oil through the bottom three-fourths of your hair. The oil will melt from the warmth of your hands as it absorbs into your strands.
2. Let it Sit
Leave the oil on for anywhere from ten minutes to a few hours. Some people even opt to wrap their hair in plastic and sleep in coconut oil overnight!
3. Wash it Out
Whatever time frame you choose, rinse out the oil. Leon-van Gorkom, Senior Manager Hair, North America of Unilever, notes: "Wash with a little shampoo (or even conditioner) to remove excess oil."
Are you thinking about testing out a coconut oil mask on your hair? Be sure to share your results and tag us @AllThingsHairUS!
You Will Need
Prev Article
Next Article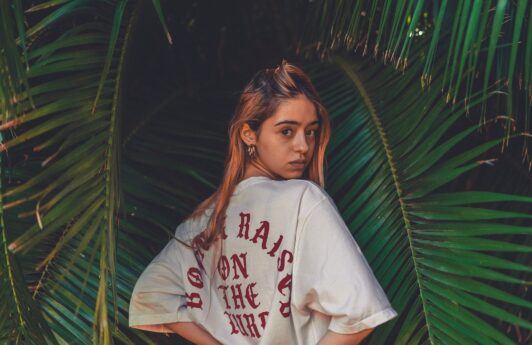 Article
How to Hide Roots Without Dyeing Your Hair
Figuring out how to hide your roots as you grow out your hair can be quite a challenge. Now, grungey grown-out roots are actually pretty on-trend right now, so you could just embrace them, but if that's not your vibe, we're here to let you know how to hide roots. Dyeing your roots at home can be […]
See article
All Things Hair on Instagram