Man Bun Undercut: How To Get The Look and 6 Ways to Style It
Your guide to getting the freshest cut on the block.
You Will Need
There are a few different stylish ways to wear the man bun. One of our favorite iterations of the look is when the top knot is paired up with a clean man bun undercut. A look that's super easy to get and style, can also take a sour turn if you don't know what to ask for at the barbershop or you don't have a proper styling routine in place. To help prevent that situation, below we're sharing how to get the look you actually want and how to style it too!
How to Style a Man Bun Undercut
Ready to try the man bun undercut hairstyle? Here's a quick guide to help you leave the barbershop with the perfect undercut, and how to style your top knot at home.
When getting any type of hairstyle that requires a specific look, it's best to bring some inspiration to your barber. While he may have some sharp hair cutting skills, he may not be aware of your exact vision. It's best to know the types of fades you like. A skin fade, a high taper fade, or bald? If you need more help deciding, check out our handy fade haircut guide.
Styling your man bun at home is actually very simple. As long as you have a great styling routine in place along with styling products to help you achieve your look, you're all set. If you need a quick tutorial for a basic man bun style, check this one out below:
Step 1: Wash your hair.
After wearing your man bun for some time, you'll probably realize depending on the look you prefer, you may use a little or loads of hair product. For instance, a guy who likes a sleek man bun may pile on loads of pomade to keep things smooth. But this can also lead to product buildup! So always, always wash hair before styling to start off with a clean slate.
We recommend using Dove Men + Care Thick + Strong 2-in-1 Shampoo and Conditioner to keep your strands thick and strong.
Step 2: Blow-dry your top section.
For a sleek and straight finish, using a blow dryer to dry and smoothen your hair is your best bet. For a simple tutorial, check out how to blow-dry hair.
Step 3: Brush through and add product.
After blow-drying your hair, brush through your hair to remove any kinks or tangles before applying your styler. For a fluffier bun, opt for a lightweight cream or pomade. Use some of the Axe Natural Look: Understated Cream to help you create an effortless-looking bun with a lightweight hold.
Step 4: Create your bun.
Gather your hair up into a high man pony and secure with a hair elastic. Loop your hair ends through the hair elastic to make your bun and you're done!
6 Best Undercuts with a Man Bun
Looking for ways to style your man bun undercut? Here are a few styling ideas:
1. Neat Knot
Firstly, we want to introduce you to a man bun undercut that's both cool and trendy while also work appropriate. This neat bun is clean-cut and approachable while still maintaining the key elements of this trend.
2. Hard Part Fade
Consider a more angular style and pair it with a hard part fade. Nothing says edgy quite like combining this many trends in one look.
3. Natural
Calling all the guys who are working with natural hair. We absolutely love how this combination looks with this hair type.
4. Messy
There's no doubt that you've heard about the messy bun from all of your girlfriends. Make it your own with this more undone and messier look.
5. Casual
If you're more of a casual kind of guy then the man bun undercut was literally made for you. Pair it with a pair of sneakers, some light-wash jeans, and a bomber for a truly laidback vibe.
6. Lighten Up
Brighten up with a few strategically placed highlights. When you're going for an eye-catching style, we always encourage going all in!
No matter how you style your man bun, you'll want to ensure it stays secure once you nail the look you like. We recommend Suave Extreme Hold Unscented Aerosol Hairspray to hold your style without giving you a heavy scent to your hair.
You Will Need
Prev Article
Next Article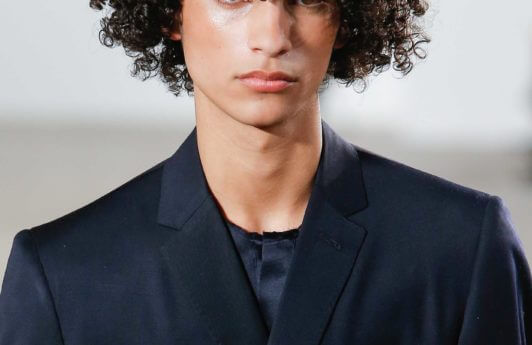 Gallery
10 Hairstyle Ideas for Curly Hair Men to Try Their 20s
Rock those luscious curls in your 20s and beyond.
See article
All Things Hair on Instagram