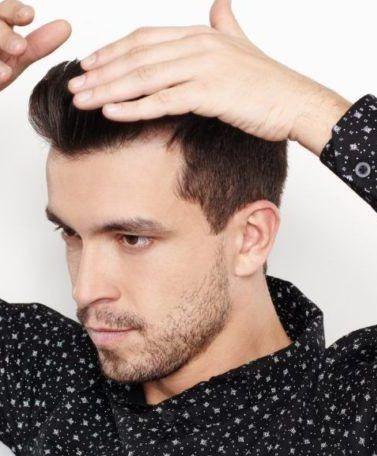 How to Create a Classic Quiff Hairstyle
If you were to ask us what is our favorite classic hairstyle for dudes, we'd have to go with the quiff. The classic quiff on a guy is such a dapper, sexy look! It's not too over the top, you don't have to have long hair to do it, and the result is perfect but not preppy. There is a whole lot to love about the classic quiff! Learn to do it yourself by following our classic quiff tutorial.
The Classic Quiff Tutorial
1. Start with clean hair.
To get that truly perfect classic quiff, you need to start with freshly washed and conditioned hair. Use the Suave Men 2-in-1 Ocean Charge Shampoo + Conditioner that'll work to leave your hair clean yet hydrated. Bonus: it'll leave your hair smelling really nice.
2. Towel-dry your hair.
To dry, lightly towel-dry your hair. You don't need to do a whole lot here, just shake through your hair with your towel. It helps to get out the dripping wetness out of your hair. Move onto the next step while your hair is still damp. That is, don't let your hair air-dry before styling unless it naturally falls into the classic quiff look (it probably doesn't, FYI).
3. Blow-dry your hair into a shape.
We know blowdrying your hair isn't probably at the top of your fun things to do list. But, it does make the classic quiff style 100 times easier to do. If you need a refresher, you can read through our guide on how to blow dry hair for dudes. Basically, besides drying your hair, your goal is to have the front of your hair stick up straight. You can do this by angling the dryer upwards and using your free hand (or a brush) to guide your hair into the direction you want.
4. Define your shape.
Once your hair is totally dry, it's time to set your awesome hairstyle. Use just a tiny dab (about a dime-sized amount) of the Axe Clean Cut Look: Classic Pomade. If you're going for a more modern, tousled quiff you would want to use a hair wax instead. Rub the pomade between your fingers and use it to finish your fringe into the classic quiff look. It's more about guiding your hair to sit at that angle, so don't be too rough with it.
5. Create your side part.
The classic quiff look always has that side part, so don't forget to work your hair up and down respectively to create the part. You can use a comb to get a straight part if that is the look you like, or just wing it and set your hair in the right directions.
6. Slick down the sides of your hair.
Finish up this style by taking whatever pomade is left on your hands and smoothing down the sides of your hair. It really finishes the style and gives that all over velvety shine from the pomade.
Are you more interested in a tousled quiff instead of the classic quiff? We have a tutorial for that too. Follow along to create the modern quiff.
Prev Article
Next Article
Article
A Quiff Hairstyle for Virtually Every Occasion
Rock the quiff for every moment in your life.
See article
All Things Hair on Instagram