Zoom Care: How to Combat Insecurities After a Year of Video Calls
Battling insecure thoughts and self-image issues due to video calls.
We are all deeply familiar with the benefits of self-care, but have you heard of zoom care? This popular self-care spinoff is as 2021 as it gets. Plastic surgeons and estheticians are reporting a surge of interest in facial procedures because men and women have spent most of the last year staring at themselves in zoom calls.
While we are already part of a selfie-obsessed culture and used to staring at our own faces to some degree, zoom calls have taken it to another level. With many employees clocking hours and hours of face-to-face (or rather screen-to-screen) calls, they are left picking apart their insecurities without the interference of glossy Instagram filters.
Zoom Care: How to Combat Insecurities
We spoke with Meg Hopkins, weight-neutral fitness coach, anti-diet nutritionist, and founder of Thrive Together Movement, to learn more about the rise in insecurities many are experiencing and the best ways to combat them.
We aren't used to seeing so much of ourselves all the time, and we are trying to find something that we can control in such an uncontrollable time.


Meg Hopkins
"I have absolutely seen a surge of insecurities because of zoom calls," Hopkins says. "I talk about this a lot with my clients – we aren't used to seeing so much of ourselves all the time, and we are trying to find something we can control in such an uncontrollable time. So we start to focus on our appearances – little skin 'imperfections,' our bodies – the works. We see our appearance as something we can control, and since our brains are looking for control, that's what we tend to focus on."
When it comes to boosting your confidence in the face of these insecurities, Hopkins has a few suggestions.
1. Get glammed up!
Hopkins recommends incorporating zoom care by getting glammed up in whatever way feels best to you. For some, that means applying some lipstick for a romantic dinner in the kitchen and for others, it's a DIY at-home blowout. "Take pictures and marvel over yourself," she suggests.
It can be easy to let our usual routines fall to the wayside during various levels of lockdown we're experiencing. Making sure to maintain a hygienic routine in these times is essential to staying sane. We recommend using Suave Professionals Lavender + Almond Oil Frizz Calming Shampoo and Conditioner to give your hair care regimen a boost of calm.
2. Focus on feel-good moments.
By actively investing time into things that make you feel good on a daily basis, you can refocus away from your appearance entirely. Hopkins suggests movement, a favorite hobby, or chatting with friends.
3. Practice opposite actions.
"When you're feeling particularly down about your appearance, do the opposite action. For example, feel down about your body. Take a warm cozy bath or put on a soft robe. Opt for one that feels good on your skin."
Pair your bubble bath with a hair mask moment. Love Beauty and Planet Blooming Color Murumuru Butter & Rose 2-Minute Magic Masque will help you center yourself at the moment while showing your hair and the planet some love.
4. Rewire your thoughts.
Hopkins also recommends trying to stay present and mindful of the body. By taking the time to be mindful through meditation, slowing down during movement, or doing breathing techniques, you can help your brain widen its emotional capacity and make it easier to question these negative thoughts.
Continuing to question value-based appearance thoughts can also be helpful when trying to move away from an appearance-worth mindset. If you're focused on one facial feature you don't like, Hopkins recommends asking yourself, "Why am I fixated on this? Who does this fixation serve? What more could I be doing if I wasn't focusing so much on this right now?"
Hopkins also recommends simply hiding the self-facing camera feature on zoom. This is an easy way to avoid triggering obsessive thoughts and helps you stay focused on the task at hand.
How will you be boosting your confidence after a year of zoom calls? Share your journey with us @AllThingsHairUS. Also, for more hair inspiration, be sure to subscribe to our newsletter below!
Prev Article
Next Article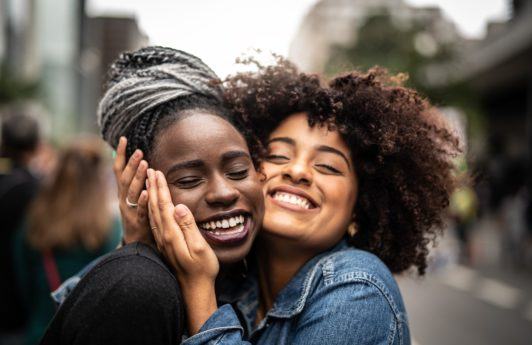 Article
NYC Just Made It Illegal to Discriminate Against Natural Hair
The new policy will protect individuals in both public and private capacity.
See article
All Things Hair on Instagram