How to Get Dip-Dyed Hair at Home in 4 Easy Steps
The easiest way to add a punch of color without going overboard.
Dip-dyed hair is often seen as the classier and more refined older sister of the all-over dramatic color transformation some part of us is always secretly craving. It's low damage while still being high impact and that's a win-win in our book. The fact that this hair trend preserves your natural hair color in the strands around your face makes it universally flattering, so let's put a stop to any of those hesitations right here.
Dip-dyed hair is a low-commitment way of seeing how you feel with candy-colored hair before you take the plunge. Or simply a way to unleash your inner mermaid for a few months without committing to all over blue hair. Depending on how much hair you color, this look can live on only as long as it takes to get to the salon for your next trim.
Create Dip-Dyed Hair at Home
Keep reading for our step-by-step tutorial on how to easily dip dye your hair at home:
1. Grab an old T-shirt and towel.
Dyeing your hair takes some time and things can get a little messy. Start by grabbing an old t-shirt and towel that you aren't worried about staining and settle in for your debut as an amateur hair colorist.
2. First bleach your hair.
For the most vibrant shade of your color of choice, start by bleaching your hair. Separate your hair into several workable sections and secure each section with a small ponytail. Apply the bleach to each section starting at the bottom and working your way up. For a subtle and expert-looking transition from your natural color to the dip-dyed ends, twist each section as you apply the bleach to ensure that there isn't a harsh line. Keep an eye on the bleach and check back in frequently to watch the lightening process.
3. Apply the dye.
Once you've achieved a shade light enough to be a blank canvas for the hair dye, wash and shampoo the bleach out. We suggest using TRESemmé Botanique Color Vibrance & Shine Shampoo and Conditioner. Then, let your hair air-dry or blow-dry it. Apply the dye to the ends of your hair with gloved hands and apply in towards the middle section of your hair towards the ends with a hair application brush. Make sure to completely saturate your strands before wrapping them in aluminum foil. Follow the package instructions and leave the dye on for the recommended time.
4. Rinse, dry and style.
Rinse out the hair dye and dry and style your hair per usual. Enjoy your new colorful strands and prepare to bask in all those mermaid vibes. Bleaching your hair can take a toll on the overall health of your strands, so we always suggest using a deep conditioning treatment, like Nexxus Color Assure Long Lasting Vibrancy Deep Moisture Masque. This formula will work to restore moisture to your hair while also making your hair feeling weightless and healthy. Taken care of properly, your dip-dyed hair will look shiny and healthy.
Dip-Dyed Hair Inspo
Here are 5 dip-dyed hairstyles to inspire your new look:
1. Dirty Blonde
This might not be the boldest of colors, but who can say no to try a classic dirty blonde shade? This is a great way to dip into the dip dye trend without committing to a full-on dramatic hair color. This style manages to make a statement and be somewhat natural at the same time.
2. Bright Pink
Why not try some pink bangs? A dip-dyed hair color in the front to frame your face is a bold and fun choice. This bright pink color falls into the classic dip dye category, with a fun pop of color just on the ends of the hair.
3. Two-Toned
Can't choose between two colors? Go for both but create a two-toned, color-blocking technique to let both colors stand out on their own. Maintain your natural color at the base to ensure that you can grow out your hair color seamlessly without having to run back to the salon.
4. Creamsicle
We love how bright and attention-grabbing this creamsicle shade is, it's perfect for a dramatic change. Blend butter yellow and orange hair color shades together to create this creamsicle sunset-inspired shade of dip dyed hair color.
5. Rainbow Dip Dye
Consider a rainbow-inspired approach and ask your colorist for a dip-dyed style that includes a range of hues. Choose your colors based on hues that will flatter your skin tone and base hair color. You can't go wrong with this blend of orange, purple and teal!
Are you thinking about trying out a dip-dyed style? Be sure to grab a picture of the finished results and tag us over @AllThingsHairUS!
Prev Article
Next Article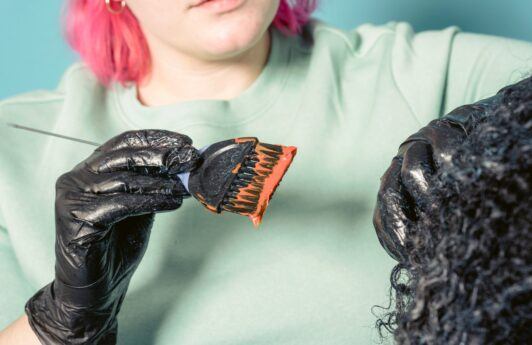 Article
How Often Should You Touch Up Your Roots?
There's a reason behind that magic 6-to-8 week period.
See article
All Things Hair on Instagram