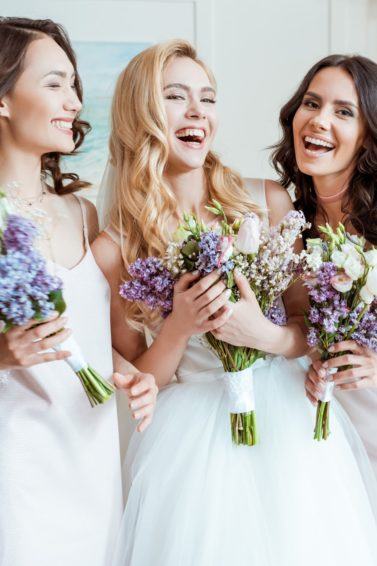 Wedding Haircut: Would You Consider Cutting Your Hair During the Big Day?
It's just like a dress change...but for your hair!
The latest bridal trend to sweep the wedding scene is a mid-wedding haircut for the bride herself. While multiple wedding dresses and even a change of hairstyle have quickly become more mainstream in the wedding industry, a full out wedding haircut is an unquestionably new take.
All you need is ten minutes with your stylist to cut and refresh your strands. You'll have a totally new look for the dance floor. Ideal for brides who can't choose between long, princess-like lengths and a short, edgy style, the wedding haircut gives you the best of both. Wear your locks long for the ceremony and debut a newer, edgier style for the rest of your big day:
Would You Consider a Wedding Haircut?
The Wedding Haircut Decision
For some brides, it can feel overwhelming to choose just one style for her wedding day. Especially for photos that she'll be looking back at for years to come. If you're simply looking to incorporate multiple styles into your big day then you might want to take a look through our gallery of classic wedding styles to find a few options that will work for you. Switch from a flower crown for the ceremony to a ponytail for the dance floor and give yourself the best of both with a slightly less dramatic switch.
If you're ready to take a leap and add more excitement to the day you say, I do, consider a mid-wedding haircut. Preparation is key and having a clear conversation with your stylist before the big day is of utmost importance. Find inspiration photos for the final look and make sure you two are completely on the same page.
Set aside time after the ceremony and make sure there's a room available for the haircut. Let your stylist work her magic and enjoy the excitement of a fresh cut. Once your stylist has finished with the haircut, refresh your roots with Dove Refresh+Care Volume and Fullness Dry Shampoo. This will soak up some of the oil and sweat in your strands. Especially from what's already been a long day of taking photos and running around.
Before hitting the dance floor to make your big debut, mist your strands with TRESemmé Smooth & Silky No Frizz Shine Spray and then follow up with TRESEemmé Total Volume Hair Spray. The former will add a shine and silkiness to your strands while the latter will lock your look in place.
Enjoy the rest of the evening with a shorter, fresher haircut! After that, jet off to your honeymoon with a new 'do!
Prev Article
Next Article
Tutorial
Tutorial: How to Create a Pull Through Hair Crown
A not-so-basic looking hair crown to try. It's easy!
See article
All Things Hair on Instagram