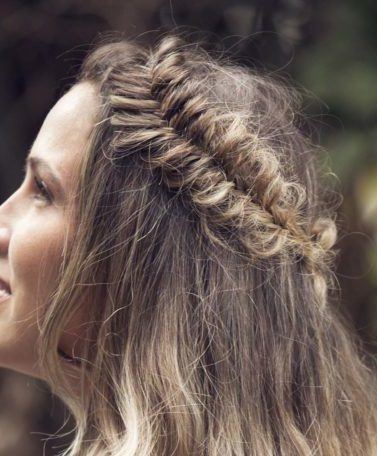 Style Frizzy Hair: 5 Ways to Tame or Embrace the Frizz
Whether you want to tame your frizz or embrace it, we've got five different ways to do it. 
Ladies, it's that time of the year when you have two choices: Embrace your frizz or prevent it from happening in the first place. We've got you on both. If figuring out how to style frizzy hair is one of those things you just can't seem to get right, read on! We've got expert tips, stylish hairstyles and budget-friendly products that'll save your frizzy hair this season:
Style Frizzy Hair: How to Tame or Embrace the Fuzz
1. Go with the flow.
Believe it or not, it's totally ok to go with the flow. If you failed to protect your hair from the harsh weather conditions, don't worry. Use your hands to enhance the look to your liking and you've got a style! For curly girls, pluck the roots up for height. If you have wavy hair, finger comb your hair in a zig-zag motion to amplify the look of your texture.
2. Hide it with a bun.
If going with the flow is definitely not in the cards for you. Bun it! Gather your hair into a low or high bun hairstyle. We're currently loving this top knot bun updo. Keep some of your frizzies around your hairline to create this half-neat, half-up style.
3. Create a voluminous updo hairstyle.
Hairstyles like beehives or looks inspired by the '80s call for a little (or sometimes a lot) of frizz. This season, give your frizz a stylish update! Style your hair into this voluminous frizzy style with tips from our beehive tutorial. Bonus points: You can totally create this look on-the-go!
3. Create intentional frizz with texturizing products.
According to Bailey Pope, In-house Consulting Stylist | Creative Director TIGI Salon Unilever North America, texturizing products can help with creating intentional frizz. Products like salt sprays are ideal for creating this kind of texture. Work a salt spray like Suave Professionals Sea Mineral Infusion Texturizing Sea Salt Spray throughout your hair and style to your liking. On the other hand, you can use a texturizing balm like the Bed Head by TIGI Joyride Texturizing Powder Balm to help you create the bed head look of your dreams!
4. Prevent frizz with a leave-in conditioner.
We've preached the benefits of using a leave-in conditioner. But let us preach about two options that are currently controlling our frizzies. For textured hair, we're totally into Suave Professionals Honey Infusion 10-in-1 Leave-in Conditioner. This creamy product not only moisturizes hair but also helps keep frizz at bay. For straighter hair types, opt for Nexxus Humectress Luxe Lightweight Conditioning Mist which can help you prevent dry frizz such as static.
5. Use the frizz to enhance your braided hairstyles.
The key to a great braid these days is texture. One idea is to style your frizzy hair into a fun and chic braid! Here's a fun trick: After creating your braid, rub it through the palm of your hands to create more frizz. Set your final look with a strong-hold hairspray like Dove Style & Care Strength and Shine Flexible Hold Hairspray.
Prev Article
Next Article
Article
Style Alert: The Beach Wave Lob is Officially On Our Radar
Wave 'hello' to the loose wave lob.
See article
All Things Hair on Instagram