Rocking Long Hair with Bangs Ups Our Hair Game
Piecey, razored or full, there's bound to be a bang for you.
We're guessing around 95 percent of the female population spends their lives agonizing over whether or not they should opt for long hair with bangs. (The other 5 percent, scouring the Internet for cat videos—or maybe that's just us.). Maybe it's leftover trauma from a middle-school experience involving a sleepover, peer pressure and some kitchen shears. Or maybe we had a short-lived love affair with punk rock or were obsessed with the groovy hairdos in 1960s French New Wave cinema.
Whatever it is, we know it's there, ingrained in us since childhood. Long hair bangs is something we keep circling back to. There's something about a fringe, and in particular long hair with bangs, that has the power to change not just our looks, but our outlooks, big time.
Read on as we try to make our case, for the hundredth time, both to ourselves and to anyone else out there experiencing this age-old style crisis:
Stylish Long Hair with Bangs
Bangs with long hair have been known to instantly upgrade a basic look into something worthy of It Girl status. They have also been credited as one of the best hallmarks of 1960s and 1970s beauty. Maintaining them is super easy too. Just grab some dry shampoo (we're addicted to the scent of Dove Refresh+Care Detox & Purify Dry Shampoo), volumizing lotion (TRESemmé Beauty-Full Volume Hair Maximizer is a fave) and shine spray like Bed Head by TIGI Masterpiece, and you're golden.
8 Ways to Wear Long Hair With Bangs
We say you haven't romanced the heck out of life if you've never gotten a fringe to accentuate your long mane. And we have a rundown of gorgeous looks, fab bangs for long hair to prove our case. Read on to check out some of our favorite long hair with bangs styles.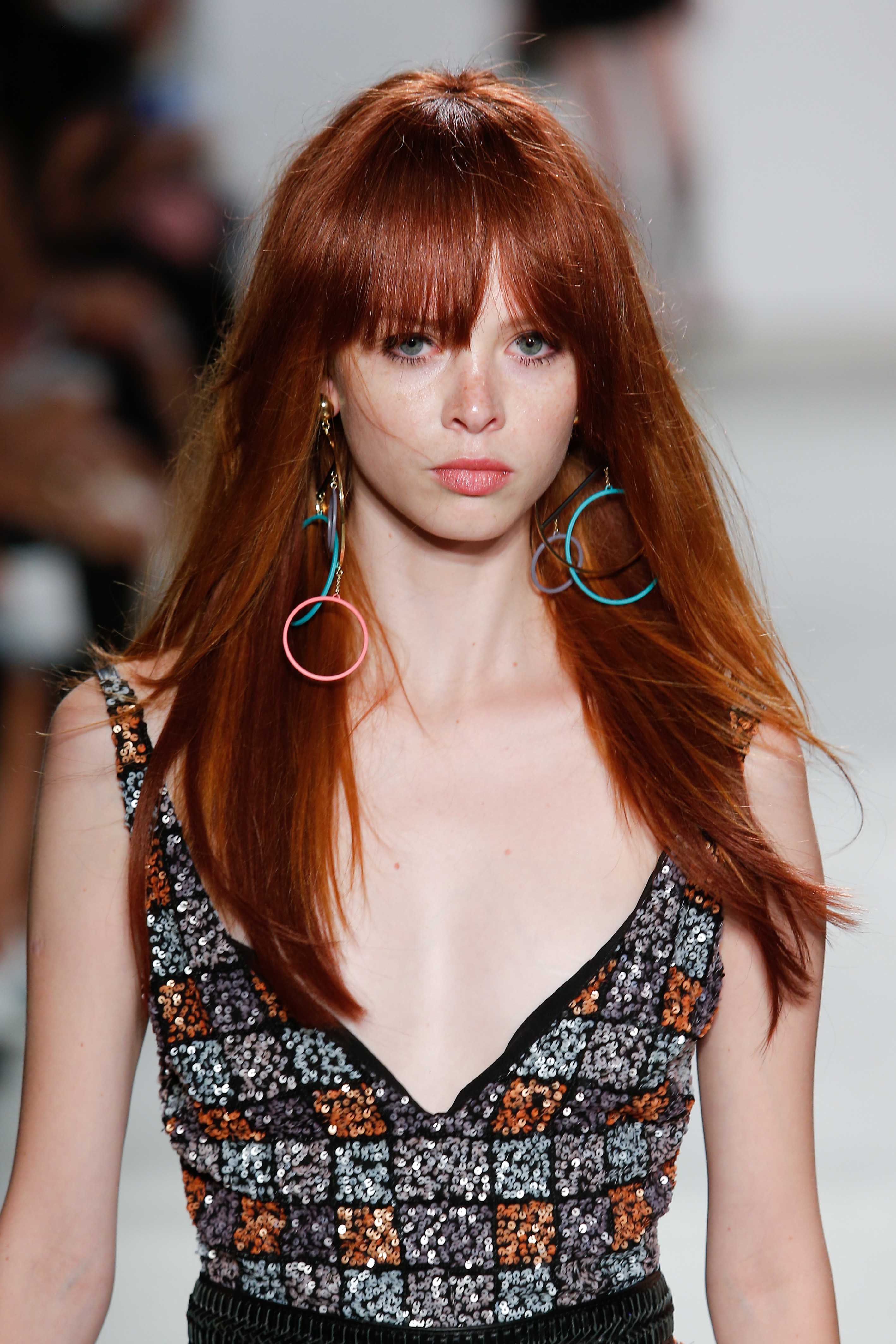 1. Blunt and Shiny
Just a millimeter past the actual eyebrow, a full, blunt fringe is quintessentially mod. This long hair with fringe makes the wearer look all eyes—which is probably why it reached a fever pitch during the 1960s, when false eyelashes and winged liner were the order of the day. Paired with a long, unlayered haircut, it's a girly approach to sexy, and heralds someone who's super feminine but also knows she isn't part of the pack.
2. Razored and Retro
Remember the arched bangs that all your '70s style icons were sporting? The bangs with long hair look remains a classic to this day due to its flattering dimensions—longer on the sides and shorter in the middle, flattering an otherwise one-length sheath of hair. This groovy, long hair with fringe style minimizes a wide forehead and is a softer alternative to the blunt bang. If you want long hair with bangs that's skater-girl cool, but also something that won't require much tending to as it grows out (and this will, very naturally), this is the fringe for you.
3. Curtain Bangs
Falling a little bit past the eyebrow, curtain bangs are usually parted in the middle—hence the name—and have a tiny flip at each side, giving it a hippie, peek-a-boo feel. Long hairstyles with bangs, like this look are really striking on women with dark hair and fair skin, and when styled with loose waves, are a very romantic day-to-night look.
4. Baby Bangs
If you don't have an oval or oblong face, skip this one. Otherwise, you're getting one of the season's hottest fringe requests: the baby bang (or micro fringe). Previously seen on cinematic ingénues and directional goth chicks, the baby bang is a fringe that stops around three to four inches above your eyebrows. Keep the rest of the hair below shoulder-length to keep things flowy and so you don't end up with a helmet head.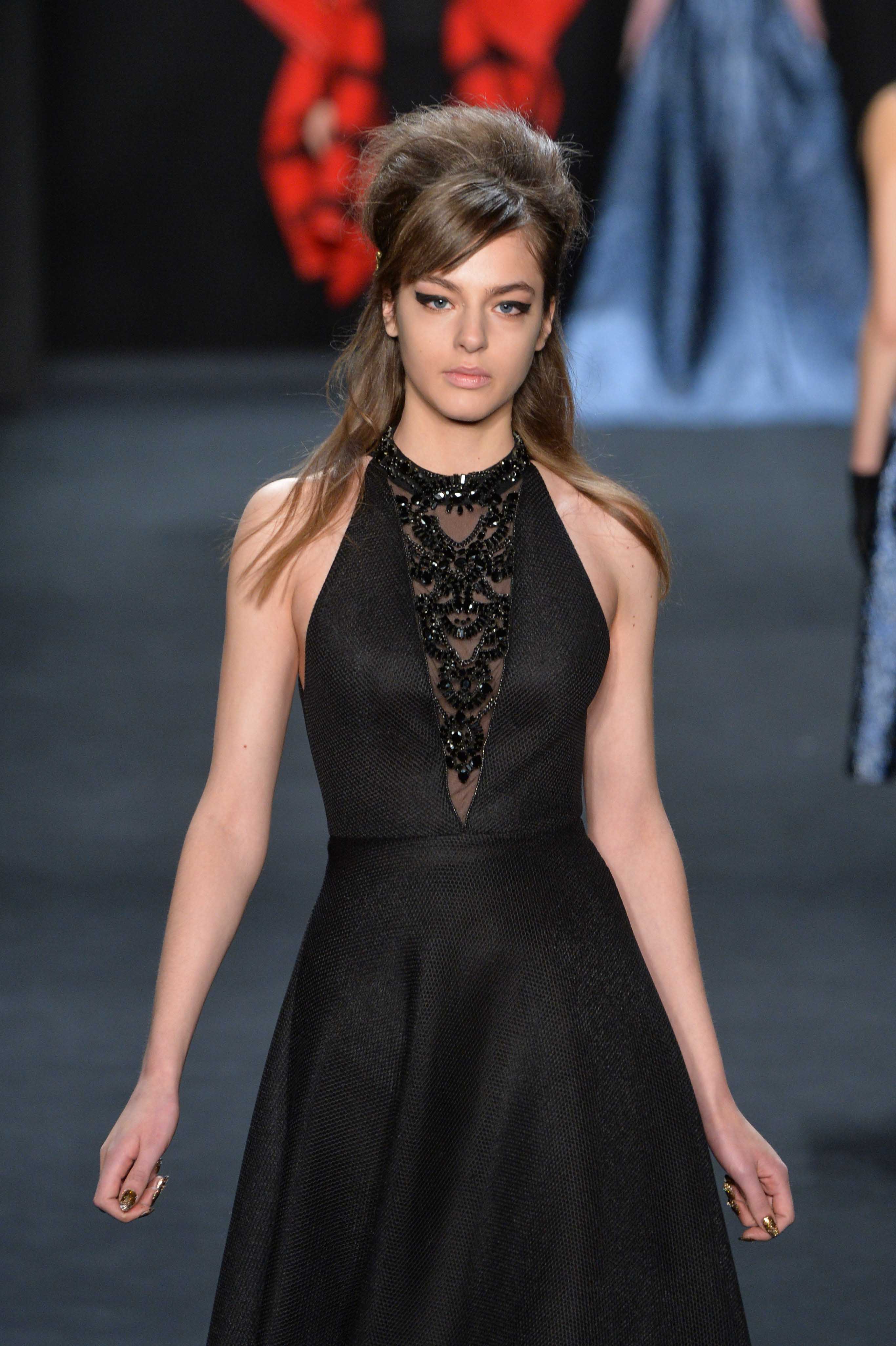 5. Side-Swept
The gateway drug of bangs, the side-swept fringe, is what you would get if you cut your hairline layers just an inch or two shorter. Usually grazing the cheekbones, this fringe is most flattering on heart-shaped faces as they narrow down a wide forehead with their side angles. Long hair with bangs to the side are one of the most versatile hairdos you'll ever have: Just ask your stylist for a fringe that can be swept to either side and gently blended into some subtle layers all throughout.
6. Curl Your Bangs
Curling long bangs also helps them look prim and polished. This is a great way to change up the look of a long bob with fringe bangs. To give your bangs (and lob)  some curl and extra volume, use the TRESemmé Beauty-Full Volume Touchable Bounce Mousse before styling, to give your style a necessary pick up. Then, take a one-inch curling iron and proceed to curl your bangs and lob. To give your bangs and lob a curly-wave effect, take a paddle brush and gently brush your curls out. Then, take some hairspray to set your style into place. Have long hair with fringe? Go ahead and do this style too. You'll get long romantic curls.
7. Center Part
Parting your bangs in the center also gives them a sleek and sophisticated appearance. Looking awesome on longer and straighter lengths, achieving this style doesn't take up too much of your time. To get this simple look, start by applying a dime-sized amount of the TRESemmé Tres Two Mega Firm Control Gel onto your clean bangs. Then, use a fine-tooth comb to brush both sides of your bangs off to the side. Keep the emphasis on the middle part.
8. Experiment with Color
Playing around with some color is another way to show off longer bangs. For a dramatic color look, try highlighting your bangs with bold color, or experiment with color-blocking (we're talking thick platinum bangs!) to give your 'do an eye-catching finish.
Prev Article
Next Article
Gallery
7 of the Best Haircut Ideas for Your Face Shape
Find the haircut that's perfect for you!
See article
All Things Hair on Instagram