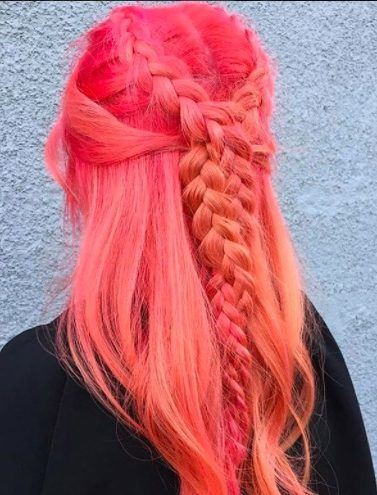 5 Minutes with Georgette Padilla on Bright Hair Colors
If you're like us, you love checking out the latest bright hair colors, but aren't always so sure if blorange, watermelon or even rainbow hair is right for you. To help you figure out if you should go bright and bold, we chatted with Georgette Padilla, hair stylist over at the Union Salon in Pasadena, CA. With the mantra 'let's make you beautiful,' we are sure you are going to be wowed by some of Padilla's work. Read on to get inspired as you learn more about the latest of bright hair colors for this year.
Bright Hair Colors: Interview with Georgette Padilla
All Things Hair: What do you predict will be some of the big color trends of 2017?
Georgette Padilla: I think 2016 made way for people to begin stepping out of the box. You saw a lot of wild colors that will definitely cross over to 2017. I predict 2017 will push people even further away from their comfort and we'll begin to see a lot of warmer tones. I've slowly been seeing a big rise in copper tones as well as corals, pinks, rose gold. Where as 2016 was more of a range of cool muted tones, 2017 will be full of the richer warmer tones.
What colors would you suggest someone try if they never really dyed their hair?
For someone that's never dyed their hair I tend to suggest something more natural. If you're a natural brown I would say let's balayage a couple pieces maybe two or three shades lighter, create dimension, blend it all in for a beautiful new look that is easy for your eyes to adjust to. Balayage is great for someone that's never done color. It isn't high maintenance and if done right the fade out is amazing. I've had clients who come back to retouch their balayage after a year and are still getting compliments on their hair when it's all faded and grown out!
What do you love about working with color?
I love color for the simple fact that it has the ability to completely transform someone. Be it something more natural or something completely wild, color can intensify or mute certain pigment on someone's skin tone. It can brighten someone's face or add depth to their look. Aside from the aesthetics, it also has the ability to turn someone timid into the life of the party. I've seen girls who are so shy I can barely get a word out of them, all of a sudden at the end of the appointment they're opening up and have a certain pep to their step. I guess I just love seeing how a simple change of hair can have a huge impact on a person.
What's the process like to try out something like a rainbow color?
If you want rainbow hair be prepared to sit in the chair for 5 to 6 hours. Hair should be lifted to a light brown/ dark blonde for darker shades and light blonde for lighter pastel shades. If your looking for more of a pastel look you'll definitely be sitting longer and you might not be able to get the desired shade in one session. With that said keep in mind that the picture you come in with is just for inspiration. No two heads will ever be identical. Be open minded and enjoy the process, after all it is a fun creative color. After the bleach the hair typically needs to be rough dried before the final color application. There are certain lines that can be applied to damp hair but usually for rainbow hair I tend to use direct dyes which require the hair to be dry. Rainbow color application is very meticulous. It may take up to an hour and a half to apply all the rainbow colors. Once done applying, the hair needs to process for thirty minutes. Wash and style as desired.
What are some of your best maintenance tips?
The most crucial color maintenance tip anyone could give is to minimize hair washing. The more you wash the faster the color fades. Make dry shampoo your best friend. Which brings us to our next point, shampoo. Invest in a color safe shampoo that will extend the life of your color.
Looking for more info on bright hair colors? Check out our interview with the queen of rainbow hair colors.
Prev Article
Next Article
All Things Hair on Instagram