13 Ways to Glamorously Wear Blonde and Black Knotless Braids
This season-less style is becoming a trend all year long.
Who said braids are only for the summertime? As the weather gets colder, give your natural hair the love it deserves with a long-lasting protective style to shield your hair from the cold. Go bold this winter with blonde hair color style into knotless braids. Here are 8 glamorous ways to wear black or blonde knotless braids next year! 
How To Wear Stylish Blonde Knotless Braids
Get inspired by these trending protective styles.
1. Blonde Knotless Braids with Burnt Orange Highlights 
Burnt orange highlights are a great way to balance bright blonde hair. This hairstyle is perfect for the naturalistas who are looking to set trends that will become prevalent once Spring rolls around. Use SheaMoisture Papaya & Neroli All Day Frizz Control Milk Gel to assist in neatly installing the braids.
2. Ombre Blonde Braids
Stuck between colors? Then go for an ombre look – you get the best of both worlds! This is the look for the naturalista who wants to be bold while also keeping a balance of the color you're already used to/comfortable with. 
3. Multi-Colored Blonde Knotless Ombre Braids 
Tap into all the shades of blonde! Who says you have to limit yourself to one? Create a cool illusion with your blonde knotless braids by installing a different shade of blonde in every layer. Keep your scalp as fresh as your hair-do with the Nexxus Clean & Pure Nourishing Detox 5-in-1 Invisible Hair Oil.
4. Bright Blonde Braids 
Stand out this winter with classic bright blonde knotless braids. The beauty of sticking to this classic look is that you wear it beautifully in a variety of ways; short, long, medium, jumbo, micro, medium, and more!
5. Knotless Blonde Braids with Wavy Ends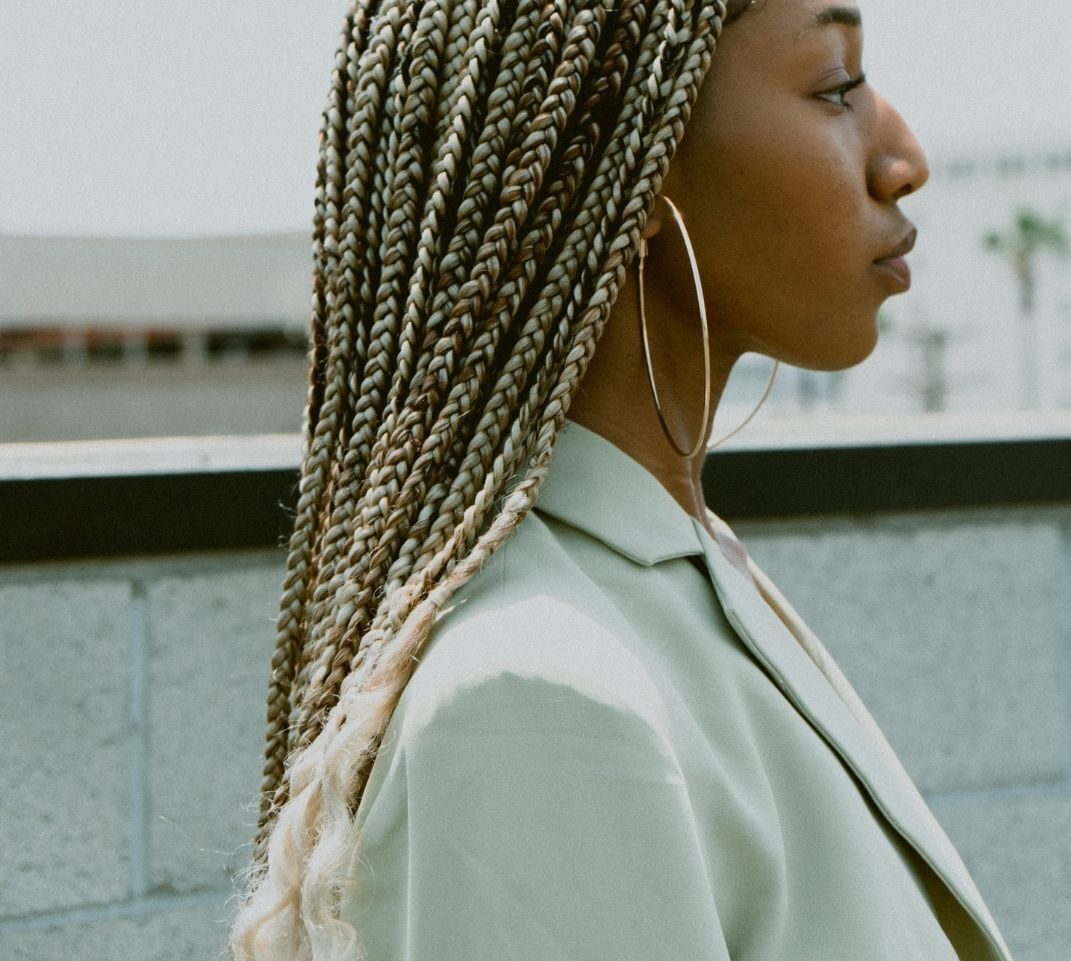 Want to dress up your look for all the glamorous parties and events you will be attending this holiday season? Then you should try wearing your braids wavy or curly at the ends. Once you complete your braids this is a quick addition that can be added to your look using the thread and hot water technique. Keep your waves/curls intact with Suave Dry Texture Finishing Spray to hold and help hold your curl's volume and shape into place. 
6. Jumbo Braids
Go big or go home! Jumbo blonde braids are gorgeous and even more so with added beads. This look is infused with shades of bleach blonde and orange for an all-over dimensional style.
7. Ombré Short Knotless Braids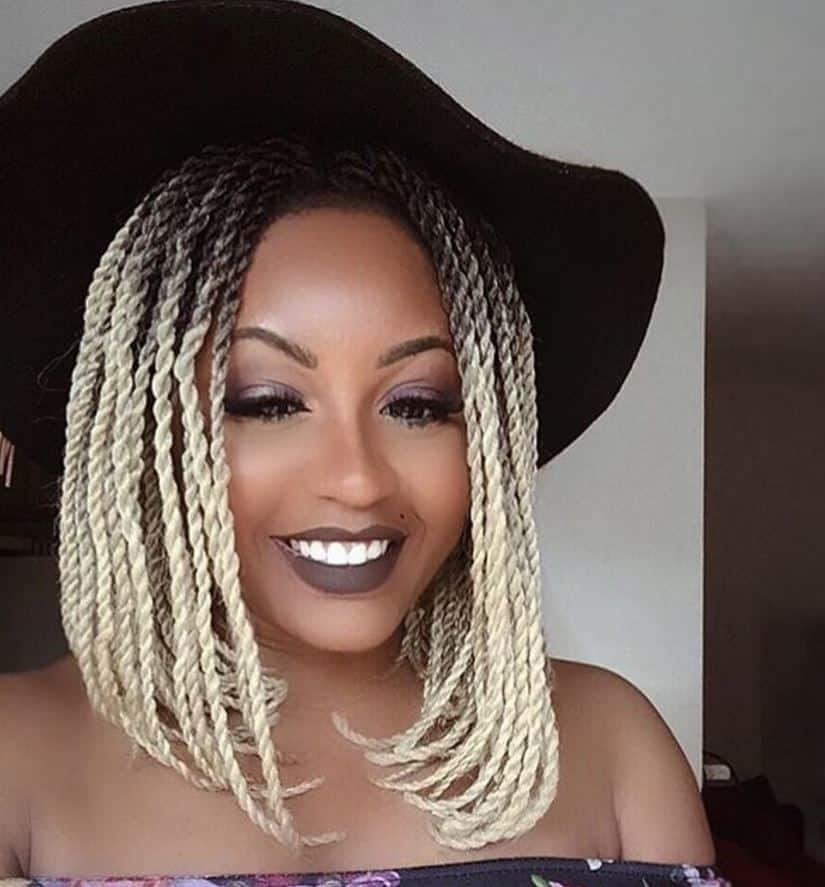 If you want a shorter look, try this box braid lob. The ombré effect is also great to play with your natural color and platinum strands. The smooth transition from dark to light is eye-catching and cool.
8. Blonde and Black Braided Ponytail
What's not to love about this knotless braids ponytail? The different shades of blonde with hints of natural color are simply beautiful, plus is super stylish for any occasion. To keep your scalp nourished and healthy, we love Dove Amplified Textures Hydration Boost Scalp Tonic, designed to care for all types of curls, coils and waves.
How To Wear Stylish Black Knotless Braids
1. Classic Black Hue
A classic + chic look never hurt anyone. We love these small black knotless box braids, a gorgeous style for creating a variety of versatile looks within a look. This braid sizing not only looks great when worn long, but looks great worn short or medium as well.
2. Nearly Micro Knotless Braids
Love the look of micro braids but are not ready to fully commit to the time it takes to install and the patience it requires to manage? We hear you and understand! Opt-in for this nearly micro hairstyle. The look of micro braids without the extra effort.
3. Knotless Braids Bun
The beauty of knotless braids is how flat they are, and easy to install! Take your look to the next level with this gorgeous knotless braids bun. Pair your bun with beautifully laid edges for a fun and dressed-up look. We absolutely love the SheaMoisture Coconut & Hibiscus Defining Styling Gel when styling edges!
4. Boho-Chic Knotless Braids
The boho chic black knotless braids are a trend that's here to stay! The beauty of the boho-chic look is that as your braids begin to loosen up and age, it adds on to the style of the look even more. This is a gorgeous look for anyone who is looking for a cute yet low-maintenance knotless braids style.
5. Beaded Knotless Braids
Who says beads are just for kids? Splice up black knotless braids with a cute set of beads! If colorful beads are not your vibe, try neutral color beads or clear beads. This is the perfect look to wear as you transition into the warmer months.
Will you be trying out blonde knotless braids this winter? We want to see your gorgeous look! Show us by tagging @AllThingsHairUS on Instagram for a chance to be featured. Also, for more hair inspo, be sure to subscribe to our newsletter below. 
Prev Article
Next Article
Gallery
15 Ghana Braids Ideas to Inspire Your New Look
We're so obsessed with this popular protective look, and we're sure you'll be too.
See article
All Things Hair on Instagram