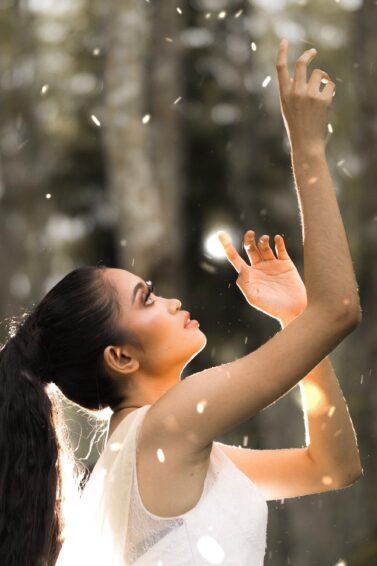 All About the Fairy Hair Trend + 5 Unique Variations to Try Now
Learn about the new take on fairy hair.
When you think of fairy hair, are you picturing sparkling tinsel strands throughout the hair? If you are you're not wrong! However, just like many '90s and 2000s trends, fairy hair is back with a twist.
This new variation of fairy hair draws a lot of inspiration from the cottagecore aesthetic. It has an ethereal and whimsical feel to it and includes a lot of styles with flower crowns, braids, and sparkles.
Thanks to TikTok, we've seen a lot of tinsel fairy hair coming back too, so if that's what you're here for, keep scrolling to learn about that variation and the new take on this trend.
The New Take on Fairy Hair
Similar to cottagecore styles, fairy hair focuses on soft, romantic looks full of braids, curls, and pastel colors. Fairy hair often incorporates flowers and floral crowns to create a whimsical look. This new variation of the trend is actually very wearable for an everyday look. Keep scrolling for inspo.
Braided Fair Hair Details
Fairy hair is all about the small details. For an everyday look, incorporate mini three-strand braids or fishtail braids into your hair when it's down. This is a subtle way to add a whimsical detail without worrying about an over-the-top look.
Flower Crown
Fairy hair is all about flower crowns. If you want to bring out your inner flower-child now is the time to do so! When going for that fairy hair look, choose a flower crown with white or pastel-colored flowers and opt for soft waves or curls.
Pastel Color Fairy Hair
In a lot of fair hairstyles, pastel hues are often spotted to give a whimsical look. If you're looking for a drastic change, try a pastel, pink, purple, or blue.
To keep your new color looking fresh, use Nexxus Color Assure Shampoo and  Conditioner. This set will nourish and cleanse strands while keeping your color vibrant for up to 40 washes!
Flower Details
Try out this trend with flower details. Adding small flowers to your hair is a great way to bring in that whimsical fairy hair look. Small flowers like this are easy to incorporate into braids or half updos.
To keep flowers in place, use a hair spray like TRESemmé Compressed Micro Mist Boost Hold Level 3 Hair Spray. This will help prevent them from falling out of the style, but won't give your hair that crunchy feeling.
Twisted Half-Updo with Flower Details
Looking for a different way to incorporate flowers into your look? Try adding them into a half-updo, like this twisted look. This is also a much more wearable way to sport a flower crown if you don't want to wear an actual flower crown all day.
Tinsel Fairy Hair
Looking to add a little more sparkle in your hair? If the new take on fairy hair isn't your thing, then tinsel fairy hair may be just what you're looking for. These sparkly strands are taking over TikTok!
What is tinsel fairy hair?
Tinsel fairy hair is exactly what you'd think, it's tinsel! Small strands of tinsel are individually tied on one strand of hair, which creates a sparkle effect throughout your hair.
The tinsel can be subtle and blend in more with your hair, or you can opt for bright colors like pink, green, or blue if you want it to stand out more.
How long does the tinsel last?
Once the tinsel is tied in your hair it can last anywhere from a day to a month. As long as you're gentle with your hair when brushing, the tinsel will stay tied to that strand of hair until it falls out of your head.
Can you use heat on your hair with the tinsel?
You definitely can! With this trend, you won't have to worry about sacrificing any hairstyles or hot tools.
How to Install Fairy Hair
While you can go to a salon to get your sparkly strands, this is a trend you're able to achieve at home if you'd rather do that.
To start, you'll need your hair tinsel (obviously), and a very small crochet hook to help you tie the knots if you want to use one. This process is pretty simple and straightforward, but takes patience, especially if you're installing many strands of tinsel.
Next, apply dry shampoo to your roots. This will help add texture and grip, making it easier for the tinsel to stay. We love using Dove Care Between Washes Clarifying Dry Shampoo because it instantly refreshes strands and absorbs excess oil.
After the dry shampoo is applied, begin tying the tinsel into your hair using a slip knot. To make sure the tinsel is secure, tie two or three knots. When tying the tinsel, you can tie each piece around one strand of hair or two to three strands for a longer-lasting look.
Repeat that process until you have your desired amount of tinsel in your hair, then you're good to go!
Whether you want to try the updated fairy hair full of flowers, braids, and pastel colors, or you're joining in on the TikTok trend and bringing back sparkly strands, both options are perfect for the warmer months.
Prev Article
Next Article
Tutorial
Tutorial: How to Wear and Style a Curly Low Cut Fade Haircut
Master the art of using a sponge curl brush to get your best low fade look yet in this hair tutorial.
See article
All Things Hair on Instagram