What You Need to Know About the Lob Haircut
This mid-length haircut is so you.
The lob haircut is having a major hair moment right now! Like, major: As seen splashed across every magazine and blog to the latest iteration on celebs and strutting on the catwalk, it's easy to see why everyone loves this chic in-between 'do. Characterized by its short length that still looks long, the lob is basically the longer version of the bob haircut (hence the name) with the length falling around the collarbone or by the chin. Read on to discover more about this awesome cut to figure out if it can work for you:
About the Lob Haircut
1. Make sure you're ready for a change.
If you have a hard time cutting your hair, the lob might just be the perfect option for you where it'll give you the option to test out a shorter cut while still retaining some length. Great for women who are seeking a subtle change, lobs are also ideal if you have damaged or distressed tresses that need to be chopped in a stylish manner.
2. Find the right look.
With any haircut find yourself lusting over, be sure to assess whether the style can work for you. This includes looking online for inspiration (our hair gallery is a good start) or working with your hairdresser to determine if the lob can work for you.
3. Know your hair.
You may think you know your hair type, but that can all change after you get a new cut. While you can get a lob if you have really thick or wavy hair, you should work with your hairdresser to figure out the best length, which may include layers or a slight fringe.
4. Figure out your desired length.
The lob is generally seen as reaching anywhere from your collarbone to your chin. Or course, there are no hard and fast rules, so be sure to know how short (or long) you are comfortable to experiment with.
5. Decide if you want bangs.
Many lob haircuts also feature looks with a long or side-swept bang. We love this modern combination that looks great for women in their 20s and 30s. While this look is stunning, you'll also have to figure out if you want another hair change that you'll have to maintain and upkeep. We vote to try it, at least subtly! If you're finding that
6. You'll have to maintain it.
Just like with any cut that you want to hold on to, you'll have to get regular trims (around every eight weeks) to keep up with your lob.
7. Lobs look great with a new color.
After you get the lob, consider enhancing your color by trying out something new. We have seen tons of chic pink, gray, and platinum lobs. Plus, we've seen tons with highlights or a different color than your own. It's really all about having fun with your new look. If you add color to your lob, be sure to use a color-treated shampoo and conditioner such as the Clear Color & Heat Conqueror Shampoo and the Clear Color & Heat Conqueror Conditioner.
8. Know how to style it.
You'll always have to style your hair, but lobs, especially those with a little curl, offer a very easy way for you to wash and go. Some hair types may require a styling cream or some serum like Dove Regenerative Nourishment Serum-in-Oil which can nourish your hair and smooth out any frizz. Another option is to use Suave Professionals Texturizing Sea Salt Spray, which can help you to create bouncy, heatless waves.
Are you ready to try the lob haircut?
Prev Article
Next Article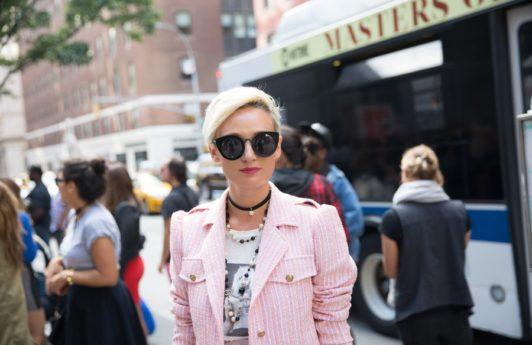 Gallery
The Chicest, Most Messy-Cool Blonde Bob Looks We Love
Or: How to look cool hot without even trying.
See article
All Things Hair on Instagram