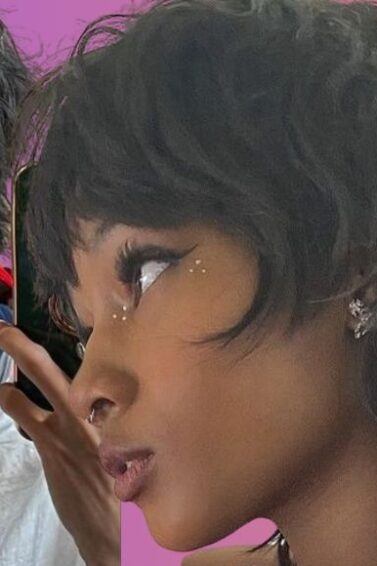 10 Genderless Anime Hair Trends that Will Dominate 2024
Bring your favorite character's hairstyle to life!
Anime is a style of animated film and media originating from Japan that covers a wide range of behavioral, social, and political topics appealing to various age groups. It includes genres like fantasy, adventure, science fiction, romance, horror, and slice-of-life stories. Anime characters are known for their unique hairstyles, and vibrant personalities, which is why fans are always curious about anime hair. With the unprecedented rise in popularity of anime over the past few years, there has been a surge in anime enthusiasts looking to replicate the distinctive styles of their favorite anime characters. Of course, we are talking about hairstyles, and below, we'll explore some of the most popular style trends. Keep reading to discover how anime hair translates and comes to life in people.
Anime Hair Expressions Trending Now
Since anime is quite androgynous, we decided to make this article gender inclusive.
1. Black-Red Textured Mullet Anime Hair
This hairstyle showcases a bold color contrast, with the top portion in deep black and a section dyed red at the nape and along the hairline. For example, the top is cut in layers to create texture and dimension. Apply a texturizing product to create the cool waves the model has. We recommend AXE Texturizing Cream because it creates texture without leaving the hair stiff.
2. Mystical Mull-Shag with Long Bangs
This haircut embodies a dreamy style, reminiscent of fantastical and gender-fluid characters often seen in anime. It's a captivating look achieved by leaving the hair on the back longer than a traditional mullet. In other words, the front is styled in a shag with face-framing strands that blend seamlessly with the long bangs.
3. Anime Hair-Inspired Pigtail Dreads
This style combines unique hairstyles such as pigtails and dreadlocks to create a gravity-defying aesthetic often seen in anime films. Characters sporting this look in anime are typically seen as cool, relaxed, and sometimes even lively and cheerful. For instance, while this style isn't exclusive to anime, many individuals online have found the confidence and inspiration to embrace it thanks to the characters they've seen on screen.
4. Platinum Shaggy Wolfcut
One hair color commonly seen in anime is the classic white or platinum hue. This style incorporates this hair color with a haircut that has long been associated with Japanese culture. The wolfcut is featured on characters of various genders in anime. Therefore, this anime hair not only imparts an otherworldly vibe but also evokes a sense of cultural resonance. Add texture with a mousse such as TRESemmé Tres Two Extra Hold Mousse for Frizz Control. It gives hold without the scrunchy feel.
5. Brunette Shaggy Wolfcut
Similar to the previous style, this look incorporates wolfcut elements. However, it's characterized by a longer, shaggier appearance with no distinct layering that connects the shorter sections of hair near the scalp to the longer strands at the nape. In conclusion, this style exudes a playful and rugged vibe, blending various elements of anime hair.
6. Sharp Layered Black Bob
Reminiscent of numerous anime characters, this black bob with sharp, pointy layers is a classic. We love the extended hair in the back and the face-framing pieces plus elongated bangs. This anime hairstyle offers a striking fusion of fantasy and edge.
7. Layered Lob
This hairstyle gives both a cute, manic-lob-dream vibe that beautifully frames the face and adds dimension. Additionally, we can't get enough of the choppy bangs on the forehead and sideburns. The acute layering gradually transitions from sharp on the front into longer, softer layers towards the back. If you have natural hair, use a texturizing gel such as SheaMoisture Coconut & Hibiscus Defining Styling Gel. This product gives texture and hydrates.
8. Red and Black Jellyfish Haircut
Unleash your inner anime villain or hero with the dramatic jellyfish haircut. Dyeing the front section near the scalp in a vibrant red or any desired color creates a bold statement. Complement this with black dye for the remaining of hair to achieve a powerful contrast commonly seen in anime. Lastly, this jellyfish cut is guaranteed to capture attention and completely transform your vibe.
9. Dual-Tone Concave Layers
Welcome to a more low-key yet edgy style, inspired by our favorite long-haired anime heartthrobs. This look combines elements of concave layers, a wolfcut, and curtain bangs.  Thanks to its many layers you can play with two contrasting hair colors to create a cool anime effect.
10. Full Modern Tapered Haircut
The final style of this article is the charming, laid-back, layered tapered haircut. This modern version is longer and its layers are styled with texture. For instance, this haircut is great for people with naturally thick hair.
In conclusion, we hope you've enjoyed the variety of hairstyles presented in this article. The key takeaway is that these anime hairstyles are suitable for all genders, embracing the fluidity often depicted in anime regarding gender expression and identity. These fun styles are sure to assist you in channeling your inner main character.
Prev Article
Next Article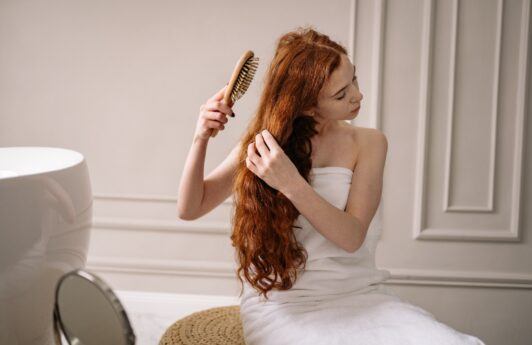 Article
What's the Right Way to Brush Hair Per Hair Type?
Brush your way to shiny, tangle free hair. 
See article
All Things Hair on Instagram