21 Brown and Blonde Ombré Hairstyles for Every Hair Type
Brown and blonde ombre hair never looked so good.
Ombré hair is beginning to turn into a classic style. Over the years we've seen it evolve into even more blended variations, like balayage. However, the two-toned style has never truly gone out of style, especially brown and blonde ombré hairstyles.
This color combo is easily the most popular variation of ombré hair and there are so many ways you can sport this style. Keep scrolling for some hairstyle Inso for your next ombré look.
21 Brown and Blonde Ombré Hairstyles You Need to Try
Whether you try out a new braid or create beachy waves, check out the variety of ways you can show off your brown to blonde ombré look.
1.  Halo Braid
Show off both of your hair colors with a halo braid. We love how the braid is accented against the base of your head with the lighter color. Keep your braid in place all day by using TRESemmé Compressed Micro Mist Level 3 Boost Hold Hair Spray.
2. Voluminous Brown and Blonde Ombré Curls
Voluminous curls like this are such a classic look and are an amazing style to try on any hair color. To achieve these curls, gently brush out your curls once they're cooled.
3. Tinted Brown and Blonde Ombré Hair
If you want to go for that dark to light look, but don't want a bright blonde hue, opt for a slightly tinted look like this rose gold color. This rosy hue adds a certain softness to your ombré look.
4. Beach Waves
Use a flat iron to create subtle beach waves in your brown to blonde ombré hairstyle. This will give your hair a certain effortless kind of texture! Wear this style down or pull it up into an easy updo for a truly laidback yet chic style.
5. Half-Updo Fishtail Braid
Long waves paired with a half-updo princess braid will make you feel like a princess. Plus, you'll be able to show off your beautiful new color.
6. Twisted Black to Blonde Ombré Hair
Why not go for some twists? This protective style helps your hair while showing off the transition of colors throughout your look.
7. Shoulder-Length Hair
A shoulder-length cut lets you still have some length for various hairstyles while keeping it very manageable. This shoulder-brushing length is super chic and still long enough to allow you to get creative with your hairstyles.
8. Long Wavy Blonde and Brown Ombré Hair
What better way to show off your brown to blonde ombré hair than with long, soft waves?! Use a large barrel curling iron to create these loose waves.
9. Warm Ombré Style
If you want to go lighter on the ends, but aren't ready for a drastic blonde color,  try out a warmer dirty blonde look. This color will brighten up your hair, making it perfect for fall.
10. Curly Dreadlocks
Just because you have colored hair doesn't mean you can't have dreadlocks too! Try this unique curly dreadlock style.
11. Subtle Brown and Blonde Ombré
Just because you go for ombré doesn't mean you need a drastic change in color. We love this subtle version for a softer transition!
12. Partial Braided Curls
You don't need to braid the entire length of your hair to try out braids. Leave 1/2 – 2/3 of your loose to show off your curls.
13. Brown to Blonde Ombré Curls
Embrace your voluminous texture with a shoulder-length hairstyle. To keep your colored hair vibrant, use SheaMoisture Purple Rice Water Strength & Color Care Shampoo and Conditioner. We love this set because it protects colored natural hair, combats brassiness, and helps your hair feel soft.
14. Straight Hair
What better way to show off your brown to blonde ombré hair than with a sleek and straight look?
15. Half-Updo Braided Look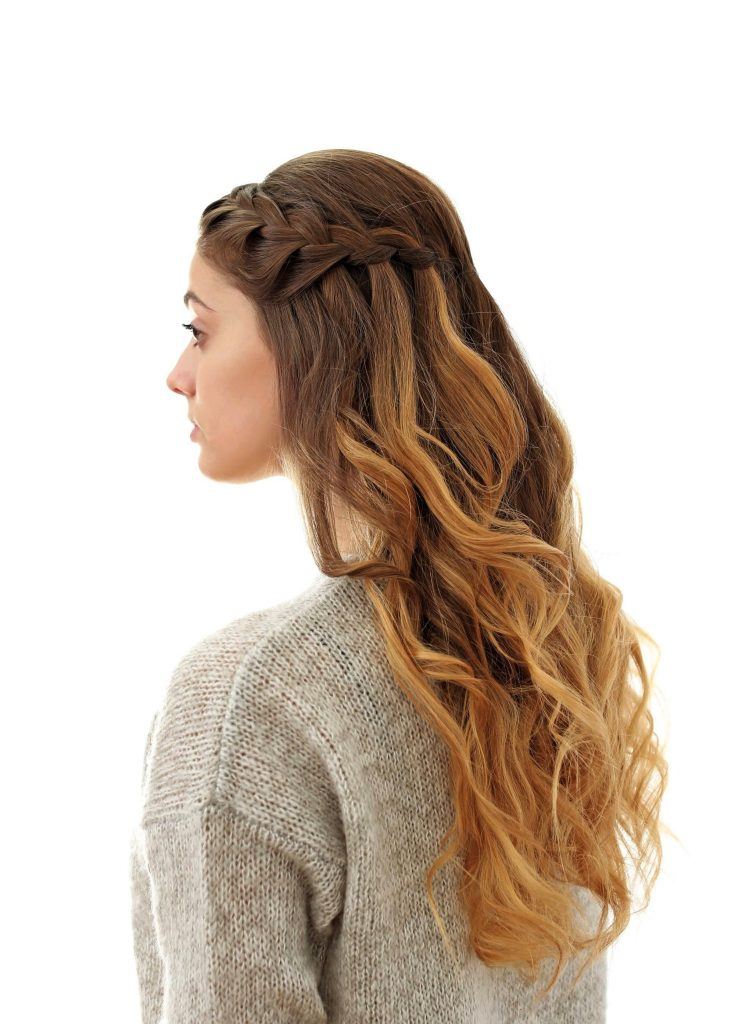 We love how this half-updo braided hairstyle keeps your hair out of your face while still looking very elegant.
16. Classic Wavy Hairstyle
Waves like this are one of the most popular styles right now. This hairstyle is extremely versatile, and perfect for many occasions!
17. Relaxed Ombré Hair
If you want to achieve a straight, sleek look with your ombré color, try relaxing your hair.
18. Soft Wavy Brown and Blonde Ombré Hair
Make your hair shine and stand out by adding subtle soft waves throughout. This also helps emphasize your color too.
19. Drastic Ombré
Looking for more of a drastic ombré style? Try out a look like this that's less blended.
20. Ombré Space Buns
Space buns give your new colored look a quirky twist.
21. Ombré Braids and Highlights
We love how the differences in color look within the braid pattern!
From space buns to dreadlocks, show off your brown to blonde ombré hair in style!
Prev Article
Next Article
Gallery
30 Fresh and Chic Brown Blonde Hair Colors to Try Now
Get you a shade that does both: These brown and blonde hair color ideas take the guesswork out of seasonal color.
See article
All Things Hair on Instagram