50 Best Brown and Blonde Balayage Curly Hair Looks for Winter
Make like the French! Embrace a trés chic new look this season with balayage on curly hair.
Balayage curly hair is a dyeing technique where the colorist's hand paints the dye onto the client's hair to create a natural-looking change in color. The most popular color transition is from dark to light, which is usually a blonde tone. This coloring technique has become very popular over the last decade and serves as a less intense alternative to ombré.
Renowned for the naturally sun-kissed effect it gives the wearer, balayage is said to be much easier to maintain and grow out than regular foil highlights. It also naturally fades into subtler ombrés, making balayage a sexy, lower-maintenance choice for those who want to infuse a gentle dimension shot into their strands.
Now, we know not all highlight jobs are equal (and nor should they be!), so we broke down our roundup to help inspire you wherever you may be in your color journey. Read on:
Balayage Curly Hair Care
When cared for properly with the right color-safe hair products, balayage can last up to 12 weeks before requiring a touch-up. We love this beautiful transition on all hair types, and it looks particularly stunning on a curly hairstyle as balayage curly hair It's also good to note that when it comes to hair textures and balayage, curly hair also has an added advantage: Any and all seams are magically hidden with the ringlets, garnering even more natural-looking results.
Shampoo and Conditioner
When picking out the best shampoo and conditioner, make sure to pick a set that is safe for color-treated hair and will moisturize your curl without weighing them down. We love SheaMoisture Sugarcane Extract & Meadowfoam Seed Miracle Multi-Benefit Shampoo and Conditioner because this set can be used on colored hair and includes a blend of Sugarcane, Meadowfoam Seed, Marshmallow Root, and Phyto-Proteins, which help soften and smooth your hair.
Curl Defining Cream
A curl-defining cream when can be very beneficial because it will help moisturize, tame frizz, and define your curls. We love using Nexxus Curl Define Daily Leave-In Moisturizer because it uses an exclusive ProteinFusion blend, enriched with silk protein and marula oil, which helps lock in moisture and control frizz.
50 Balayage Curly Hair Ideas
From copper tones to ashy hues, find out how you can sport balayage on your curly strands.
1. Ashy Balayage Curly Hair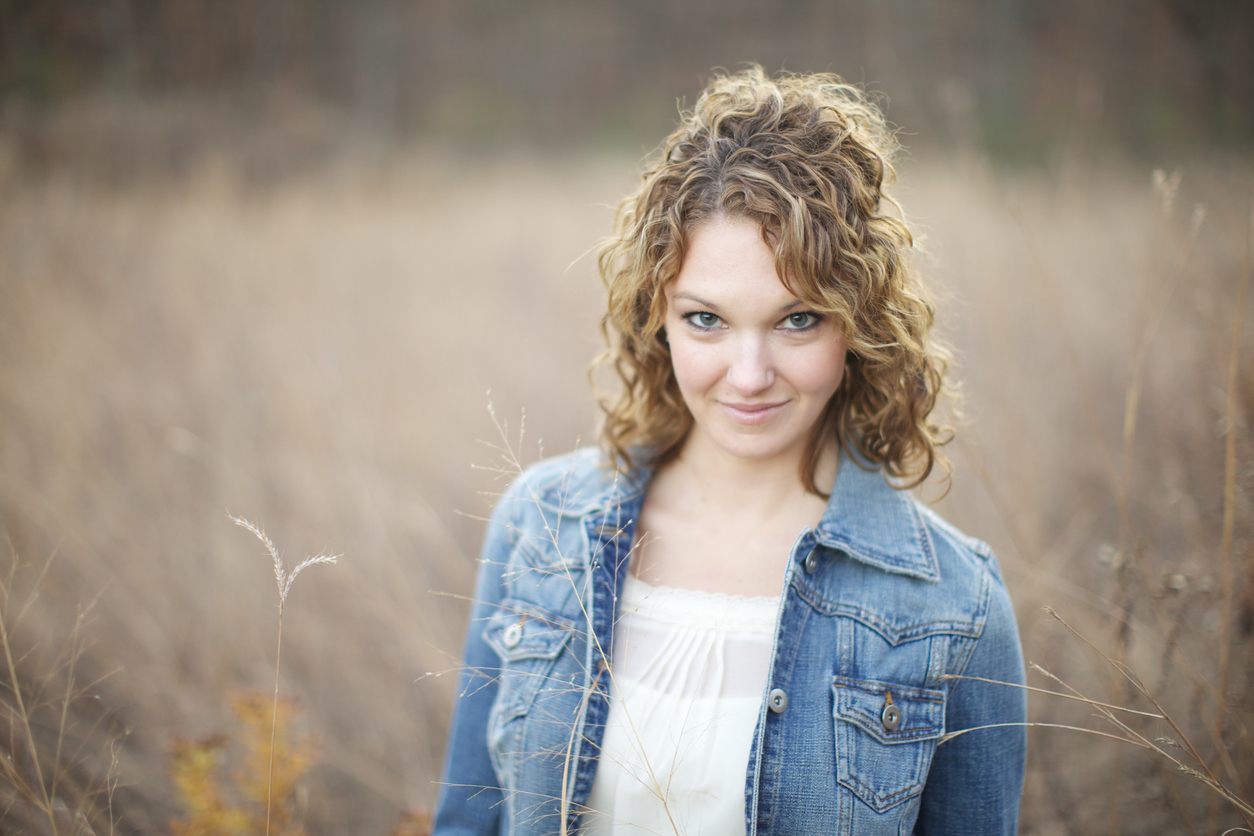 An easy scattering of highlights around the face makes for a naturally streaked effect, and paired with the length of the season? A win-win. Wear your curls pulled up into a half-up style to add even more volume to your roots.
2. Medium-Brown Waves
This look is all about restraint. The right shade of highlights can strategically uplift your entire base, provided they complement your skin tone to a T. Talk to your stylist about which color highlights will best flatter your skin tone.
3. Smooth Blonde Waves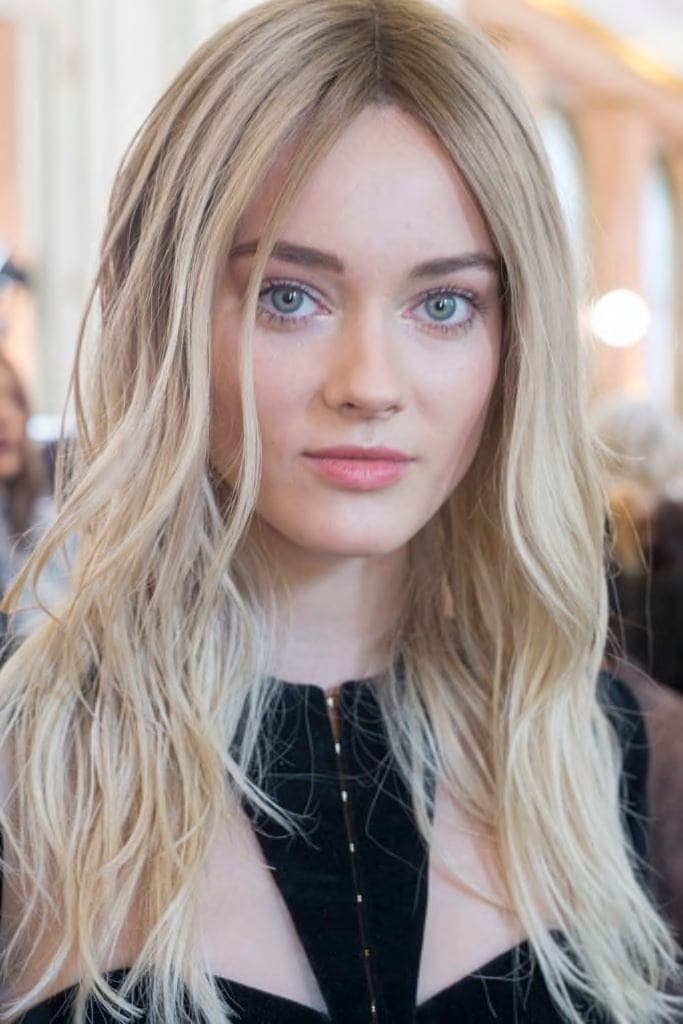 Sparse strips of lighter color somehow seamlessly blend into the rest of this cool blonde shade. Styled in a polished wave, and it's a foolproof day-to-night option. Keep your blonde cool and fresh by washing with a purple shampoo and conditioner duo, like Nexxus Blonde Assure Purple Shampoo and Conditioner.
4. Sexy Chocolate Curls
Medium to thick chunks of color breaks up a dark base. Ed's note: We're loving this luscious, reddish-brown shade! Keep your color vibrant by swapping out your usual shampoo and conditioner with a color safe duo.
5. Copper Highlights for Balayage Curly Hair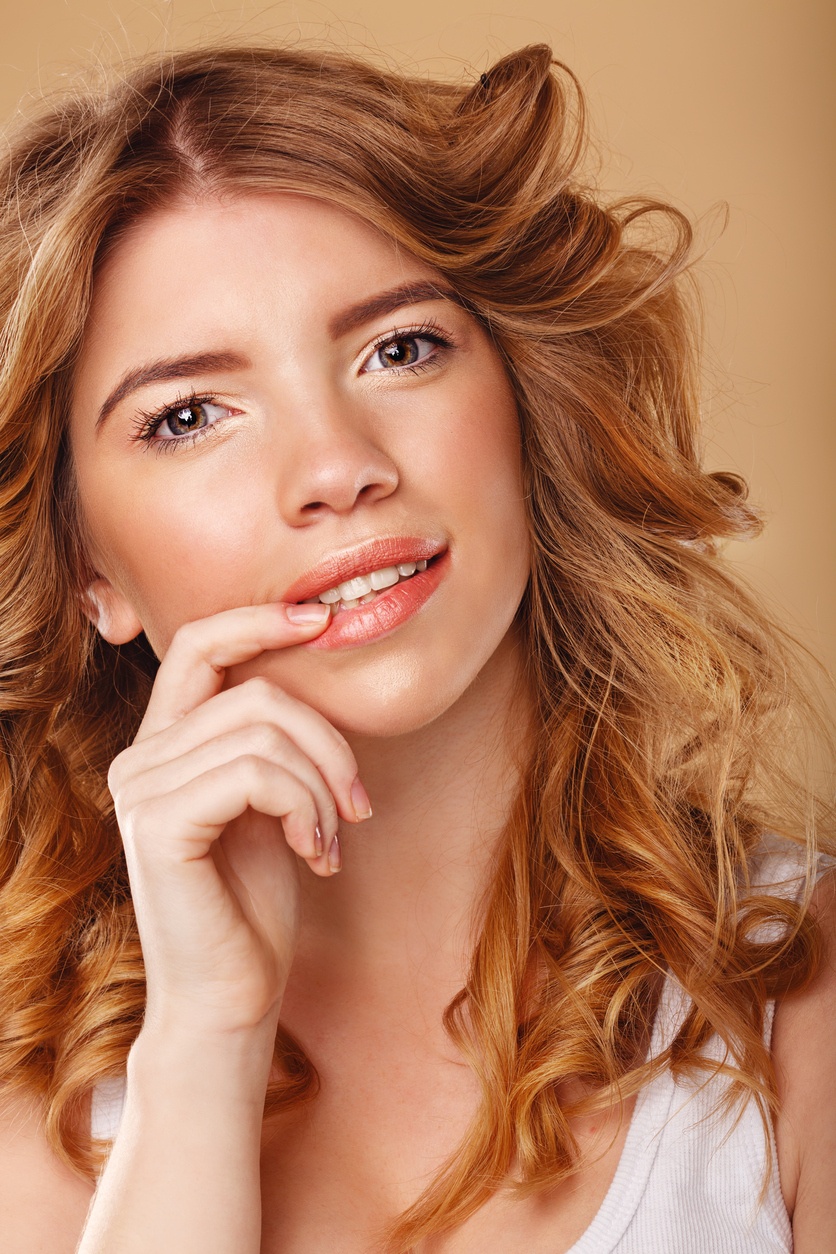 Barely-there penny-hued highlights make this bright copper shade all the richer. The highlights also add a level of gloominess to the look. This color is not for the faint of heart and doesn't flatter everyone's unique skin tone! Talk to your colorist about a shade that will work for you before taking the plunge.
6. Dark Auburn
This deep, warm-toned mahogany brown balayage pops against fair skin with peachy undertones. This transition from dark to light is so subtle that it's almost one of those 'barely there' color combinations!
7. Subtle Balayage
If you want to change up your hair, but aren't looking for a drastic difference, lighten your strands with a subtle golden balayage look. Ideal for a change in the summer months when we're all looking to lighten up our styles, you can always trim the ends as the weather cools off which makes this a low-risk choice.
8. Rose Gold Ringlets
It's been the color of the past few seasons for a reason! A rose gold balayage, particularly around the fringe and temple areas, looks chic and fashionable without trying too hard.
9. Dark Caramel Spirals
Sultry caramel highlights get emphasized even more when styled in perfect spirals. Use a curling iron to further define your curls to create this more distinctly curled style. Start the curls at the top of your cheekbones for this super-flattering look.
10. Caramel Balayage on Curly Hair
Lighten your dark coils by adding a caramel-colored balayage. This will create a warm hue, perfect if you're going for a brighter look. A color like this one brightens up your entire complexion with ease!
11. Natural Bronde
Blink and you'll miss it—such is the appeal of these understated khaki blonde streaks. This adds an icy hue to your overall look. A subtle transition like this one gives your hair an overall brighter effect.
12. Sienna Waves
Micro-strips of reddish-brown is woven into the hairline layers for a subtly seductive appeal. This kind of highlighting technique takes a skilled hand so make sure to do research on your colorist before committing!
13. Coffee Curls
Whoever said that they wanted some swirl in their coffee was probably referring to this elegantly highlighted curly look, which features a cool-hued brown balayage near the fringe and sides.
14. Golden Ringlets
What's a pretty way to wear tightly-coiled curls? Accent the front pieces with a lighter shade—in this case, a wheat hue—to play off the golden base. Opting for a brighter hue that frames your face will brighten up your entire complexion.
Involved Balayage Curly Hair Looks
You're not new to the game, and a curly balayage look is something you've always been curious to try. Whether somewhat streaky or an-all-out double-process, you've most likely dyed your locks before, and highlights are a fave look whenever you need to step up your game or need a seasonal refresh. You're not afraid to get trendy with your hair color and probably have a reasonably seasoned hair history (layers during the '90s, or a pink phase? Check!). Go for some highlights that start mid-length, and maybe experiment a bit with shades you haven't tried before. Perhaps honey, caramel, or ash blonde to dive a bit of personality into dark hair, or some deeper red to enliven your copper.
15. Wheat Blonde
A chunky, messy lob is just the foil for this hyper-trendy color. This subtly rooted look perfectly offsets the wheat blonde hue of the rest of the style. Add a slight curl to your style to polish off the entire look.
16. Sandy Blonde Balayage Curly Hair
Light dune-colored highlights blend perfectly into an ashy base. This is the perfect option if you're wanting to go lighter. Keep your roots their natural color so that you don't have to run back to the salon every six weeks!
17. Khaki Curls
Gold and khaki strips are an unusual combo in this winning look. Highlights like this add more of a honey hue to your darker shade. Consider this mid-tone blonde shade if you aren't quite sure about the exact shade you want to go for.
18. Soft Copper
Thin sweeps of copper make for a sweet yet sexy option for women with a dark base. These super-thin highlights are a total work of art! Opt for thin highlights like these if you want a more intricate look.
19. Tan Ringlets
The placement of the sandy blonde highlights is one of the most flattering we've seen. Opt for face-framing highlights to brighten your complexion. Use a curling iron to curl the front pieces away from your face to open up your complexion.
20. Ash Blonde Ombré
Dark ash brown shifts into a coppery tan in this summery ombré. By maintaining your dark color around your face, you will automatically guarantee a flattering overall color story.
21. Bright Bronze
A little bit bold and streaky, this medium-contrast balayage looks best when styled in a summery beachy wave. Use a large curling iron to flip up the ends of your hair into a classic blowout style.
22. Copper Ends
Lighter sienna tips are a more natural twist to dip-dyed ends for balayage curly hair. Use an overnight braided heatless hairstyle to recreate this beach wave style. Add a mist of texture spray to add even more movement to the look.
23. Shiny Caramel Ombré
This lush, almost rustic hair color is a great gradation of warm shades: from a deep nutty base to bronze tips. Ideal for the cooler months, consider this kind of color story for a warmer alternative to classic blonde hues.
24. Sandy Blonde Curls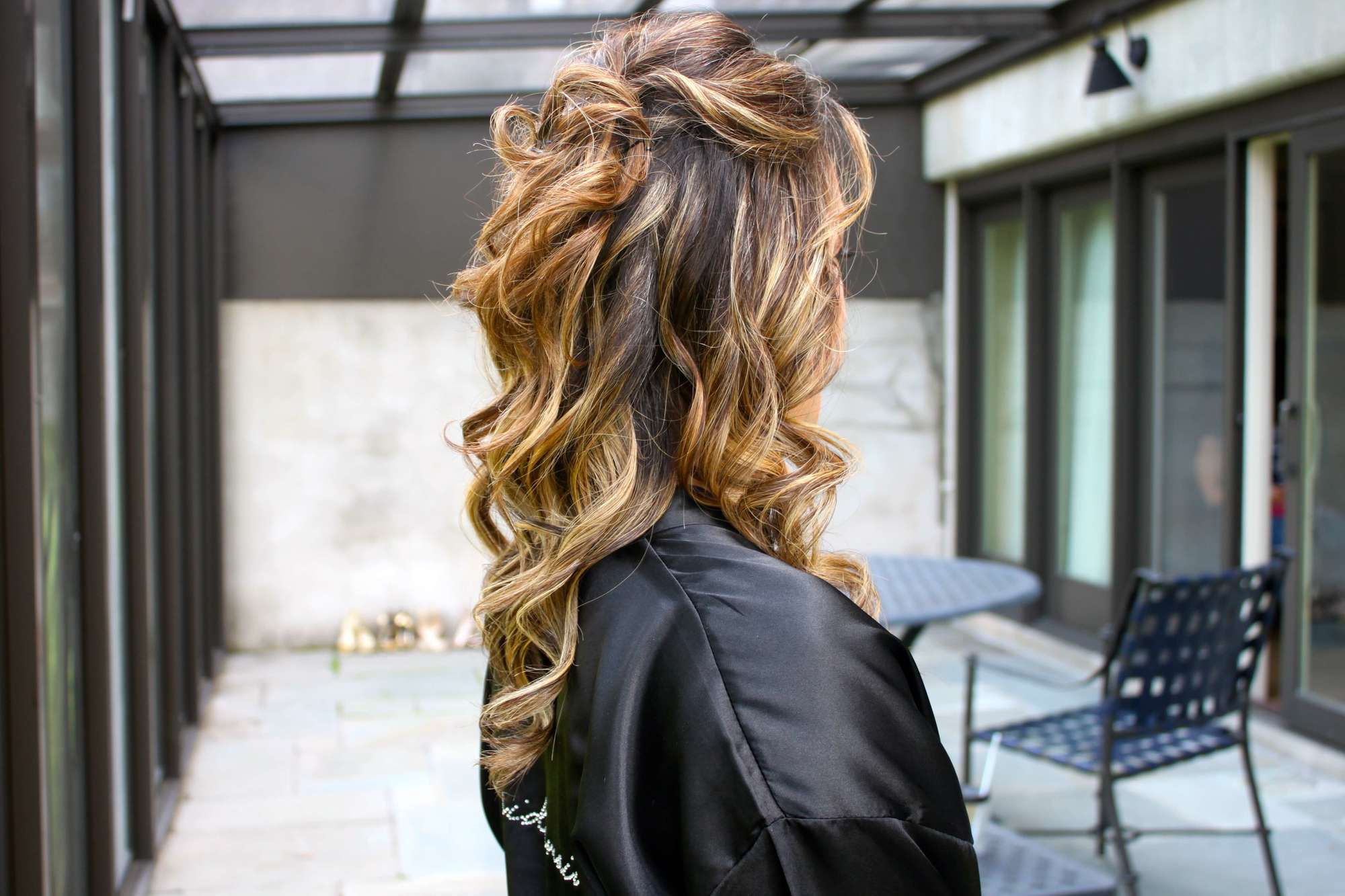 A popular choice, these lemon yellow streaks get grounded by an espresso base. We can't get enough of this particular color combination, and we especially love how this style looks when curled to perfection!
25. Honey Ringlets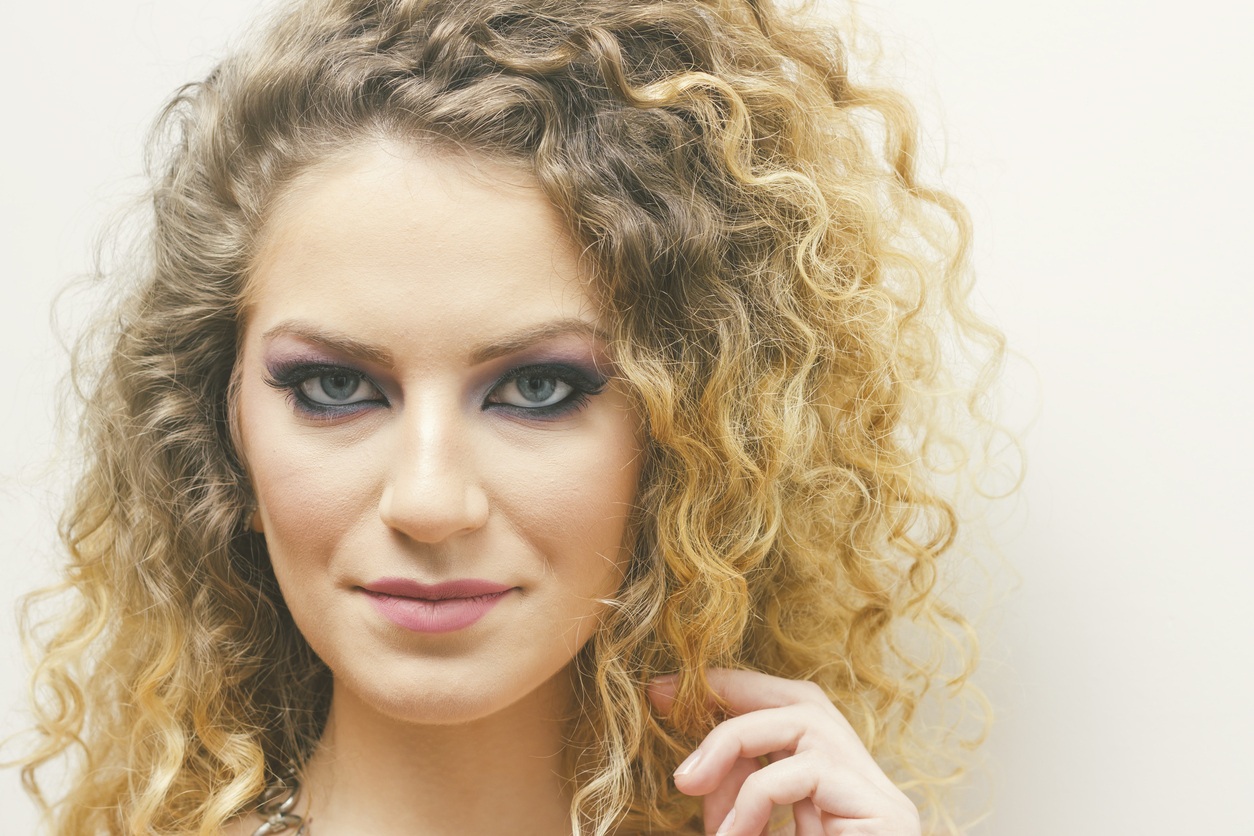 Ash brown blends into a golden base in an unlikely yet flattering balayage curly hair look. This color transition is ideal for those with a naturally ashy brown base. The smooth blend into blonde ends is what balayage dreams are made of.
26. Golden Beachy Waves
Lush, coppery streaks make for an elegant and fashion-forward look. These highlights add shine and enhance your texture. This is another ideal color combination for the summer months!
27. Smooth Rosewood Highlights
A chic medium rose gold provides a molten touch to this balayage. This is a great way to warm up a darker brunette shade without going all-out blonde. These light reflective honey hues add instant shine to your complexion.
28. Ash Brown Ombré
We can definitely get behind this tan-to-wheat gradation. This seamless gradation of color is one of the softest and most wearable ombrés we've seen. It's a classic color story for a reason! Bring this balayage inspiration to your stylist if you want to recreate this look.
30. Rooty Flaxen Blonde
Can you say hot? A grown-in root paired with lighter blonde balayage on the sides is one of today's sexiest trends. This is the perfect way to get in on a bleach blonde hair look without sacrificing the health of your roots.
31. Strawberry Waves
This multi-tonal reddish shade is both dimensional and clean. It taps into that copper family without being overly red. This is often an ideal color goal for those with darker brown hair that might not lift as well to a much lighter hue.
32. Rooty Sunny Blonde
Like sunshine in a bottle! This undeniably summery shade starts out slightly rooty at the base, and warmer at the ends. This particular balayage hue will transition beautifully as your hair grows out.
33. Pale Ash Sombré
Styled in flips à la 1970s starlet, a truly ashy shade gets haute appeal. Use a mid-sized curling iron to create this flipped-out style reminiscent of the '70s. A deep side part finishes off the style to perfection.
Loud & Proud Balayage Curly Hair
Been there, worn that—and open to suggestions! You're definitely not an n00b when it comes to hair color and balayage, naturally curly hair notwithstanding. In fact, you think texture adds another layer of awesomeness to an already interesting color. You were probably first in line when ombré hit the scene, and can find yourself pouring relentlessly over Pinterest and Instagram trends for hours on end, your stylist's number at the ready. A higher-contrast sombré is a balayage look that's certainly up your alley, especially if you've got natural-textured or tightly curled locks.
34. Dishwater Blonde
Ask your stylist to carefully smudge your color through for a well-blended version of this look. This is another example of how important it is to go to a colorist that knows her stuff! This technique is truly a work of art.
35. Drippy Bronde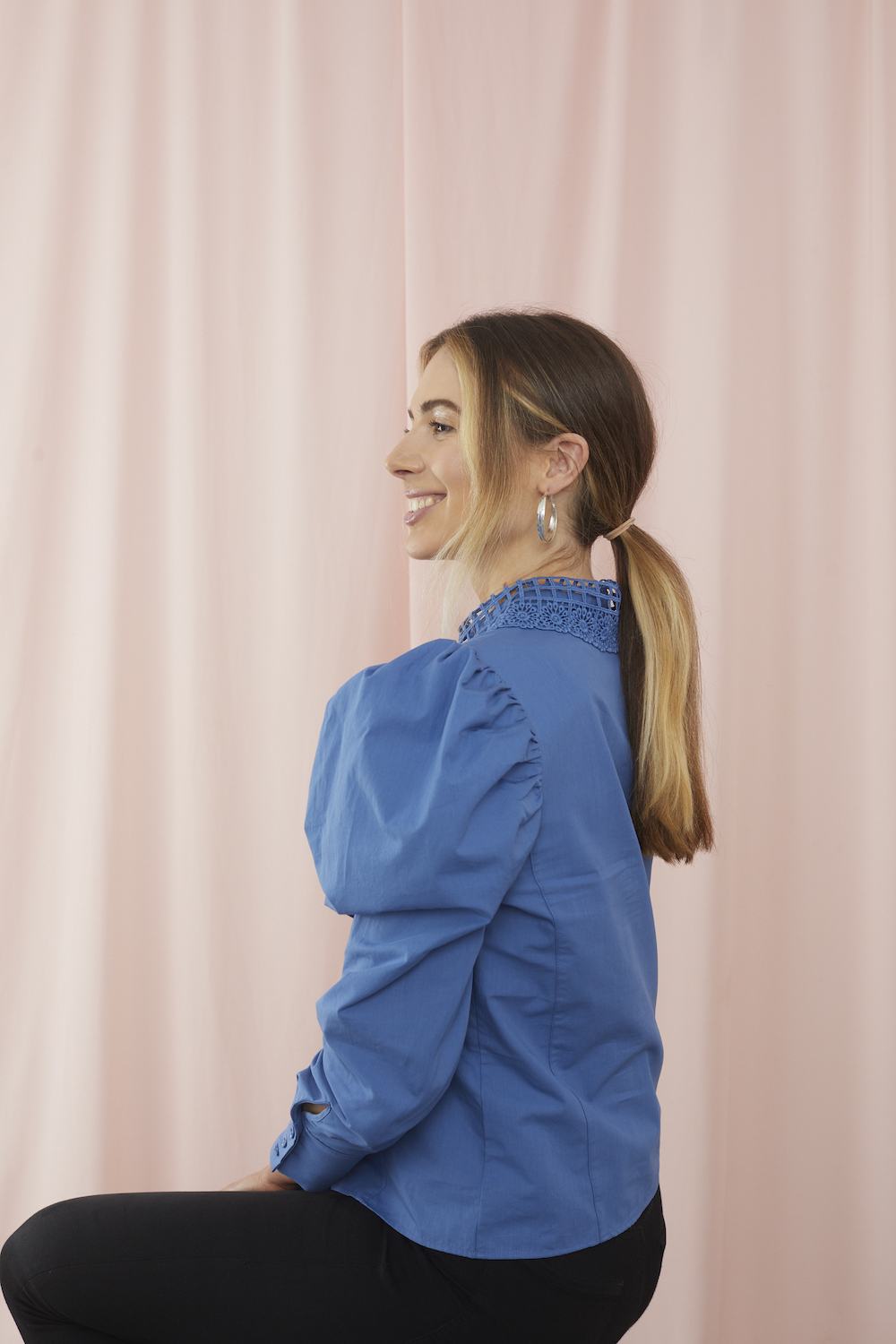 Multiple shades are swept onto a medium brown base for a more dynamic effect. Again, this style includes face-framing lighter pieces that automatically brighten up your complexion.
36. Raspberry Ombré
Consider this a fun, slightly edgier alternative to traditional browns and blondes, if you want a different take on balayage curly hair. Infuse your hair color with raspberry hues for a bright pop of unexpected color.
37. Beachy Taupe
Equally relaxed and interesting, this sun-bleached taupe shade is grounded by a dark root. Wear your curls naturally to recreate this beachy laidback style! We can't get enough of this shoulder-length curly style.
38. Crisp Russet Coils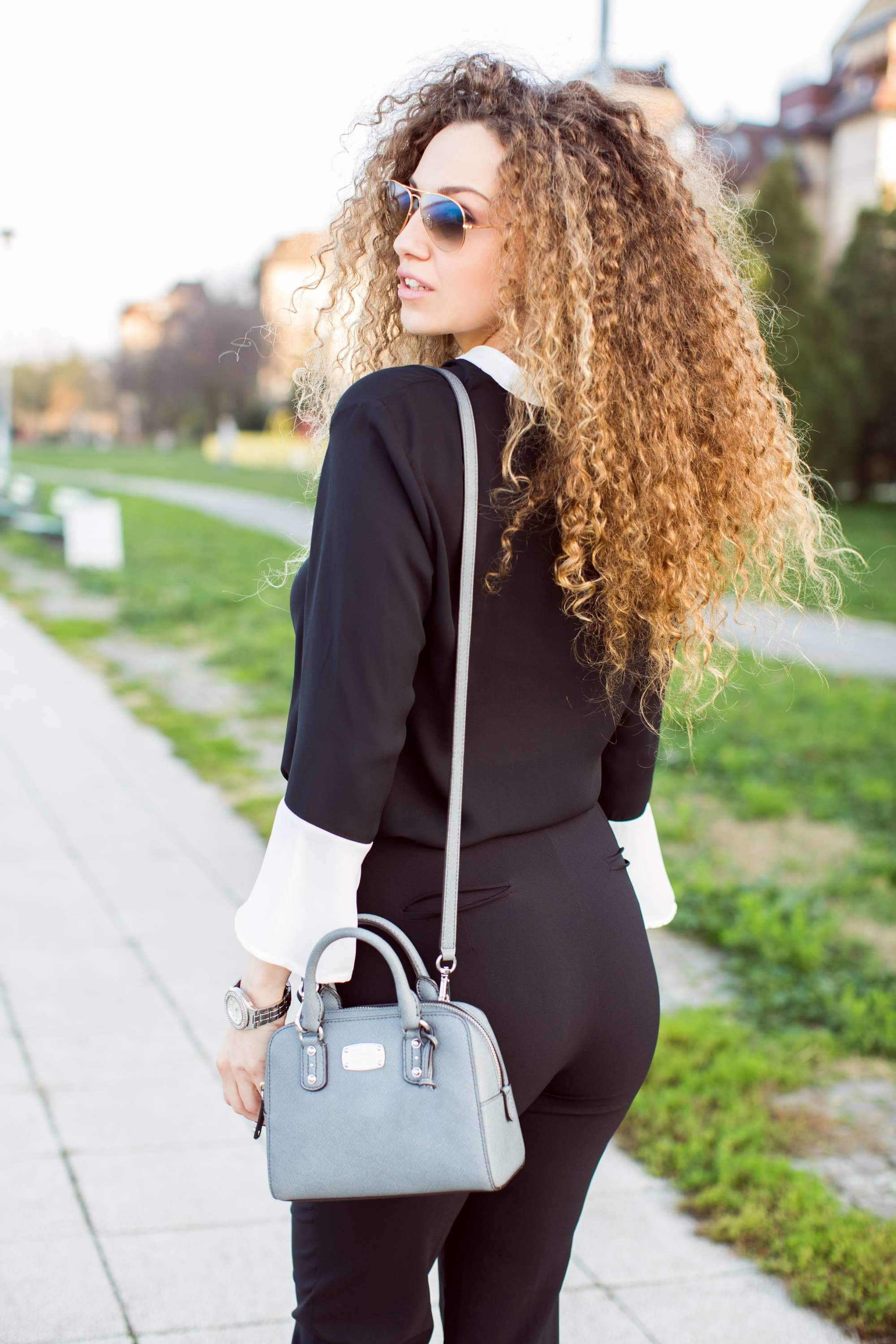 Clean and well-blended, this look features a coppery-brown base with some face-framing blonde highlights. This style is proof that a balayage color style is about including more than just two colors sometimes!
39. Rooty Honey Ombré
Want a more laissez-faire option? This curly, rooty blonde is high-contrast and high-impact. Not for the faint of heart, this bright pop of color adds an instant edge to your natural curls.
40. Tan Streaks
Shiny tan streaks elevate an otherwise basic chocolate hue. This high contrast combination makes a major statement! The sporadic placement of the highlights keep this style from becoming over-the-top.
41. Delicate Honey Tips
Highlighted natural hair gets a frosted effect with a honey shade. Talk to your colorist about highlight placement and consider this sporadic placement. Ask your colorist to focus the highlights around your face to brighten up your complexion.
42. High-Contrast Corkscrews
The mahogany spirals in the mid-length bring together two high-contrast shades. Curling your hair or taking advantage of your natural curls is a great way to blend both hair colors for a cohesive look.
43. Messy Platinum
White blonde strips near the hairline jazz up this platinum shade even further. Loved these balayage curly hair looks but still need some guidance? Scroll on down below to see how various tones (warm, cool, neutral) can make a difference on your chosen highlights.
44. Blonde on Top Balayage
Balayage is generally done to the top layers of your hair to make it look sun-kissed. If you're going for a bright blonde shade, why not keep the bottom section of your hair dark? The contrast is totally gorgeous. Going for such a light blonde can be drying on your hair, especially if the darker tone is your natural hair color. Make sure to nourish your curls with a hair mask at least once a week.
45. Ashy Blonde Balayage
For a lighter look try an ashy blonde. For those who have naturally light brown hair, this shade is easy to obtain! We just recommend keeping a purple shampoo on hand to keep brassy yellow tones at bay.
46. Extra Subtle Light Brown Balayage
Add definition to your curls by only lifting your color a level or two. This gives a subtle effect to your balayage and keeps it looking downright natural. The lightness helps to break up the look of your curls without going overboard.
47. Dirty Blonde Nude Balayage
Remember the nude hair trend? You can do it with a balayage, too! The goal would be to match the lightness of the balayage to your skin tone to create an overall nude look.
48. Subtle Ginger Balayage
For those interested in more red tones, why not go for a ginger balayage? This is basically the only time brassy tones don't bother us. Warm gingery orange shades are so gorgeous with warmer skin tones.
49. Amber All Over Balayage
There's no reason you have to wear a balayage against your natural hair color. We totally love this amber hair color with lighter amber balayage. There are so many tones going on that it gives super curly hair a lot of depth and shape! With this much color change, you'll want to break out the big guns and moisturize your hair with nourishing oils like Love Beauty and Planet Rose & Almond Natural Oils Infusion.
50. Wheat Brown Balayage Curly Hair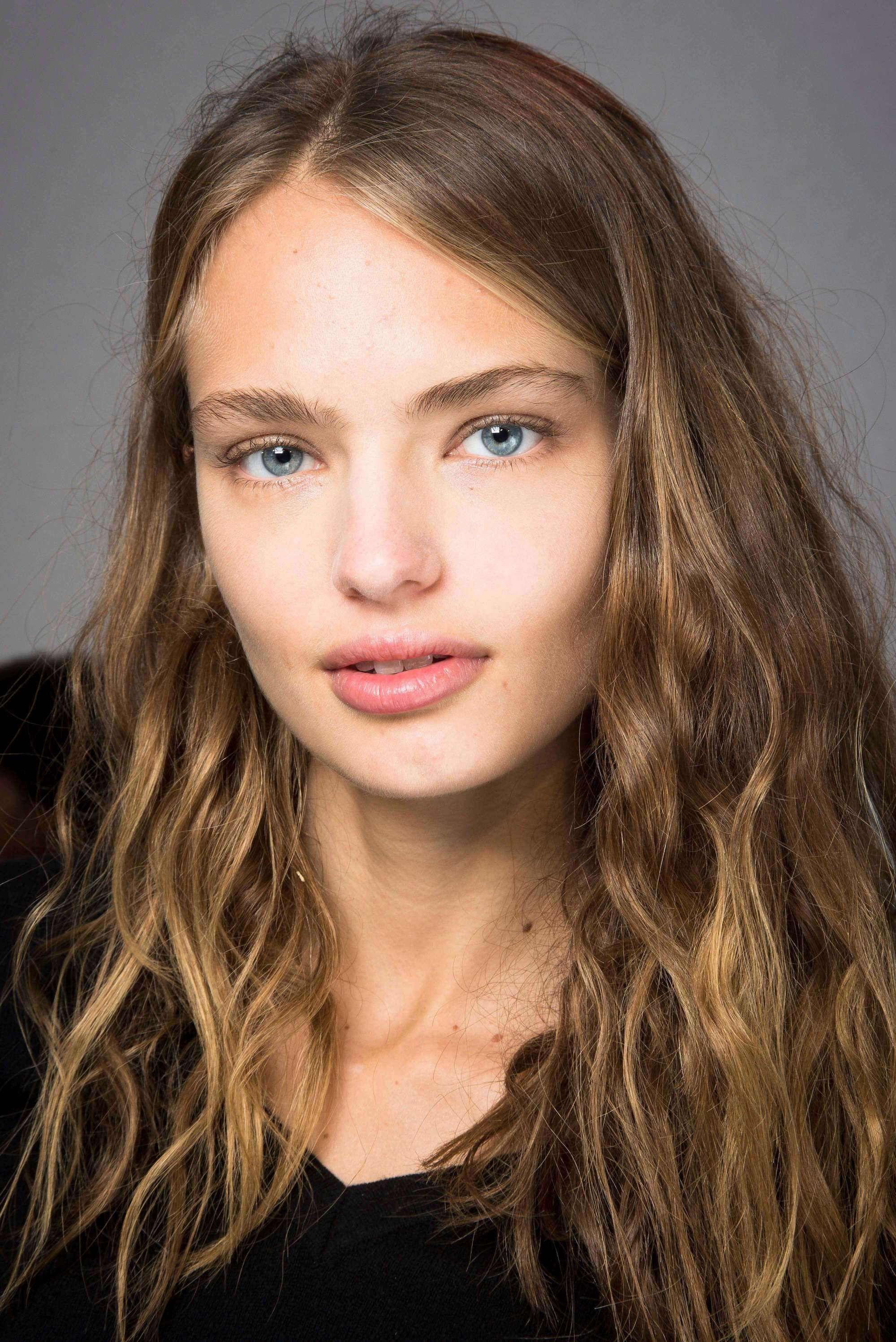 We're getting gorgeous flower-child vibes from this wheat brown take for balayage curly hair. The subtle color change from a natural light brown to a soft wheat blonde is pretty much perfect. Get your balayage tones to be placed near your face and lower towards the back of your head, emphasizing the natural look.
Thinking about trying out one of these looks? Be sure to snap a picture and tag us @AllThingsHairUS!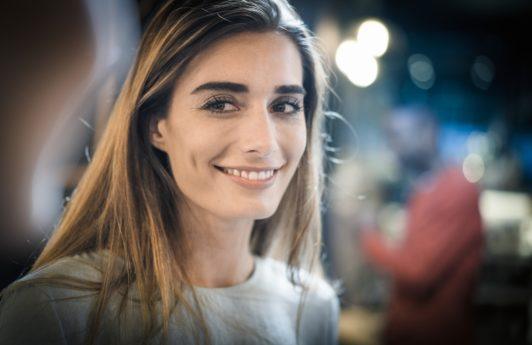 Gallery
How to Use Balayage Highlights to Brighten Up Your Entire Face
Five ways to let your hair shine bright.
See article
All Things Hair on Instagram