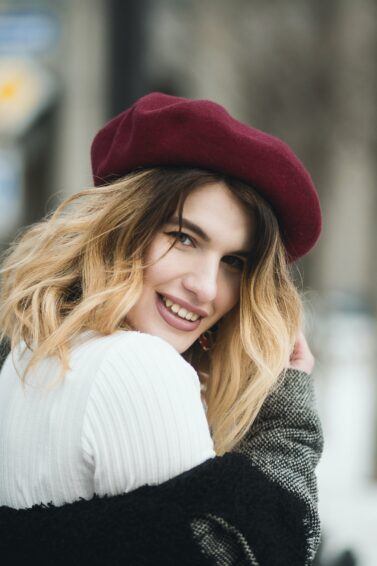 Famous TikTokers Swear by Cornstarch as Dry Shampoo
You probably already have this ingredient in your kitchen cabinet.
The one haircare product you will find on almost everyone's shelf is dry shampoo. This multitasking hero absorbs oil, adds volume, and, most importantly, allows you to stretch the time in between hair washes. Cornstarch dry shampoo is the latest TikTok trend that has us questioning if this essential kitchen ingredient could really replace our favorite floral-scented bottles from the drugstore.
As more and more beauty lovers become chemical-conscious, they are turning to natural alternatives to their favorite products. Making the most of this alternative to dry shampoo can also save you a fair amount of money. The price tag on this $2 baking essential is enough to convince us it's worth a shot!
Cornstarch as Dry Shampoo
Read on to learn more about cornstarch as dry shampoo, the benefits of this alternative, how best to use it, and more.
What is dry shampoo?
First things first, what exactly is dry shampoo? Dry shampoo is a product that comes in powder, spray, and gel forms and is used to absorb oil and grease in your hair without you having to wash it. Ideal for post-workout sweaty strands, extending the life of a professional blowout, or even adding volume to your hair, dry shampoo is a lifesaver. Available both at the drugstore and specialty beauty supply stores, dry shampoo can cost anywhere from $5 to $45.
Does cornstarch work as a dry shampoo?
Known by culinary experts to be one of the most effective thickening agents, many chefs depend on cornstarch to thicken sauces and soups. Because it absorbs moisture so well, cornstarch is a no-brainer alternative to dry shampoo. In fact, it's one of the top ingredients in many dry shampoo formulas!
At the same time, it's important to remember that cornstarch isn't necessarily as effective as a classic dry shampoo in the odor department.  Oil, grease, hair products, and dead skin cells all build up in between washes, and store-bought dry shampoo fights against the odors that may come along with that. That being said, you may prefer your classic formula for after a sweaty gym session while you experiment with cornstarch for other times of the week.
How do you make dry shampoo with cornstarch?
Cornstarch dry shampoo doesn't require any elaborate formulation. Unless you have darker hair and want to make adjustments (see below), you can simply sprinkle plain cornstarch onto your roots and massage it in until it is fully absorbed.
Many Tik Tokers recommend using a large fluffy makeup brush to work the cornstarch into your roots. This will allow you to apply the cornstarch more evenly and avoid making a mess. Make sure to finish by using a comb or brush to work any excess product in. This will help you avoid any random white patches that you may have otherwise missed.
How much cornstarch should you use for dry shampoo?
Hair experts recommend always starting with a patch test when it comes to using any new products, natural or otherwise. Once you have successfully conducted a patch test, you can separate some cornstarch into a designated container and use a makeup brush to pick up the product from there. Start with a tablespoon or two – you can always add more!
Does cornstarch as dry shampoo work on dark hair?
Yes! Mix cocoa powder into your cornstarch dry shampoo mixture so it blends into darker strands more easily. Smelling like a chocolate bar is an added plus! Use a 1:1 ratio to achieve the best results.
It's important to note that using any dry shampoo doesn't replace regularly washing your hair. Overdoing it with dry shampoo can dry out your hair and scalp and leave you with a whole other slew of problems to deal with. Limit your usage of cornstarch as a dry shampoo to 2-3 times per week, and make sure to wash your hair with a clarifying shampoo weekly, at least!
Prev Article
Next Article
Article
Scalp Routine: How a Simple Routine Can Help You Find Your Calm
Benefit from the calming effects of a consistent scalp care routine.
See article
All Things Hair on Instagram