How 10 Fan Favorite Cocktails Can Inspire Your Unique Summer Hair Color
Malibu sunset hair, anyone?
Ring into summer with a new, fun, and vibrant hair color! Whether you enjoy consuming a good summer cocktail or not, there is no denying the aesthetic of a fun-looking cocktail. Our team of experts at All Things Hair has looked at the hottest trending hair colors and found that the nation's favorite cocktails inspire our hair. Check out our guide below on the nation's hottest cocktails and the innovative and bold hair colors they can inspire.
Discover Your Most Iconic Cocktail Hair Color
Check out our guide on hair-dos inspired by some of the nation's favorite cocktails:
1. Sangria Cocktail Hair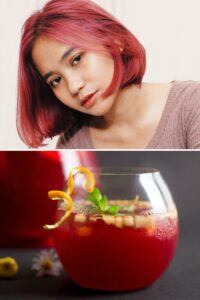 Give your mane a fruity boost with this cute sangria hair-do! Add some ice to your hair with light highlights to add dimension to specific hairstyle sections. Top it off with a cute blunt cut to help give your hair color some extra oomph. When achieving this hair color, ask your hairstylist for wine-red hair. The hair color is typically accomplished through the placement of highlights in multiple shades of light red copper, and red hues to add a gorgeous all-around sangria hair shade.
2. Blue Lagoon Cocktail Hair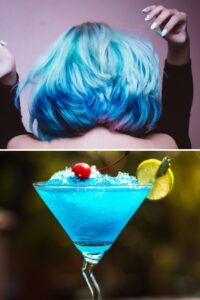 Blue is in! With mermaid core being the summer trend, this blue lagoon-inspired hair-do is the perfect way to ring into the season. Just like the cocktail has a bit of an ombre effect to it, you can help tone down this look with a blue-light blue to deep blue effect. In order to achieve this look, the color needs to be able to sit on a very light blonde which means bleaching your hair as a base before adding in this gorgeous blue shade.
3. Tequila Honey Bee Hair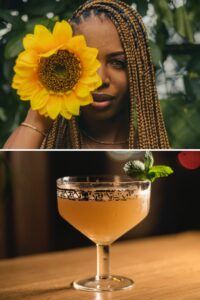 Who doesn't love a classic honey-blonde style now and then? This tequila honey bee hairstyle can be achieved in several ways. However, if you want a look you don't want to have to commit to for too long, you can try this cocktail hair look by installing box braids on textured hair. To keep your scalp hydrated while in braids, a scalp hydration treatment such as SheaMoisture Aloe Butter Scalp Moisture Cream can go a long way!
4. Cosmo Hair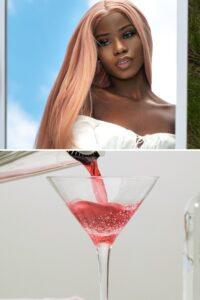 If you want to radiate confidence, this Cosmo-inspired cocktail hair look is the one for you! Be as bold as this drink with a gorgeous pink hue! This style can be especially easy to achieve when worn in the lace front wig style. If achieving on your own hair, this is another style that requires a bit of bleaching for the base of your hair to help make the pink POP!
5. Rainbow Paradise Cocktail Hair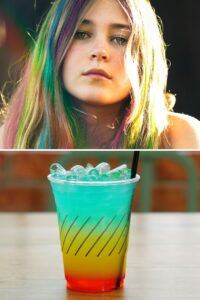 Take the joy of the rainbow paradise cocktail beyond the occasional drink. Add a fun splash of color to your everyday look with these intricately placed highlights. Protect your color over time with a color protectant such as Suave Vivid Color Shampoo. Accomplishing the look of these gorgeous highlights would require bleaching highlights into your hair and topping those base highlights with colors of the rainbow cocktail. In order to create a gorgeous dimensional look, make sure the colors are spread evenly throughout your mane!
6. White Russian Cocktail Hair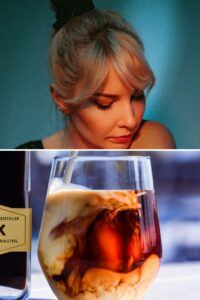 The White Russian cocktail beautifully shows where its flavors mix. Why not do the same with your hair? Hiding dark roots is a thing of the past; embrace them with your blonde as you grow your hair out. To achieve this style, bleaching dark hair to blonde and allowing the roots to grow out is the easiest way to achieve this style. However, if you are attempting to achieve this style on naturally blonde hair, create an ombre effect when you dye your roots a dark color.
7. Purple Rain Cocktail Hair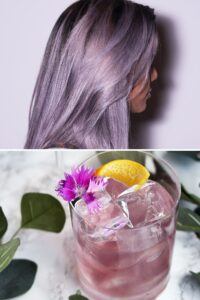 Reign on with this gorgeous purple shade inspired by the loved purple rain cocktail drink. This drink can come in multiple shades and hues, and so can this hairstyle! We especially love when different hues are blended into a well-rounded dimensional look. Why choose one shade at once when you can have multiple? After bleaching your hair, this hairstyle can be achieved by starting off with a light purple shade and adding various shades of dark purple hues
8. Green Hornet Cocktail Hair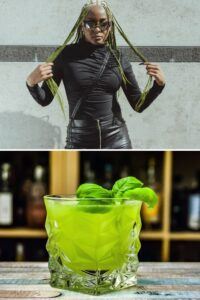 The green hornet is as bodacious as it sounds, whether you are talking about the drink or hairstyle. This unconventional neon green cocktail hair look will make you the trendsetter no matter where you go this summer. A beautiful way to achieve this gorgeous look this summer is to incorporate it into box braid looks for the summer if you have textured hair. They are a gorgeous way to rock the look without a long-term commitment. If you are ready for the commitment, however, this hair color usually requires for your hair to be bleached over time especially if you have naturally darker hair. Therefore if you are in between colors and you are re-bleaching your hair, this is the perfect style for you!
9. Aperol Spritz Hair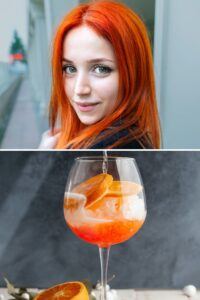 A spritz of bold color never hurt anyone. Splash on your brightest orange for the bright and sunny days ahead! This is another beautiful style to explore multiple tones and hues simultaneously. Somewhere along the way, you may even find the perfect hue of the color that may just be a signature hair look for you! This style can be achieved by asking your stylist for ginger-orange hair This hair color is accomplished by mixing bright red with mahogany red and white.
10. Malibu Sunset Hair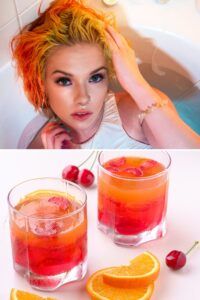 Add hints of red and yellow to your orange hair from the last hair look. The Malibu spritz cocktail hair imitates exactly what it advertises, a beautiful Malibu sunset. Choose your look your way by opting for gorgeous highlights, streaks, or ombre hair colors of red and orange to achieve this stunning cocktail hairstyle inspired by the Malibu sunset.
Now that you've got some ideas on styling cocktail hair, you can grab a couple of friends and throw your own cocktail party! Which of these cocktail styles is your favorite, and which will you try first? Let us know by showing off your look on Instagram and tagging @AllThingsHairUS. And for more hair inspiration, be sure to subscribe to our newsletter below!
Prev Article
Next Article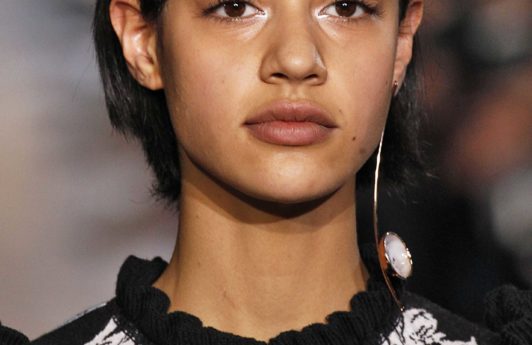 Gallery
6 Cute Short Haircuts for Thick Hair
Chop your mane of thick hair for these head-turning looks.
See article
All Things Hair on Instagram