Top Knot Men: 12 Style Ideas for Any Hair Length
These looks prove that top knots are for all.
Male top knot styles, better known as man buns, are still in style. This doesn't come as a surprise to us as the top knot men's updo style is one of the easiest ways to style medium-length to long hair. However, that doesn't mean that men with shorter hair lengths are left out of this party. With a bit of pomade, short-haired men are smoothing their short locks into teeny-tiny male topknot styles.
Looking for top knot men styles for short and long hair? We have looks that work for any hair type and hair length. Be prepared to get inspired by some of these top knot men hairstyles:
Top Knot: Men's Hairstyle Ideas for Every Hair Type
1.Disconnected Top Knot
Thinking of trying a new style with your disconnected fade? If you have long hair at the top of your head, try this man top knot style on your hair.
2. Top Knot for Gray Hair
Here's proof that top knots work for men of all ages. If you're worried about styling aging hair into a top knot style, keep it loose and use hair elastics instead of rubber bands.
3. Half Loop Top Knot
Like the look of undone hairstyles? Try this half loop top knot style.
4. Messy Top Knot
Don't know how to style your medium-length hair on the weekends? This messy top knot style is perfect for lazy days.
5. Half-Up Top Knot on Straight Hair
Whether you have thick curly hair or thick straight hair, you can wear a top knot, too.
6. Mini Bun
Gathering short hair into a top knot can be pretty difficult, but its possible. Use a hair styler like AXE Smooth Look: Shine Pomade on the base of your hair to smoothen your locks together and then create your bun.
7. Shaved Sides Top Knot
This is a style that you can wear in a corporate setting. Keep your bun neatly groomed, and your sides cleanly shaven.
8. The Mohawk Top Knot
Get the best of both worlds with this unique mohawk-inspired hairstyle.
9. Sleek Top Knot
To create this smooth look, it's all about what you use to style your hair. Opt for Bed Head for Men by TIGI Slick Trick™ Pomade. The formula gives hair a polished finish and a sleek feel.
10. Top Knot with Undercut
What doesn't the good ole top knot look good with? Wear your bun with a high fade undercut style.
11. Loose Top Knot
One of the causes of hair loss in men is linked to tight hairstyles. Instead of wearing a sleek and tight bun all the time, switch it up and try a loose knot instead. If you're styling your top knot on weak, fine hair, wash with Bed Head for Men by TIGI Charge Up™ Thickening Shampoo to help fight breakage and give your strands a thicker appearance.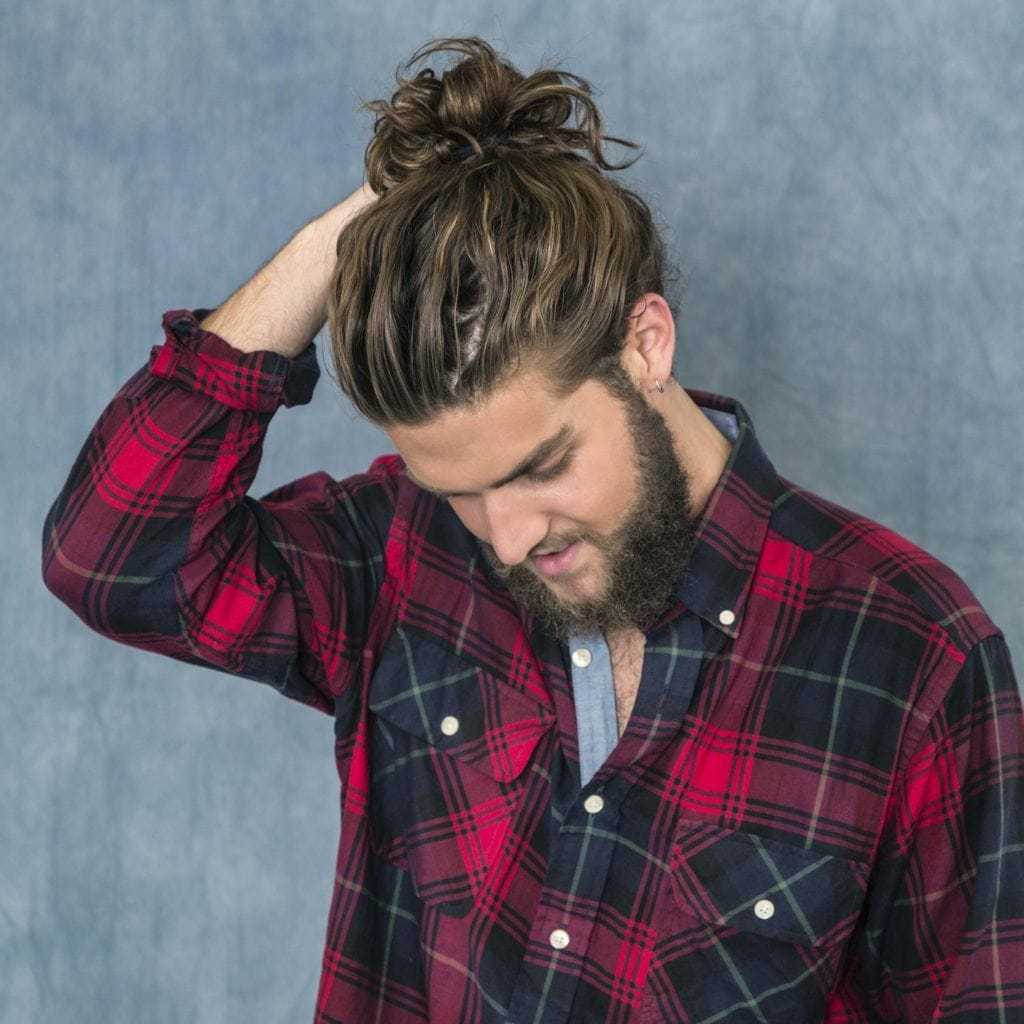 12. Wavy Hair Top Knot
Your updo style doesn't have to hide your texture. Top knot men styles like this wavy bun allows you to let your texture shine through with this loose undone top knot style.
Prev Article
Next Article
All Things Hair on Instagram