35 Short Curly Hair Styles for Every Single Curl Pattern
Looking for the right curly cut? We've got you covered. 
Are you looking for short curly hair inspiration? Contrary to popular belief, short haircuts can work in any curly girl's favor as long as she finds the right cut for her face shape and curl type. Plus, the right styling products can definitely help too.
There are so many ways you can style your new short hair whether you have a pixie, bob, or lob. Keep scrolling to find out what short curly hairstyles and products work with your hair texture and type.
Haircuts and Hairstyles for Short Curly Hair You'll Love
Ahead, we've rounded up some of our most favorite short haircuts for curly hair. Read on to get some inspiration.
1. Extra Short Fro
If you're anything like us, you're probably obsessed with the pixie haircut. This short curly haircut is all about working with your natural texture. This is a great way to learn how to embrace and love your hair's natural texture.
2. Pixie Ringlets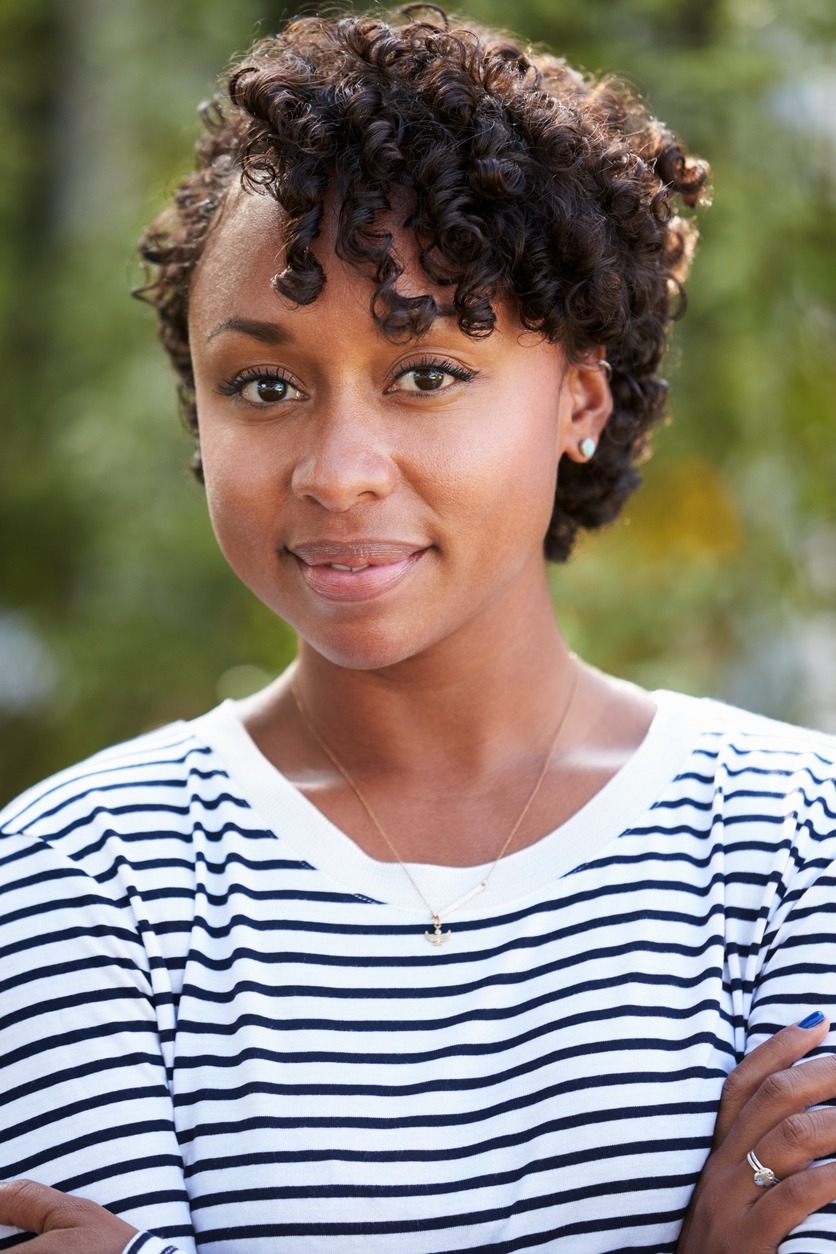 You can opt for this ringlet style if you have a longer pixie. Getting the look may take a little bit of extra time and effort, depending on how chunky you want your curls to be. Use a comb or your hands to coil clean, damp hair into coils, and allow your hair to dry before loosening. If you want to try short curly hair with bangs, simply coil a section of hair towards your face, and you have a stylish fringe.
3. Mohawk-Inspired Short Curly Hair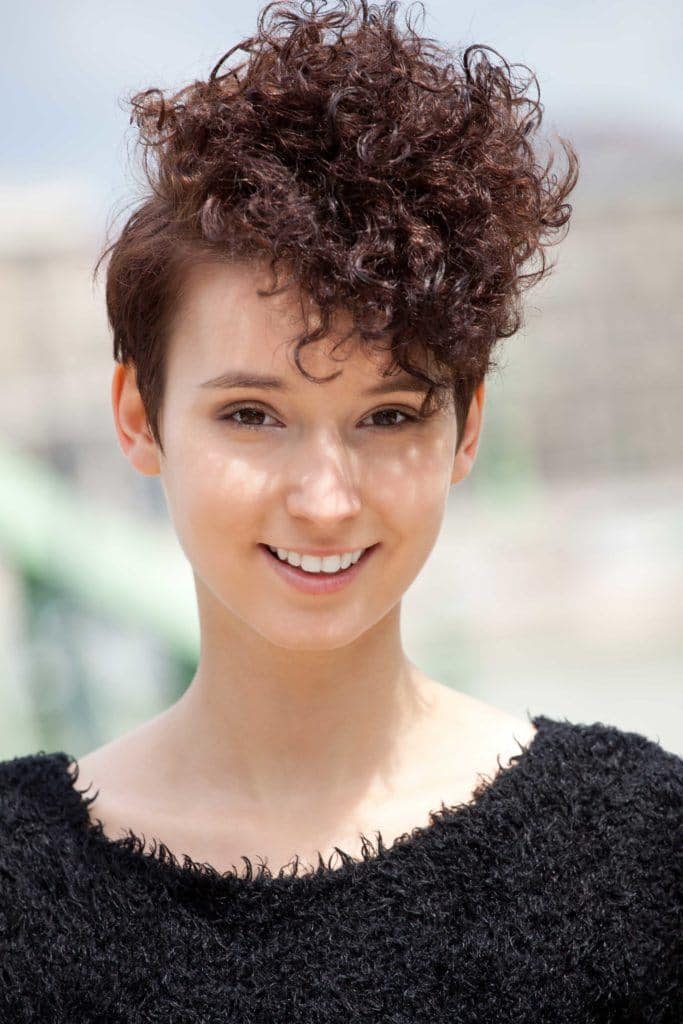 Tired of the same old short haircuts for curly hair? Kick it up a notch with an edgy style. Take cues from the mohawk haircut to recreate this short curly hair. This look is truly edginess at its next level, and we're here for it!
4. The Classic 'Fro Cut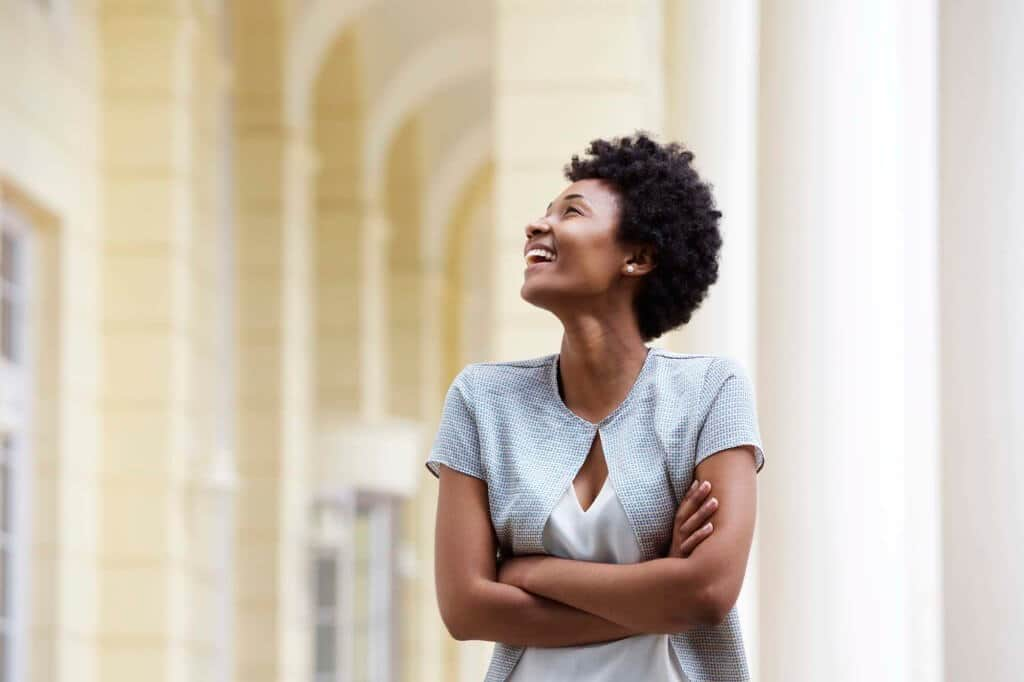 Want an easy way to style your short naturally curly hair? Fro it out! Wash, dry, and pick it out until you get the desired volume and shape. Embrace the natural texture and length of your hair with this look.
5. Soft, Chic, and Simple Curly Cut
Who doesn't love hairstyles for short curly hair that require little to no effort at all? We sure do! To keep your curls in check, sleep with a comfy set of sponge rollers at night for a look that gorgeously lasts all day!
6. High Top Short Curly Hairstyles
If you're growing out your naturally curly hair but want a specific shape like a high top and low sides, consider this high top curly cut. This is one of our favorite short curly hairstyles because it's fairly easy, but you must keep up with your trims to maintain the shape.
7. Off-Duty Cool Curly Cut
In the mood for laid-back short haircuts for curly hair? This is one of the reasons why we love the pixie. On lazy days, smooth your curls back with a fingertip amount of some gel, and your style is complete.
8. Short Haircuts for Curly Hair Textured
Wondering what to do with short curly hair with a beautiful thick texture? Embrace it! One of our favorite short haircuts for curly hair is this textured style. It's the perfect length that lets you show off your volume and texture while still getting the benefits of a short length. Allow your cut to help you display the beauty of your curly hair.
9. Boyish Curly Cut
Borrow this look from the boys and show them who's boss! Obviously, girls do it better! This style is a great way to frame your face shape while showcasing your gorgeous curls front and center.
10. Dark Brown Bob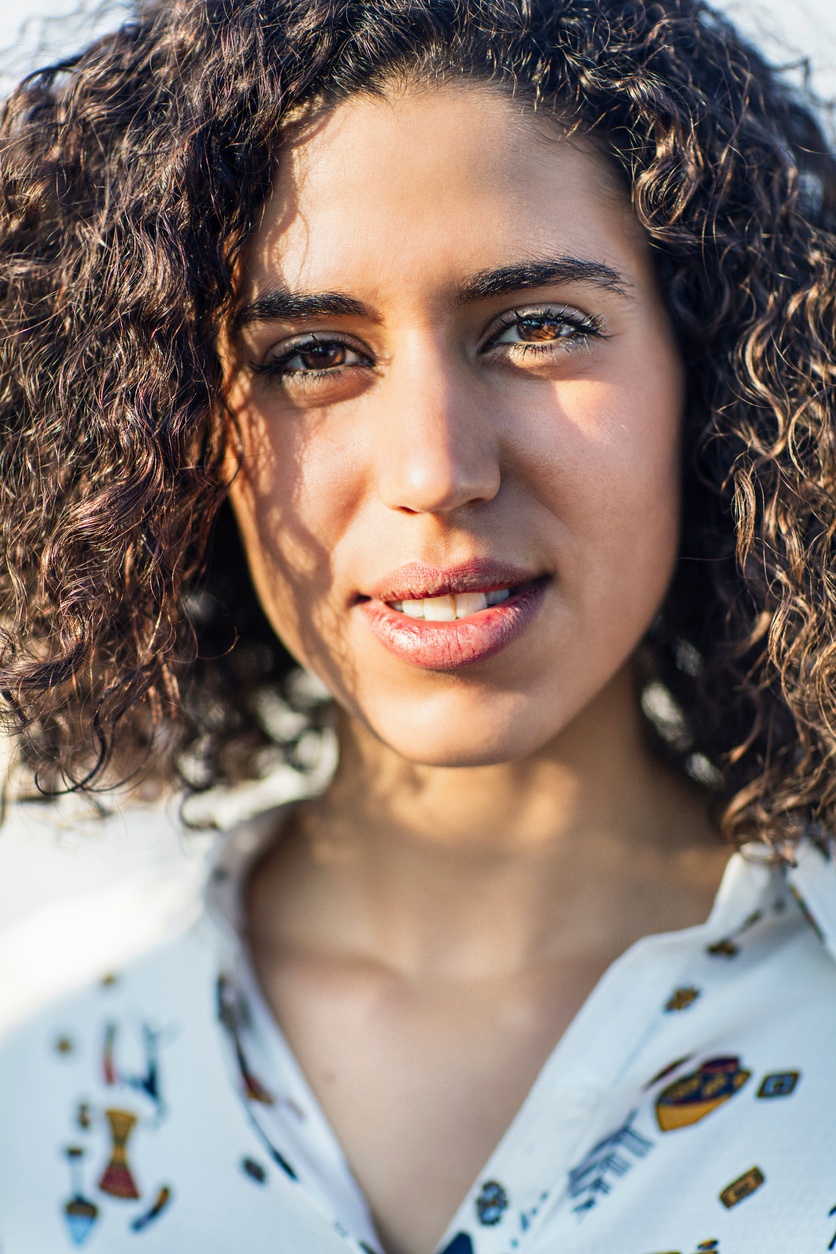 After you've found the short haircuts for curly hair you love, there's nothing wrong with giving it a bit of an update with a fresh new color. We love the look of a warm brown tone on a bob during any season.
11. Platinum Curly Bob
Brown tones, not your thing? Platinum hues are always in style as well. Go for this striking blonde look on your curly bob. This hairstyle also beautifully suits gold and silver hair as well!
12. Half Up-Half Down Bob Haircut
We're not tired of this trend; you shouldn't be either. To create the look, pull the top section of your short naturally curly hair into a mini ponytail and secure it with a hair elastic. A timeless look!
13. Bedhead Curly Bob
Undone hairstyles are not yet a thing of the past. Recreate natural short curly hairstyles like this by focusing on creating a lived-in texture. You can either gently tease your curls with a comb when styling or use your fingers to create the bedhead, a.k.a lived-in look.
14. Wavy Bob
What to do with short curly hair with looser curl patterns? Well, you have plenty of options, but you can't ever go wrong with the classic bob. We love the vintage finger wave-inspired look of this style above.
15. Balayage Curly Bob
Give your short curly haircut a natural-looking color job with the balayage method. Need ideas for dark hair? We have plenty of gorgeous dark balayage ideas to choose from. This hair coloring technique looks especially elevated with the rich texture of coils and curls.
16. Side Part Bob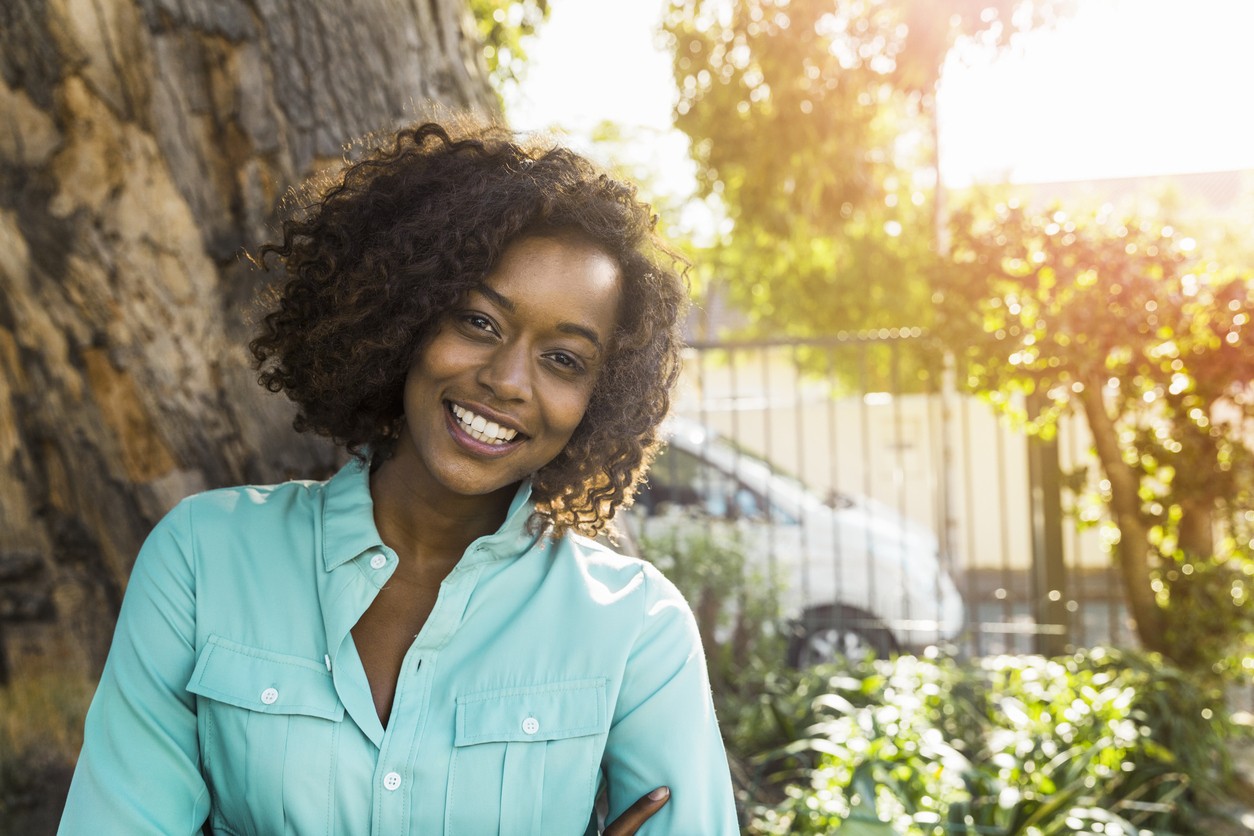 This is such a quick and easy short curly style for natural hair textures. Get the look by parting your hair to the side and creating two-strand twists with gel to set your curl. Once dry, loosen the hair and fluff.
17. Short Curly Hairstyles for Women Blonde Lob
There's nothing like leaving the salon with a fresh cut, color, and bouncy curls. Go for this golden blonde hue, trendy lob length, and this loose curl effect. This look is one of our favorite short curly hairstyles for women.
18. Beach Wave Lob
Don't let anyone tell you that you can't wear a beach wave hairstyle past the summer season. Recreate this look at any time with the help of some salt spray and scrunching. Summer can be every season with the help of this look.
19. Asymmetrical Curly Cut
What makes this curly lob stand out is the asymmetrical shape. To get the look, ask your stylist to create some depth by leaving the front longer than the back for a gorgeous layered effect that can also be styled in a multitude of ways.
20. Long Bob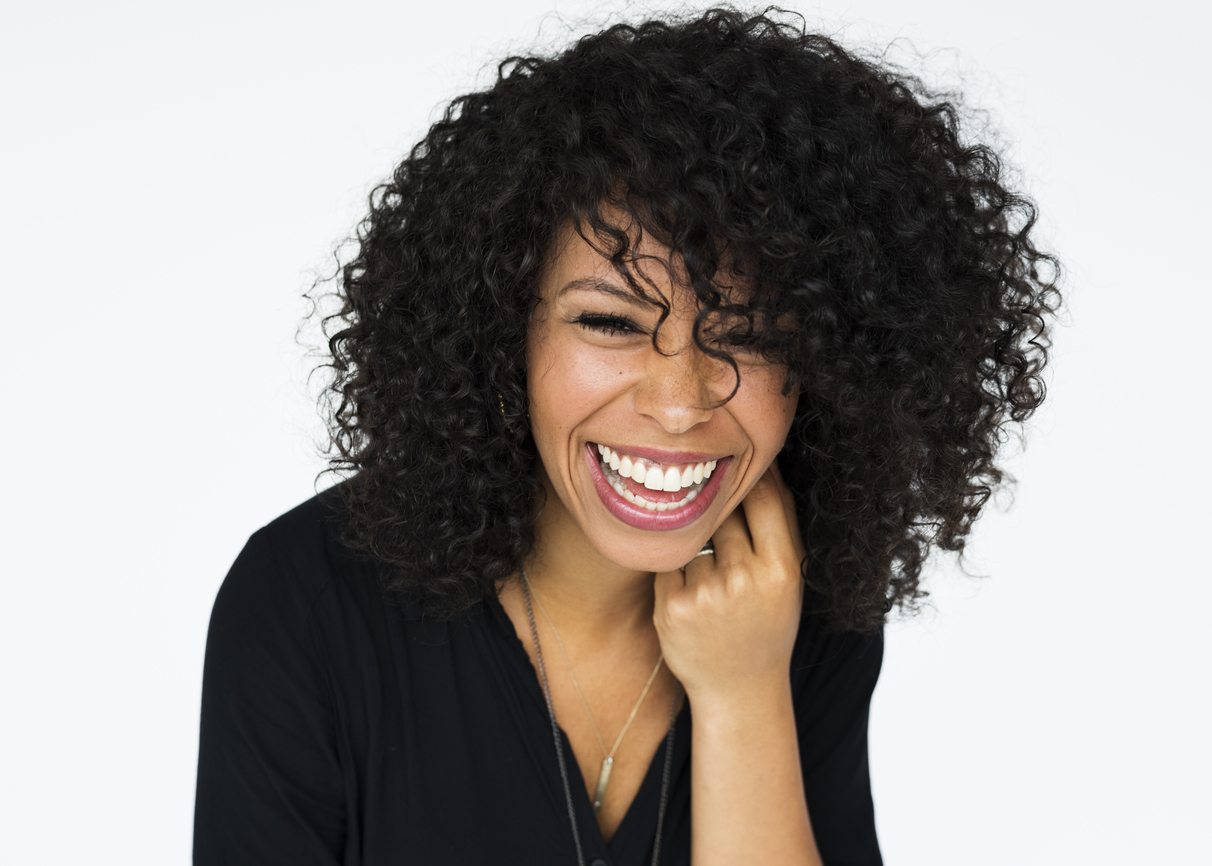 Thinking of a curly cut but still want to be able to wear your hair up in a ponytail? The long bob cut is extremely versatile and super cute! Wear it side-swept to achieve the classic bang look.
21. Lose Curly Lob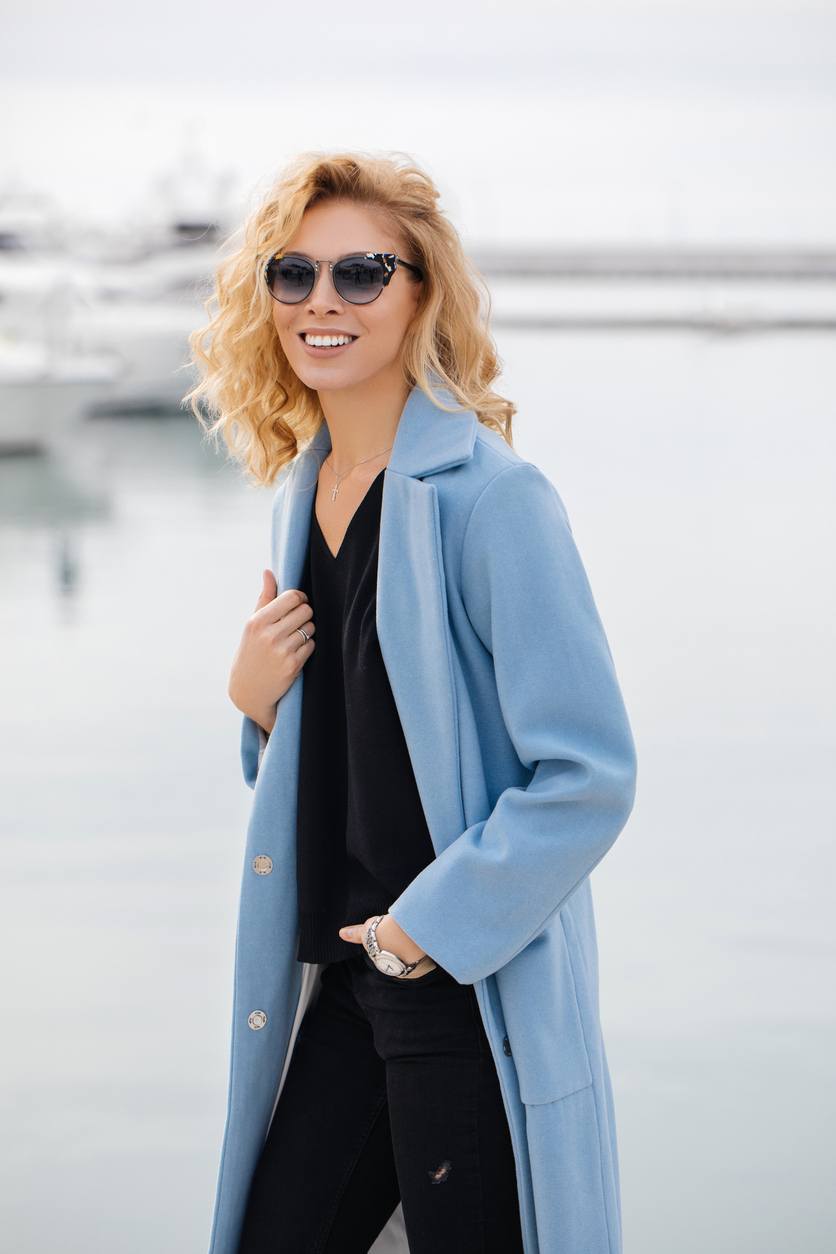 Got a looser curl pattern? No problem. If you still want the flexibility of changing your look occasionally, play it safe with a lob haircut. Style in a bob to frame your face or at shoulder length for a chic and refreshed look.
22. Off-Center Curly Lob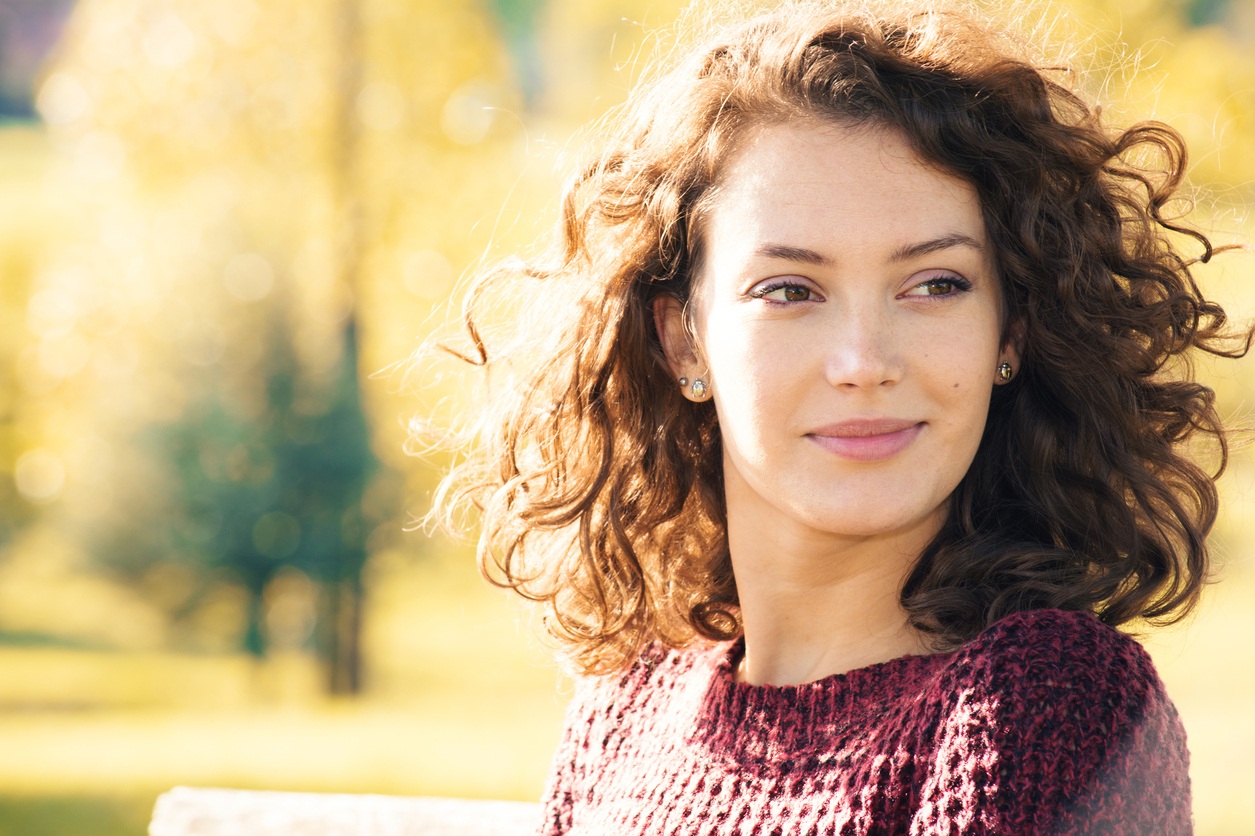 When you're itching to change up your shortcut a bit, an easy styling trick is to change your hair part. Try this off-center hair part, a.k.a., our new favorite way to part hair. This style looks especially great on type 3 hair.
23. Curly Short Hair Girl Ash Brown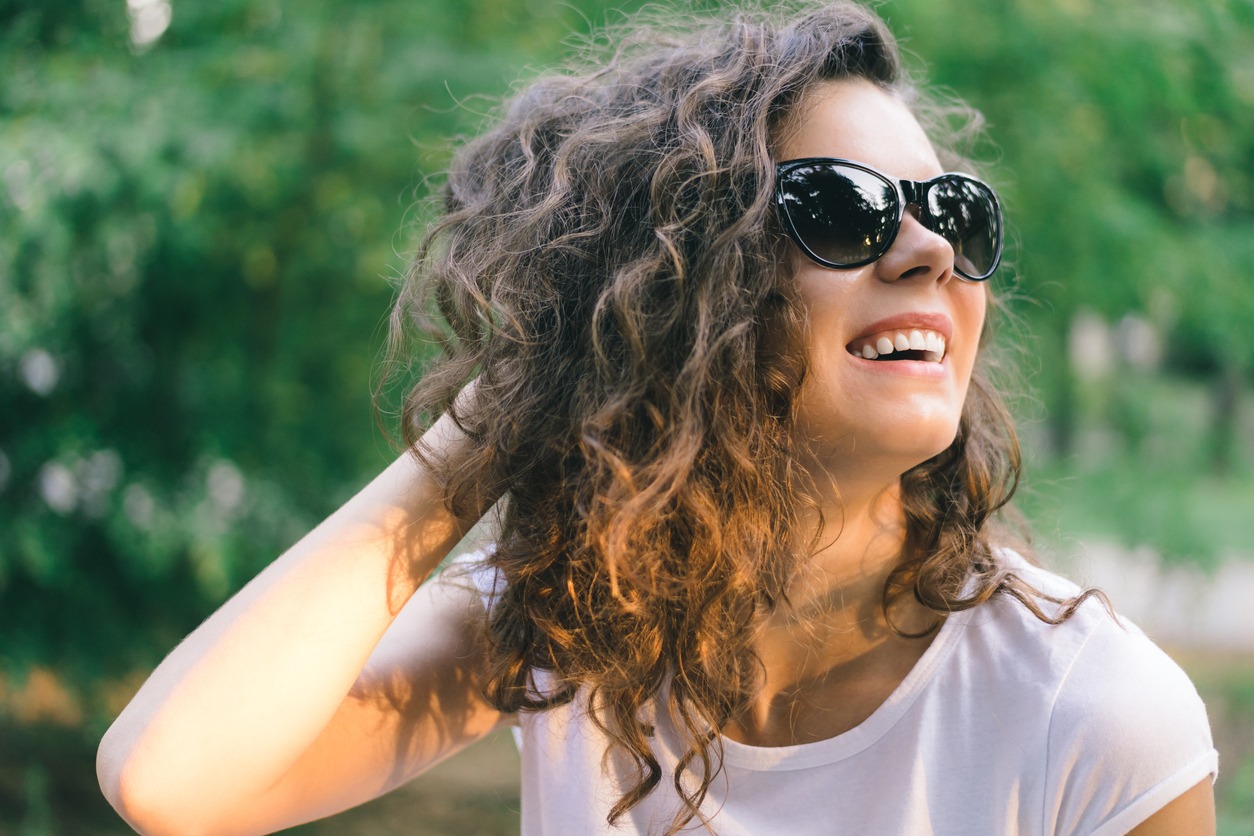 Whether you choose to get the look on your own with box dye or a professional's help, we can't see how anyone could go wrong with this ash-brown color. Give the look a shot this season on your short curly hair.
24. Lob With Bangs
Give your lob extra volume and fullness with some curly bangs. Curly bangs are not only a great way to frame the face but are also extremely trendy. Whether you have type 3 curls or type 4 coils, this hairstyle is achievable for all hair textures.
25. Classic Buzzed Cut
If you're bold and brave, try this classic buzzed cut. A buzz cut like this is so easy because you instantly wake up with a style that's ready-to-go! This look is also beautiful way to give your curls a fresh start.
26. Buzzed Pixie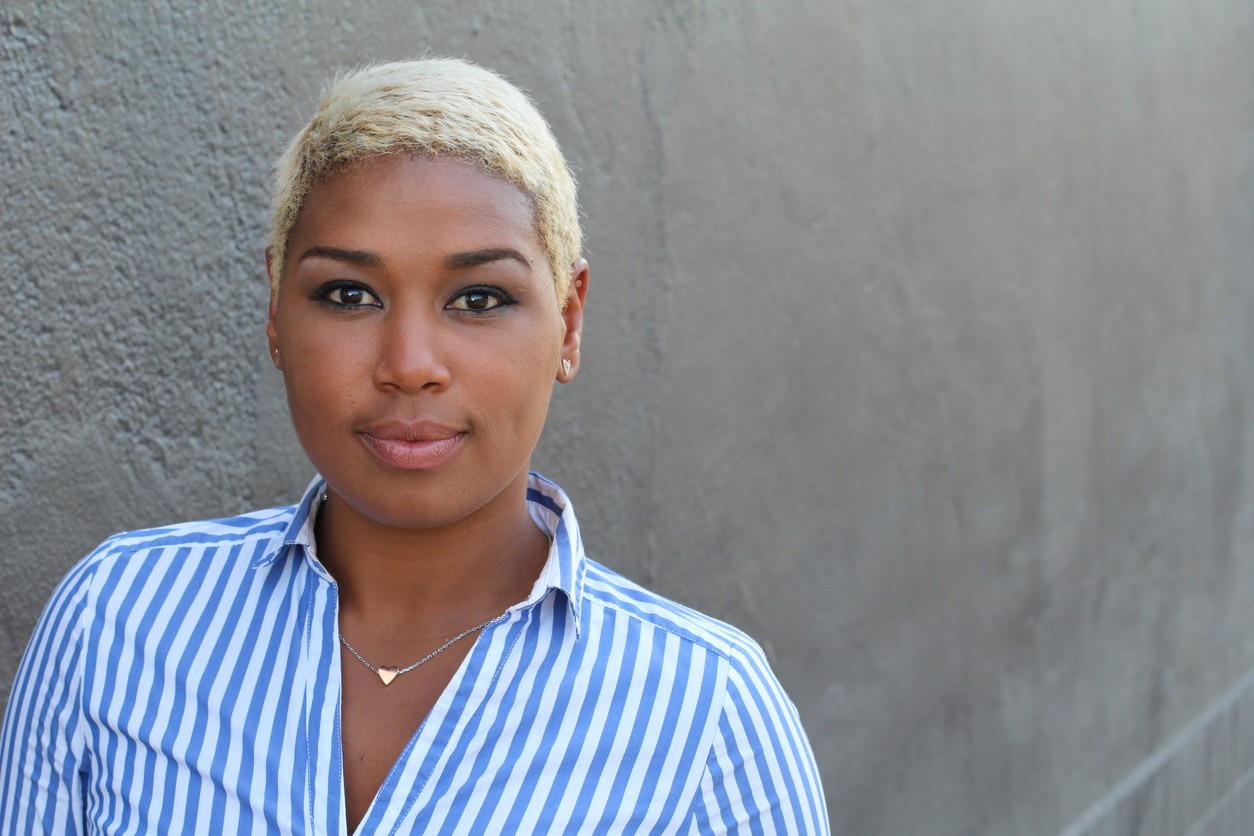 Want to try out some edgy natural hairstyles for short hair? One of our favorites is the buzzed pixie! Pro tip: keep your buzzed pixie tamed and in control by spritzing some Dove Style+Care Flexible Hold Hairspray after styling.
27. Side Fade
Only a true fashionista can rock this side fade. Whether you go for a simple fade or one with a cool design, it will automatically upgrade your short hairstyles for natural hair in an instant. This is the perfect look for any trendsetting fashionista.
28. Side Parted Bob
Part your bob to the side to give it a cooler and fuller look. We love how the side-swept fringe looks when paired with a lob. This style also looks especially great on type 4 natural hair.
29. Box Braided Bob
Contrary to popular belief, box braids aren't just for long hair. You can rock your short locks in box braids too! We love how chic this bob looks. For an even more elevated look, you can even try adding braiding beads or cuffs to this look.
30. Bandana on Short Curly Hair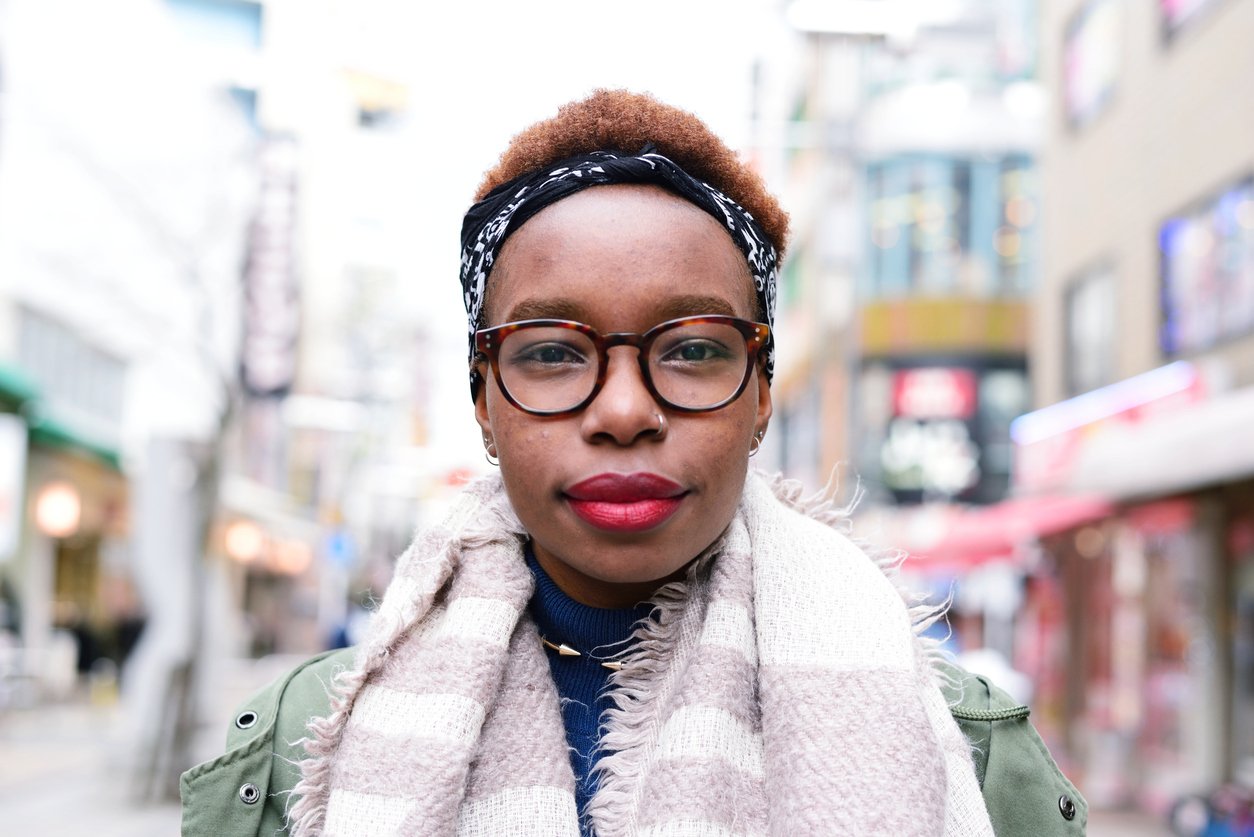 Skipping the shower today? Create a fun in-between shower look by spraying some Love Beauty and Planet Coconut Water & Mimosa Flower Dry Shampoo on your tresses to control oil and then grabbing your favorite bandana. This is a great way to wear a trendy style that's easy to do if you're in a rush.
31. Classic Bob
You can never top this classic style. A bob like this lets you show off your curls without having to worry about the maintenance of long hair. This hairstyle is also a great look for all of life's most casual to big occasions.
32. Short Curly Hair Pixie
Create a voluminous short look by letting your curls grab the spotlight in this pixie. Give them some extra definition by making SheaMoisture 100% Virgin Coconut Oil Daily Hydration Leave-In Treatment a part of your regular routine.
33. Overgrown Buzzed Cut
If you're trying to grow out your buzzed cut, then rock this overgrown look effortlessly. This is the perfect way to also try out a teeny weeny afro as you allow your full fro to form and develop overtime.
34. Short Afro
This afro is short and sweet, and we can never get enough of it. To give your afro some definition while controlling unruliness, try using the TRESemmé TRES Two Mega Firm Control Gel when styling. This will keep your curls tight and bouncy.
35. Mini Mohawk
This teeny-tiny mohawk has some major edge to it. Sporting a mohawk style like this is one of our favorite ways to show off your natural volume and curls without having to worry about styling an entire head of hair.
Products for Short Curly Hair
Need new products to go along with your short haircut? Check out some of our favorite curly products.
Shampoo and Conditioner
It's so important to use a moisturizing and nourishing shampoo and conditioner set, which is why we love Nexxus Curl Define Shampoo and Conditioner. We love this set because it's enriched with a ProteinFusion strengthening blend, enriched with silk protein and marula oil. These products also work to strengthen your strands, and help reduce breakage.
Defining Cream
A defining cream with Suave Luscious Curls Defining Cream is perfect when styling short haircuts for curly hair. The cream works to add definition, bounce, and light hold to your style. The great thing about a product like this is you can quickly apply it and then go–perfect for a wash-and-go style!
Thinking about trying out one of these short haircuts for curly hair? Be sure to snap a picture and tag us @AllThingsHairUS!
Prev Article
Next Article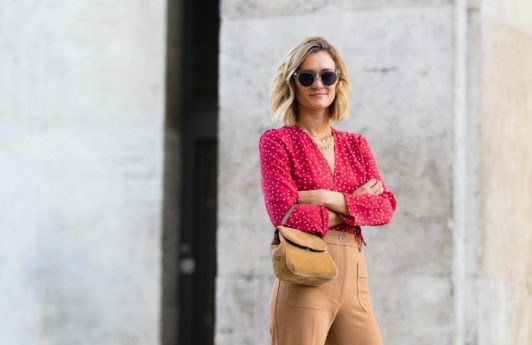 Article
6 Spring-Worthy Ways to Wear Your Ombré for Short Hair
We've got new ways to spring forward with this color trend.
See article
All Things Hair on Instagram