Fake Short Hair: Get Short Hairstyles Without Cutting Anything Off
100% stylish, zero commitment.
Living in the land of #LongHairDontCare for the past few seasons, it might be a tad scary to chop off your locks in favor of one of season's hottest trends: fake short hair. And when you've literally spent years growing your tresses so long even a mermaid would be envious, being scissor-shy is totally understandable. As with everything though, where there's a will, there's a way, so keep reading to find out how you can flirt with the idea of short hair without actually coming in contact with a pair of shears. (Spoiler alert: you'll need bobby pins!)
Fake Short Hair Tips: Styles to Try When You're Not Sure
1. Faux Lob
If you're looking to maintain a teensy bit of length, give the faux bob a try. All you have to do is use a two-inch curling iron to create voluptuous curls that simultaneously add texture and length to your soon-to-be short hairstyle. Once you've finished curling your hair, simply weave a loose braid at the back section of your hair. Next, take your finished braid and pin it underneath at the nape of your neck to secure. Begin pulling out small pieces from the top layer of your hair to soften the look. To finish, look lightly tousle hair while adding in a few spritzes of sea salt spray, like Suave Professionals Texturizing Sea Salt Spray, to create added texture and lasting grip to help your faux bob stay put.
2. Headband Bob
Just like with the faux bob, to achieve these short hairstyles, you need to spin large, loose curls with your curling iron. Next, wear a headband of your choice and part your hair down the middle, securing one side with an elastic while you begin working with the other. With the untied side, wrap the hair around the base of the headband looping in and out repeatedly until you reach the ends of your hair. Once you reach the ends, be sure to secure them with some bobby pins. Next, untie the other side and repeat the exact same process. Once both sides are finished, place a finger inside the twisted curls and gently tug down until you reach the desired length of your bob. Lastly, use a flexible hairspray such as Dove Style+Care Strength & Shine Flexible Hold Hairspray to keep your new short hairstyle in place without making it look super rigid.
3. Tucked-in Bobs
If you're looking for something super low-key, these are the faux short hairstyles for you. Popping up everywhere from the runway to everyday, the trend of tucking your hair into your jacket or shirt is just about as easy as it gets. Sounds a little silly, we know.  But trust us, it's a thing and you could absolutely rock it, especially if you have minimal time to create your short look. For maximum impact, spritz hair with a shine spray, such as Bed Head by TIGI Headrush Shine Spray, before tucking hair in.
Love the short look after all? Check out our article: Power Bob Cuts: 5 Modern, Non-Frumpy Ways to Wear This Look to determine which permanent short look you want to go for. 
Prev Article
Next Article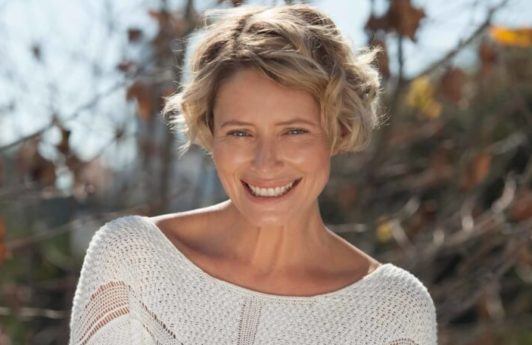 Article
Tutorial: How to Create Curls in Short Hair
Curls and length don't have to be mutually exclusive.
See article
All Things Hair on Instagram