Bold Hair Colors from Crystal Casey of High Voltage Hair
Inspiring bold hair colors you've got to try.
Instagram is a huge source of inspiration for our team at All Things Hair. We love scouring the latest trending hashtags to discover innovators in hair, especially within the world of hair color. One such account that we recently checked out was @CryistalChaos a.k.a Crystal Casey, a Virginia Beach hairstylist who specializes in creating bold hair colors for her clients. With a collection of bright blues, pinks, rainbow hair and much you, you'll definitely find yourself inspired by her incredible work. To learn more about some of the latest bold hair colors we had the chance to speak with Crystal who have us some background on her start in hair and some predications for 2017. Plus, some amazing bold hair color ideas that she created!
Bold Hair Colors and Interview with Crystal Casey
All Things Hair: How did you get into hair?
Crystal Casey: My eye has always been drawn to hair and fun colors. I just started playing with my own hair in high school where it snowballed from there. I was asked to do others hair for formal dances, etc. I finally I went to school and got licensed.
All Things Hair: What are some services that you specialize in?
Crystal Casey: I specialize in color corrections, fashion color and bridal hairstyles.
All Things Hair: What hair colors do you love to create?
Crystal Casey: I, of course, love vivid work, but I also love color make overs. It gives my guest a whole new self confidence. I love to see them come alive!
All Things Hair: What do you think are some of the hair color trends for 2017?
Crystal Casey: 2017 is going to be all about pushing the envelope. With fashion color being so huge in 2016, I think 2017 is going to be about how to create looks and palettes that haven't been done before.
All Things Hair: What's the best way to maintain hair color in between touchups?
Crystal Casey: A good shampoo and a conditioner is a must and make sure it's sulfate-free and sold by a professional. Not washing everyday and of course watching the temperate of your hot tools!
Looking for more bold hair colors to try? Check out our feature on pastel hair colors.
Prev Article
Next Article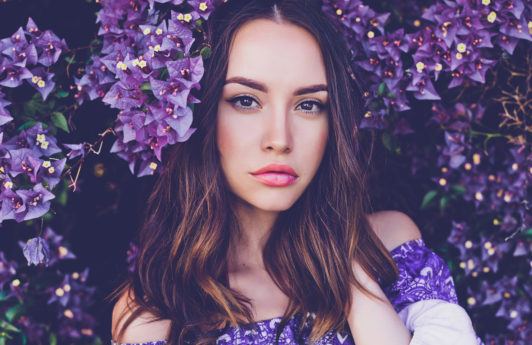 Gallery
The 40 Best Spring Hair Color Ideas Worth Trying This Season
Your one-stop-shop for all the spring hair color ideas you need to inspire your new look.
See article
All Things Hair on Instagram