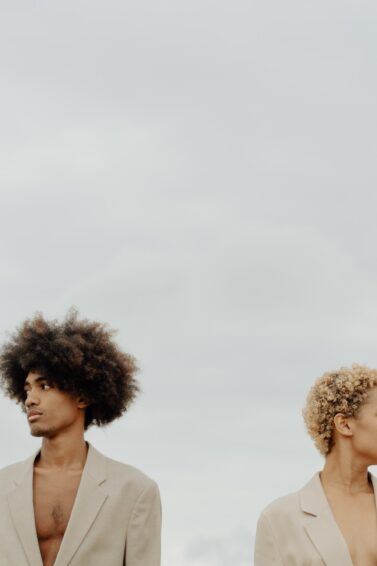 Curly Hair Type Infographic: Learn the Different Kinds of Curls
Your ultimate guide to curly hair types and how to care for them.
Welcome to the world of curls, a place where you'll come across an array of beautiful waves, ringlets, and coils that all behave differently. As you may have heard, no curly hair types are the same. The tricky part is identifying what type of curl you have. However, there's no need to worry; we're here to decode everything for you.
All curls behave differently; some hang, some dangle, and some frizz more than others. Moreover, they feel different to the touch as the textures and density of the various curl types range from thin to thick. Once familiar with your curl pattern, it becomes easier to determine how you should care for your hair, what products to use, and the best ways to style it. Read on to discover the different curly hair types and a few tips for caring and styling.
Curly Hair Types 101
To figure out your curl pattern, with the chart below and learn what products are best for your type.
Type 2: Wavy Curl Types
Girls with wavy curl types have hair that forms the shape of an S. This hair type is often confused as being straight, especially if the pattern is shaped like a 2A wave. 2A waves have a very slight bend as opposed to 2B and 2C waves which have much more definition. Unlike curlier patterns, wavy hair tends to be less dry as the sebum from the scalp can travel down the hair strands easily.
To care for type 2 hair, use a hair care system that provides light moisture while defining your strands, like Dove Endless Waves Shampoo and Conditioner. This set helps leave your strands touchably soft while adding shine. To style and enhance waves even more, coat your hair with some gel and scrunch upwards with a paper towel or cotton t-shirt, or use a blowdryer with a diffuser attachment.
Type 3: Curly Curl Types
Type 3 curly curl types range from loose classic curls which are 3A type to spiral curls which are categorized as 3B to corkscrew curls which are represented in 3C types. These curl types are much drier than wavy curl types. Curls that fall under this category tend to have a high frizz factor, so hydration is vital. To care for this curl type look for a hair care system that hydrates the hair and controls frizz. We love Nexxus Ultralight Smooth Weightless Frizz Protection Shampoo and Conditioner because this set helps to gently cleanse and calm frizz while strengthening from within.
Type 4: Coily Curl Types
Coily hair types range from slightly coiled 4A strands to kinky 4B hair to tight zig-zag 4C coils. This hair type is prone to dryness and shrinkage due to its spring factor. You can either embrace your shrinkage or try out natural hairstyles that stretch your curls like twist and braid outs. Women with this curl type often struggle with detangling, especially those with thick hair textures.
To care for this hair type, products that are super moisturizing and help with detangling are key. SheaMoisture Raw Shea Butter Deep Moisturizing Shampoo and Conditioner is one of our favorite sets for this hair type because is deep moisturizes and nourishes your coils.
Before styling this curly hair type, use SheaMoisture Raw Shea Butter Deep Moisturizing Detangler to improve manageability. Followed by a gel that helps with curl definition like Emerge Style Goals Gel which provides strong control and helps to tame frizz. If you're styling your hair into a wash-and-go, use a diffuser to dry. For styles like twist-outs and braid-outs, air dry if time and weather conditions permit or sit underneath a hooded dryer until the hair is completely dry, then release and fluff.
Whether you have wavy strands, classic curls, or coily hair, knowing your curl type is a must to make sure you get the most out of your hair care routine.
Prev Article
Next Article
Gallery
45 of the Best Haircuts for Curly Hair of Every Length
The best haircut for curly hair is one that marries style and sustainability.
See article
All Things Hair on Instagram