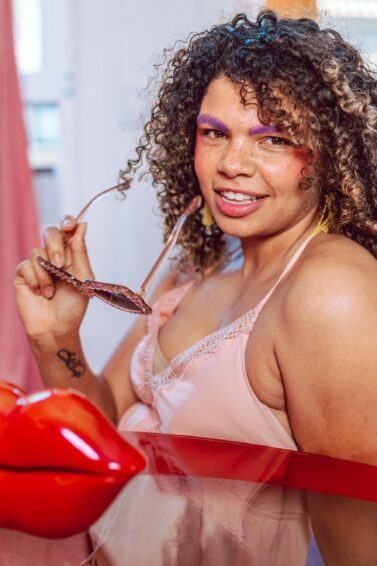 How to Curl Hair with Foam Rollers
Go old school with this classic styling product.
Foam hair rollers are an old school way to curl hair that are slowly making a resurgence. Not only are they a relevantly inexpensive way to get some bounce, foam hair rollers also don't use heat so they are less likely to damage hair (although some tugging and pulling is involved). Plus, they do their magic when you sleep while you create a mini-spa experience right in the comfort of your own home. All you need are a few easy techniques to master this look.
How to Curl Hair with Foam Hair Rollers
Read on to discover how to try this classic hair technique to create some incredibly long-lasting curls:
1. Wash and condition your hair.
Every good style starts with clean hair, especially when you are going to be molding and creating curls. To reap the maximum benefits, use a system designed for your hair type. Give your head a gentle head massage as you apply your preferred shampoo and conditioner.
2. Dry your hair.
You won't get a good curl with dripping wet locks. Start by using a towel to lightly dry your hair. Then, spritz your hair with a heat protectant. Then, blow-dry your locks (on a low setting). This will help coat your hair as it protects it from the heat. You don't need your hair to be completely dry (in fact, some water can work in your favor to create the curl), but you'll need to have your hair at least 90% dry for this technique to be effective.
3. Brush your hair.
Brush or comb your hair to get out any tangles or knots. You may also need to use a detangler, like Suave Professionals Cream Detangler Spray to help you deal with tough tangles. Bonus: it can help you to nourish your hair while making it smooth. Once your hair is smooth, divide it into six to eight sections, depending on how big you want your curls to be and how thick your hair is.
4. Figure out what curl you want.
Before you add the foam rollers, you'll need to know what direction you want your curl to go. For example, if you seek full curls you'll have to position the rollers on a horizontal angle; whereas if you desire some ringlets you'll need to position the rollers vertically.
5. Add the foam rollers.
Apply some Nexxus Mousse Plus Volumizing Foam to your hair. Start at the crown of your hair, or where your bangs are, as you loop each foam rollers around your hair until each barrel reaches your scalp. Snap the attachment piece to the roller.
6. Work in sections.
Work in even and consistent sections throughout your head, pulling the hair up and tightening at the scalp until your entire head is covered with rollers.
7. Sleep with your rollers.
Unlike heat styling, rollers take time for curls to form. You'll need to leave them in overnight so the rollers can work their magic.
8. Remove the rollers.
After a night's rest, your rollers will be ready to go. Remove each roller from your hair to reveal your new bouncy curls.
9. Style and hold your curl.
Hold onto your awesome curls by finishing off the style with some hairspray like Nexxus Weightless Style Ultra Light Hair Spray. This hairspray will give your hair both long-lasting texture and hold!
Looking for more hair inspiration? Be sure to check us out over @AllThingsHairUS!
Prev Article
Next Article
All Things Hair on Instagram