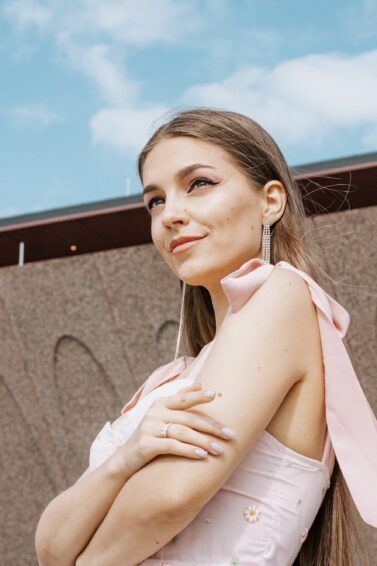 The Best Protein Treatments For Relaxed Hair
For many of us, we're game to try hair treatments. Even if they aren't the best for your hair health. Like many others, I, too, tried many treatments for my hair. Some weren't the best. One treatment, in particular, that brought havoc on my hair? A relaxer. Since I have biracial hair that is partially textured—curly yet fine—I was game when a relaxer promised me straight hair results. My hair was frizzy, and at the time, I didn't know how to care for my hair properly, so this looked like a golden option for my hair.
However, if you've never had a relaxer and don't know what it is, a relaxer is a chemical process that chemically straightens your hair. The chemicals in the treatment smooth out curls or coils and leave them with a straight look. 
But don't get me wrong, your relaxed hair can stay healthy as long as you properly take care of it. If not, your hair becomes severely damaged, dry, and brittle. The best way to care for your hair? A protein treatment. These treatments help to keep your hair healthy. Another way to keep your hair healthy along with treatment is to seek hairstyles for damaged hair. But what makes a treatment useful? First, you will need to know what protein treatments do and the best protein treatments for relaxed hair.
Here's everything that you need to know about caring for your relaxed hair.
Protein Treatments For Relaxed Hair
If you have relaxed hair or you're thinking about getting a treatment, know that keeping your hair healthy is essential. After your hair receives a relaxer, the protein bonds in your hair get broken down. The relaxer's chemicals remove the hair's protective layers to "break down" the curls. This leaves the hair exposed and prone to dryness and breakage.
This is where a protein treatment for relaxed hair is essential. The protein treatment assists in keeping curly or natural hair healthy—they restore the damage. The treatment also stops breakage and restores your hair's elasticity.
Your hair always needs protein to keep hair in its best shape. So, before you relax your hair, getting a treatment done will help your hair stand up to the harsh chemicals. But, if your hair is already relaxed, here's how you decide if you need one:
1. Your Hair has No Elasticity
Hair elasticity refers to how much your hair can move and return to its natural shape. Think rubber band—once it moved, you let it goo and it goes right back to its original form.
2. Your Hair Feels Stringy or Flat
If your hair feels stringy, chances are that it's dry. A protein treatment will help to restore your hair to fullness and life.
3. You Have High Porosity Hair
High porosity hair means that your strands soak up moisture easily. If this describes your hair, a protein treatment will help to keep your hair moisturized.
Best Protein Treatments for Relaxed Hair
1. TRESemmé Keratin Smooth Shine Serum
If your hair needs a reboot from a relaxer treatment, you might notice that it doesn't have a lot of shine. Use this spray by TRESemmé to help. The Smooth Shine Serum contains keratin and marula oil that calms frizz, detangles hair, and adds shine to each damaged strand.
2. The Good Stuff Complete Repair Balm
Banish dry hair at the source: the scalp. After a relaxer, use this balm in the shower. It's rich in oils— like coconut oil, which adds moisture to the hair without making it oily and weighed down. The balm-like texture makes your scalp feels rich with oils when massaged into the scalp. This also removed any product buildup lingering in your scalp and hair.
3. Suave Professionals Cream Detangler Spray
With relaxed hair, there are dry ends with tons of breakage. This is a great situation that forms knots and tangles. Instead of further ripping and breaking your hair, use this cream detangler spray first. Not only will the spray work through your hair, but it also revives your curls. 
Editor's Tip: Use a comb to work this through each section of your hair. This makes sure the product gets to each part so that no strand is left behind.
4. Suave Professionals Coconut Milk Infusion Intense Moisture Mask
Suave's Professionals Coconut Milk Infusion Intense Moisture Mask provides your hair with the needed TLC it needs after a relaxer treatment. Since your hair needs to rebuild the proteins that keep it healthy, this mask deeply nourishes the hair with coconut milk. Leave the mask on for three to five minutes to see salon-worthy results.
5. SheaMoisture Jamaican Black Castor Oil Strengthen & Restore Shampoo
If your hair craves moisture and repair, give this Black Castor Oil Strengthen & Restore Shampoo a chance. The shampoo is crafted for those who chemically treat their hair. The Jamaican Black Castor Oil helps to strengthen relaxed hair, and it also reduces the appearance of hair breakage. The shampoo contains peppermint oil to help stimulate the scalp for a rejuvenated feel.
6. SheaMoisture Jamaican Black Castor Oil Strengthen & Restore Conditioner
Like its shampoo counterpart, this conditioner strengthens and hydrates the hair. The conditioner moisturizes hair and leaves it with less shedding and breakage. The Shea Butter included in the conditioner smoothes the hair and nourishes kinky, curly, and wavy natural hair types.
7. Nexxus Humectress Moisture Restoring Masque
A deeply nourishing hair mask restores the much-needed vitamins and proteins in your relaxed hair. The Nexxus Humectress Moisture Restoring Masque works by adjoining elastin proteins to your hair. The mask also binds deep into each hair strand. The best part of the mask? It contains a Protein Complex that provided 24-hours of moisture to your dehydrated and brittle hair.
8. Suave Moroccan Infusion Styling Oil
If you still want to style your hair post relaxer treatment, add a protective styling oil to your hair care routine. The Moroccan oil hydrates the hair. Be sure to work it into the middle sections of your hair to the ends—avoid your roots so that they don't look overly greasy.
9. Nexxus Keraphix Damage Healing Hair Reconstructing Treatment
This reconstructing treatment is one of the best protein treatments for relaxed hair. The treatment replaces proteins and amino acids that get lost when the hair is chemically treated. Filled with a brand-specific protein fusion blend that contains a combo of keratin and black rice, your hair will feel and look revived in no time! The ingredient deeply repairs your hair internally, and you don't have to go to the salon for these results.
10. Suave Split End Rescue Split End Hair Serum
For more split end repair, apply this serum to your ends. The texture is light and non-sticky so that it doesn't weigh down your hair. A little bit of this product goes a long way, so use about two to three pumps and work it into your most damaged areas—down to the roots. The serum leaves the hair soft and with a subtle shine.
11. Nexxus Keraphix Damage Healing Shampoo
All chemically treated hair needs a healing shampoo. After all, cleansing your hair is just as important as using a treatment. The Nexxus Keraphix Damage Healing Shampoo is packed with proteins that travel deep into the fibers of your hair. This heals the hair and removes even the most severe signs of damage. Your hair will feel thoroughly cleansed and light after using the healing shampoo.
12. Nexxus Keraphix Damage Healing Conditioner
Like the Nexxus Keraphix Damage Healing Shampoo, the conditioner is also full of healing proteins that work to penetrate your hair for deep healing results. The conditioner treats the hair at the source of the most damage. Unlike most conditioners, you can cause this one on both dry and wet hair. Regardless of which you choose, you will receive rich moisturize that seeks to repair damaged hair.
Bottom Line
If you have relaxed hair, keeping it healthy or repairing the existing damage is easy with the best protein treatments. Besides a consistent hair care routine, adding more products to rebuild your hair is the best way to care for relaxed hair. Although it's another step in your hair care routine, a treatment will leave your hair feeling revitalized and healthy.
Prev Article
Next Article
Tutorial
Tutorial: How to Create a Pull Through Hair Crown
A not-so-basic looking hair crown to try. It's easy!
See article
All Things Hair on Instagram