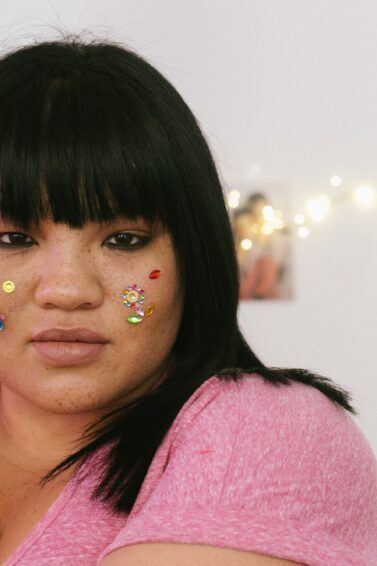 Relaxed Hair Health: How to Care for Relaxed Hair All Year Round
Your go-to guide to maintaining the health of your relaxed hair.
Processed hair has the ability to thrive and be nourished. But, that only happens when you have a great relaxed hair health regimen set in place. We love that feeling after a fresh relaxing process when our hair is as sleek as ever, when our fingers can effortlessly glide from the root-to-tip, and wrapping our hair at night only takes five minutes since our comb easily glides through our strands. Yes, that's great and all, but as you know, it doesn't last. However, there are a few steps that you can take to keep the health of your hair in check, and looking fab! Read on to discover some relaxed hair health tips to maintain and how to care for relaxed hair no matter the season or your lifestyle.
Relaxed Hair Health Tips for All Year Round
1. Protein Treatments
During the relaxing process, protein bonds in the hair shaft get broken down. Hair is made up of keratin, a protein your strands need. Replenish the keratin that's been compromised with a protein treatment once a month. However, too much protein can lead to breakage, so you'll need to find a happy medium. The best time to do your treatment is during your next wash day after relaxing the hair the previous week. After shampooing, apply the treatment all over your hair and let sit for about five to 15 minutes. Rinse and style as usual. Try Nexxus Humectress Moisture Restoring Masque to moisturize and add balance throughout your hair.
2. Deep Conditioning
Once a month, good. Once a week, even better! Maintain relaxed hair health by deep conditioning especially on your relaxer touch-up days. Treat your strands with Nexxus Keraphix Damage Healing Hair Reconstructing Treatment. If you want an even deeper condition, add heat. Place a shower cap on your head then use a heating cap or hooded dryer.
3. Only Relax When Needed
Make sure you're only relaxing your hair when you are due for a relaxing treatment, and not when you feel a little new growth at the roots—and certainly not because you want your roots to be sleek and laid-down. Ideally, you should only be relaxing your hair only once a month to practice good relaxed hair health.
4. Moisturize
You know how the floor is slippery when wet? Well, hate to break it to you, but your hair is also fragile when it's dry. Your hair shouldn't feel like straw when you brush it. If it does, you probably have dry hair. Say goodbye to breakage by adding a proper moisturizing routine.
Relaxed Hair Health Tips for Your Workout
1. Go for protective styling
Buns and braids are ideal styles for hitting the gym. Not only do they keep your hair out of your face, but they also keep the ends of your hair secure and away from rubbing against your sweaty skin, which can cause frizz. If you're wearing long braids, simply tuck them in like a bun. Once your hair is dry after your workout, you can remove the protective style and style your hair as usual. Or leave it as is, boxer-inspired braids are having a moment these days and bun hairstyles are classy and transitional.
2. Work out on wash day.
If preserving your straight strands throughout the week is your main priority, try hitting the gym on the day(s) you plan to wash your hair. This way you don't have to worry too much about sweating out your fresh perm. When it's time to wash, make sure you clarify with a shampoo to get the sweat and dirt trapped in your hair completely out. Try out Suave Sulfate-Free Cleansing Shampoo Shampoo and Moisturizing Curl Conditioner. The shampoo helps remove residue without stripping moisture, and the conditioner is oil-free and won't weigh your hair down.
3. Use dry shampoo.
Place your dry shampoo into your gym bag now. You really shouldn't be leaving home without it. Dry shampoo helps to revive your hair in between washes, and in your case, this is after an intense workout. After your workout, spritz dry shampoo at your roots and let your hair air dry. Dry shampoo, like Dove Detox+Purify Dry Shampoo will remove oil from your roots without leaving any visible residue on the hair. By the time you get home, you should be able to carry out your nightly maintenance routine whether it's wrapping your hair, pin curling or placing into a bun.
4. Wear a swim cap.
If your choice of cardio involves laps in a swimming pool, do your strands a favor and protect it from the chlorine and prevent it from getting wet by wearing a swim cap. The chlorine can be drying to relaxed hair, and dry hair leads to breakage if it isn't handled with care.
5. Switch up your workout routine.
Gotta' give it to you if you're truly dedicated to your gym membership. If you have no other options but to get your heart pumping on a daily basis, switch up your workout routine when you really need to save your hairstyle. Walking exercises are great and your body doesn't work up too much of a sweat. Do a 10-minute crunch session in the morning. Anything to keep your blood pumping without sacrificing your hairstyle.
Relaxed Hair Health: Hot Temp Hair Regimen
1. Humidity Resistance
One weather condition that we all despise is humidity no matter our hair type. Once humidity enters the hair shaft, we can basically say good-bye to our hairstyle. Switch up your products to help prevent frizz from happening to you. Try Suave Frizz Reducing Refresher Spray to keep the frizz away!
2. Try Protective Styling
Another way to combat frizz and protect your strands from the harsh UV rays is by wearing your hair in protective styles. There are so many fun hairstyles that you can try like French braids, donut buns, fishtail braids, and more. If your hair has been exposed to the sun for a prolonged amount of time, the UV rays can damage the cuticle. Be sure to find ways to prevent damage by changing up your hairstyles. Have fun with the vast selection of creative styles out there and give your strands a much-needed break at the same time.
3. Use Hair Accessories
Hats, scarves, and headbands are fun accessories to add to your everyday look. What's more, these hair accessories also serve as a major savior for your hair. Hats and scarves, help keep your hair protected from the sun. Headbands help absorb sweat that can leave your hairstyles feeling clammy and greasy at your roots. Chlorine can wreak havoc on chemically treated locks, opt for using a swimming cap to protect your strands. Post swim, wash your hair with a shampoo, condition your strands, then style as usual.
4. Don't Overwash
Bummer, we know—it's too hot to skip your head showers, not to mention you're sweating so much more and straighter hair is more of a grease trap. But just as you've been extra-careful when you washed your curls or that 'fro back in the day, relaxed hair needs that same love and attention too. Try to aim for every other day, and choose a nourishing wash and care system that protects against breakage as well. We love the fortifying formula of Suave Professionals Biotin Infusion Strengthening Shampoo and Conditioner, as they do a gentle (but thorough!) cleanse while helping reduce hair fall due to breakage by 95%.
5. Pre-Poo
Water swells up the hair shaft, which can lead to a fraying of the cuticle layer. Coating your hair in a moisturizing hair oil or primer before wetting it reduces this friction and helps keep your strands silkier. Products formulated to help shield hair from color leeching, such as TRESemmé Beauty-Full Volume Pre-Wash Conditioner, are also excellent in repelling water and locking in shine. This hair care practice is great for relaxed hair health.
6. Co-Wash
Co-washing, or "conditioner-only washing," entails washing hair with a cleansing conditioner and no shampoo. There's been a surge in this movement recently, as fans of the product claim it to be much gentler on your strands. Cleansing conditioners are not a 2-in-1 shampoo and do not lather, so be prepared for a noticeable "slip" on hair with every use (which can lead to buildup). It's a great shampoo alternative, or if you want a silkier look and feel on your relaxed hair.
7. Air-Dry Often
One of the best things about having straightened or relaxed hair is not having to deal with hot tools as much as you used to. Maximize this look's wash-and-wear benefits by simply blotting hair with a towel after you shower and letting nature run its course.
8. Invest in Heat Protectant
If and when you do need to heat-style (or at least before stepping out into the sun), a heat/UV protectant can help keep your relaxed hair health integrity intact. One that also guards against the damaging effects of heat styling like breakage and frizz, such as Dove Style+Care Smooth and Shine Heat Protection Spray, is a must-have in any hair arsenal.
Why You Should Add Regular Trims to Your Relaxed Hair Health Routine

1. Your garments may fray your hair.
If you have medium to long relaxed hair, you probably love wearing your hair down. There's nothing like a fresh wash and set, right? Here's something you probably don't know: While your hair is swaying from side to side with a healthy-looking bounce, the fabric from your clothing may be having a field day with your hair ends. To prevent this from happening again, opt for updo hairstyles or coat your hair with a serum to create a protective barrier from rough fabrics like wool.
2. You constantly use heat.
Listen up: Heat protectants are your friend. With chemically-treated hair, the misuse of heat styling tools can obviously do more harm than good to your relaxed hair health. Case in point: Overuse of flat irons, blowdryers, and curling irons without a protective barrier, strips the natural sebum from the hair which causes dryness, breakage, and you guessed it, split ends. To start fresh, nip those ends off!
3. You have visibly uneven or thinning hair ends.
You ever wondered why you head to the salon for a trim and end up leaving with a haircut? Let us explain. It's really nothing personal, your stylist isn't jealous of your hair growth. They see what you don't see—or, what you pretend to not see. You call it length, they see uneven and thin hair ends. The only way to get your hair back to its healthy-looking state is to cut it, evenly.
4. You want to avoid split ends.
If you don't want to deal with split ends in the first place, get regular trims. Schedule an appointment every 6-8 weeks. In between salon visits, make sure your hair is moisturized and protected from damage. Use a few pumps of  Suave Professionals Keratin Infusion Smoothing Hair Serum onto your hair after washing to keep your hair smooth while also preventing split ends.
5. You want to maintain a haircut.
Whether you're rocking a short cut or chic layers, regular trims are a great way to maintain relaxed hair health. There's nothing more unappealing than a hot new haircut with visibly damaged ends. Keep your look fresh and easy to style with healthy hair ends.
Prev Article
Next Article
Article
Hair Tips When Sleeping: 5 Hair Hacks for that Early-Morning Video Call
Snooze your way to sexy hair.
See article
All Things Hair on Instagram