What is Dry Shampoo and How Often Should You Use It?
Who doesn't love a mid-week refresher? Learn how dry shampoo can save your hairstyles.
You've probably heard of this product. Maybe you saw the girl in your gym locker room apply something that looked like a hair spray onto her hair–leaving with sweat-free looking locks (while yours gets tucked away into a greasy bun). Or, maybe you've tried it and ended up with a hair full of white spray, unsure of what you were doing but definitely interested in figuring it out. No worries, we're here to clear everything up to get you ready to try out one of our favorite products. What is dry shampoo? Read on to find out what it is and when you should be using it.
What is Dry Shampoo and Why Should You Use it?
1. Understand What Dry Shampoo Is
What is dry shampoo? And what's it used for? Dry shampoo is a substance that comes as a  powder or spray formula that works to cleanse the hair without the use of water. No matter the form, they serve the same purpose: To lightly cleanse the hair by absorbing oil. Once applied onto the hair, the dry shampoo sticks to the grime and oil residue on the hair's surface and soaks it up, making the hair clean as if you cleansed in the shower.
2. Know When to Use It
This product works really well post-workout, in-between salon visits or when hair is oily and greasy. Once the product is applied to the hair it soaks and absorbs oil residue from your scalp and hair, it doesn't take the place of an actual hair wash (which completely cleanses your hair), but can prolong the longevity until your next washing. It takes the place of washing hair daily. Aim to use a dry shampoo like Dove Detox & Purify Dry Shampoo at least once in-between your washes to maintain your hairstyle and keep oily strands under control.
3. Know How to Spray It
Like many of us, you may look at the can or bottle and immediately assume it works just like a hairspray. Spritzing all over, right? Not so fast, girl! Dry shampoo should be applied or sprayed at the roots of the hair. Hold the can or bottle at least eight to 12 inches away from the scalp—where hair is moist oily— and spray.
4. Work in Sections
For even distribution, lift the hair strands a section at a time and spray it underneath your hair. This will help to avoid being left with that annoying powder white residue on the surface of your hair. Allow it to sit for a couple of minutes.
5. Massage Your Locks
After a minute or two, massage the product throughout your hair. Massaging the product gives it the ability to work it absorbing magic on your oily roots and scalp. If you missed a spot, go ahead and spray some more, repeat the previous steps explained, and style as usual.
6. Brush Your Hair
After you massage your locks, brush your hair like you normally would. Style like normal and you're good to go.
Editor's note: Keep in mind that this product is only designed to be used on dry hair. It doesn't have the same effects on wet hair and really won't work.
Favorite Ways to Use This Product
1. Extend Your Blowout
To keep your blowout looking as fresh as the day you left the salon. A dry shampoo infused with Keratin, like Love Beauty and Planet Rosehip & Patchouli Extend Dry Shampoo can help extend its life leaving it smooth and manageable.
2. Give Your Color Life
Color-treated hair that is lackluster can benefit from this holy grail item. Suave Keratin Infusion Color Care Dry Shampoo is infused with Keralock Technology which refreshes hair and extends the look of your color.
Now you know what dry shampoo is and when to use it. Will you try any of these new opportunities?
Prev Article
Next Article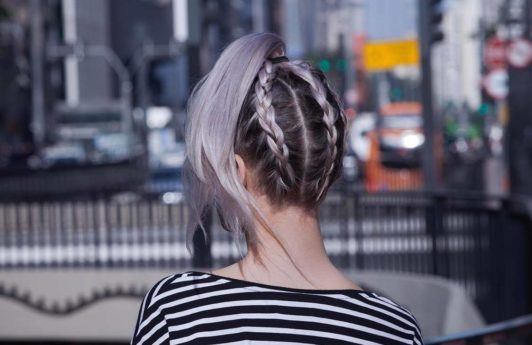 Gallery
8 Under Braid Hairstyles to Sass Up Your Week
Braids are an easy way to switch up your look. In fact, there are dozens of types of braids to try. Have you tried under braid hairstyles? Once you master under braid styles with our tutorial, you can create one or two under braids, and can even tailor your look for daytime or for a […]
See article
All Things Hair on Instagram