3 Ways to Maintain a Fitness Routine at Home
Don't let the quarantine stop your fitness routine!
We know that being stuck at home for the foreseeable future can be overwhelming and somewhat daunting. It's hard to know how to continue a normal routine and remember all of your daily goals you set pre-quarantine. We're here to tell you that it's okay if your life has been looking a little different these past few weeks, but there's always time to get back into your daily routine. One routine that immediately comes to mind is staying fit and healthy with a workout. Maintaining a fitness routine at home has become a must for those who workout.
Now more than ever, it's important to get that heart rate up and get your body moving to keep your mind and body sharp. It's difficult to know where to start if you're used to going to the gym or taking a boutique class, but we've got some ideas for your new fitness routine at home. Here are some tips to make it easier to get moving and stay fit.
How to Keep a Fitness Routine at Home
1. Try New Workouts Everyday
When it comes to your fitness routine at home, switching it up on the reg is key. It's important to keep things exciting and challenging your body to different types of movements. This is crucial to staying active and interested in the workout. One of the best ways to do this is to try out a high-intensity interval training (HIIT) workout. HIIT is all about short bursts (30 seconds-1 minute) of giving one exercise all you have and then taking a 30-second break in between movements.
There are so many of these types of HIIT workouts on YouTube and Instagram, all you have to do is search HIIT workouts and you're set. The best part? Some of these workouts only take 15 minutes and still give you a great fitness routine at home that will keep you on track to meet your goals. Try incorporating HIIT workouts, some yoga and maybe a run outside (if you can practice social distancing) into your weekly schedule.
2. Get "Ready" to Work Out
So now that you have the resources for your fitness routine at home, here comes the hard part: finding the motivation. It can be really easy to stay in your PJs all day and see no reason to work out—no shame! One way we find motivation is to wear a cute workout outfit that makes us want to get moving and, of course, we try out a fun updo to keep our hair out of the way and look good while we're moving! Whether it's a high ponytail or some fun box braids, try out whatever updo makes you feel on point.
Once your workout is complete, there's no need to wash your hair, since you're not going anywhere! This is a great opportunity to let your strands rest and simply soak up excess oil with some dry shampoo. We are currently loving Dove Care Between Washes Go Active Dry Shampoo for after a workout because it's designed to absorb excess sweat and oil after exercise.
Another great option is Love Beauty and Planet Radical Refresher Citrus Peel Uplifting Dry Shampoo if you're looking for a yummy smelling product to cover any post-workout smell.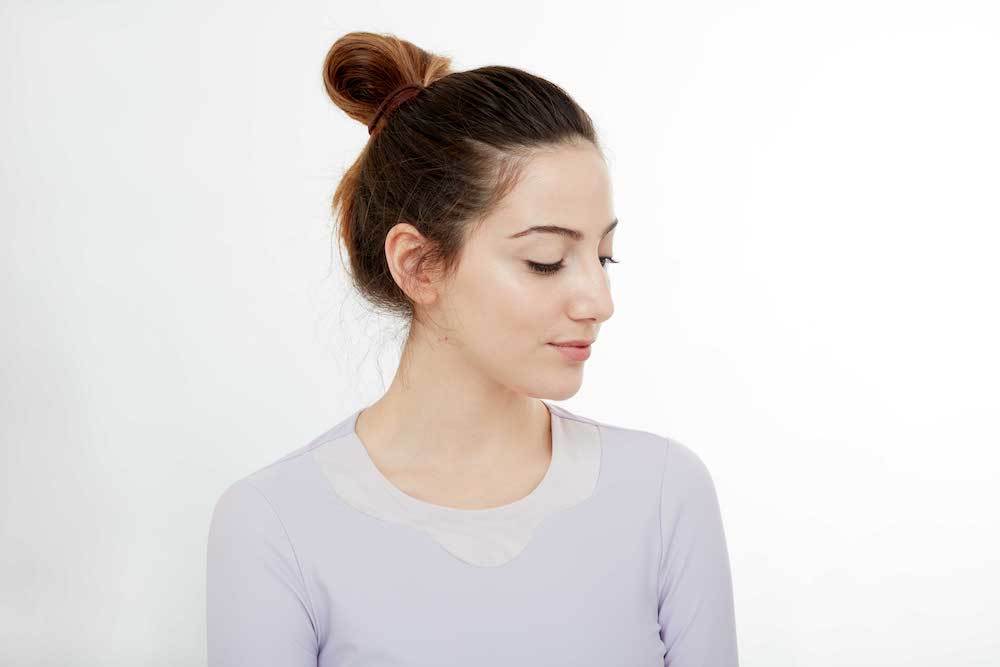 3. Be Creative with Makeshift Equipment
Contrary to many workout classes and Instagram fitness influencers, you can still get a great workout with just bodyweight movements. If you want to switch it up after a few similar workouts, incorporate some household items. Chairs are great for step-ups and using washcloths under your feet on hardwood floor will make lunges more challenging. Get creative with weights by finding heavier objects that you can safely lift up and down. Using a can of soup for upper body workouts as a makeshift weight is a great start. You can even fill a backpack with items to add weight on your back for squats or deadlifts. Don't be afraid to try something new for your fitness routine at home!
Prev Article
Next Article
Article
Scalp Routine: How a Simple Routine Can Help You Find Your Calm
Benefit from the calming effects of a consistent scalp care routine.
See article
All Things Hair on Instagram