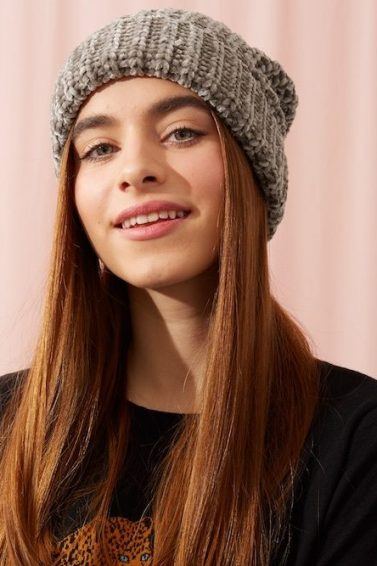 10 Winter Hair Care Tips to Score Healthy-Looking Hair
Your guide to busting those winter hair blues.
Winter is quickly approaching, but before you get excited about snuggling up during the chilly season, don't forget about caring for your hair. Whether you're cutting back on trips to the salon because it's way too cold outside or you're pulling hair up into ponytails and messy buns because it's too chilly and cumbersome to wash and dry your hair on a daily, here are some hair care tips sure to inspire you and save your hair this season:
Winter Hair Care Tips to Score Healthy-Looking Hair
We conducted a survey among our readers because we were curious if they change their hair care routine during the cold months, and we're showing the results throughout this post.
1. Save your edges.
These days, those baby strands around your forehead should be getting a whole lotta love. Every gal is looking for a way to define and style her awesome edges. In order to get your hairline to behave, though, you have to keep it in tip-top shape. To save your hairline this winter, opt for changing up your hairstyles or parts to something looser to prevent having so much tension on your forehead and temples.
First, we asked our readers which is their winter-must product, and not surprisingly the answer is conditioner.
2. Learn how to dust.
No, not your TV screen, or sweeping up those dust mites in the corner of your living room! We're talking about your ends. Dry winter air can wreak havoc on the tips of your hair, as these are the oldest parts of your strands and therefore the most prone to dryness and damage. Not to mention the abuse of heat styling tools, which can do just as much damage, causing your ends to eventually split! In between hair appointments, use hair scissors to snip off split ends using the search-and-destroy method employed in hair dusting. It's easy! Just a few minutes in the mirror searching for those branch-like ends, and snip!
3. Protect hair from heat.
Heat protection should be a vital step in your hairstyling routine. If you know you're going to use the blow-dryer pretty often this season, try using TRESemmé Thermal Creations Blow Dry Balm to guard hair against heat. When hair is wet, it's vulnerable to heat damage. Create resilience with a heat protectant to prevent frying your strands.
4. Or lay off the heat altogether.
If you can do without a blowout or two (or three and more), give your hair a vacation from heat. Air-dry your hair and try out a new hairstyle. How about that undone look from NYFW?
5. Care for your hair color.
We know winter is all about getting cozy with a hot cup of tea and doing just about nothing. But hair color doesn't remain vibrant on its own. How about this: While you're lounging around on the weekend, treat your hair to a hair mask tailored to your needs. We love Nexxus Color Assure Long-Lasting Vibrancy Deep Moisture Masque for ensuring our color stays fresh and moisturized!
6. Wear a hat.
The elements can wreak major havoc on unprotected hair stripping it of moisture and causing dreaded dryness. Make sure to wear a hat that won't cause friction on your strands – we recommend one that's silk or satin lined.
Of course, our readers change their routine in the winter and that's the right decision. Our hair needs more TLC when it's cold outside!
7. Get hat hair under control.
As much as we try to avoid wearing hats during the winter to avoid that dreaded bend in your strands, let's be real: When it feels like it's below zero, those beanies are top priority! To prevent getting unruly, staticky strands, use a styling spray, like TRESemme Between Washes Style Refresh All-in-1 Styling Spray after removing your winter topper. Not only does it provide lightweight nourishment to dry locks, but it also tames flyaways and keeps frizz at bay.
8. Invest in a humidifier.
Your hair and your throat will thank you! Strong indoor heating results in major dryness that affects both your respiratory system and your hair. Humidifiers will help rehydrate your hair and keep your strands looking and feeling great.
9. Avoid super hot showers.
While a hot shower might sound like heaven on a cold winter day, you'll want to avoid washing your hair with steaming hot water as it strips your hair and makes it brittle. Instead, opt for lukewarm water when you wash!
10. Don't leave the house with wet strands.
Besides being a recipe for getting sick, leaving the house with wet strands can cause your hair to freeze and break! Invest in a good quality blow dryer and make sure to dry your hair before you go out in the cold weather.
That's it! Keep these 10 hair care tips in mind to ensure that your hair stays healthy this winter.
Prev Article
Next Article
Article
These Hair Care Products are a Must for that Long Flight
Make long flights an opportunity for a mini spa day for your strands
See article
All Things Hair on Instagram