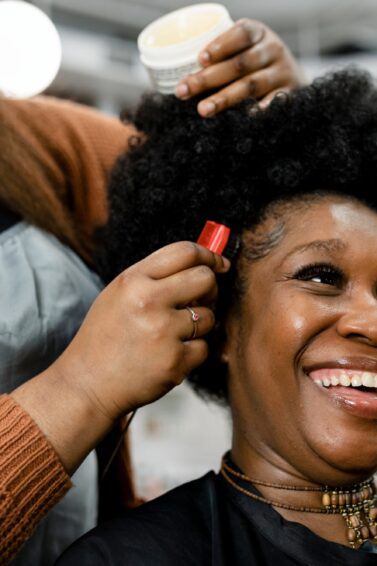 Keratin Treatment 101: Getting the Basics Down
Get sleek hair with a keratin treatment.
If you're in search of the keratin treatment basics, you've come to the right place. In our quest to achieve perfectly straight, frizz-free locks, we're always on the hunt for new treatment ideas and techniques. One popular restorative treatment that has been getting rave reviews is the keratin hair treatment. Using a protein naturally found in your tresses. A keratin treatment is a semi-permanent solution that promises to create smoother and straighter hair for a long period of time.
Sounds intriguing, right? Read on to learn all about keratin treatment basics and about how this treatment can work for you.
Best Keratin Treatment Guide
Hair keratin treatments work to repair gnarly split ends by restoring the protein bonds in your hair, causing them to reform, seal and straighten. Keratin smoothing treatment offers a high-shine finish to your strands in just one session.
What is a keratin treatment?
A professional keratin treatment is a semi-permanent solution that is applied to your hair. This chemical process eliminates frizz by smoothing and adding shine to your hair. Plus, it's a worthwhile investment if you want sleek, straight strands every day because the treatment can last up to six months. It's possible you may have heard of the treatment before; it can also be called a Brazillian blowout. Either of these keratin protein treatment options offer these beneficial results.
The Step by Step Keratin Treatment Process
Step 1: Wash and dry.
Generally, the process starts with your hair being washed and blow-dried.
Step 2: Apply the treatment.
The keratin hair treatment is applied to your hair section-by-section and is then combed throughout your hair. During this stage, the strong formula works to nourish the hair as it repairs damage from within as it strengthens the bonds in your hair.
Step 3: Let the magic work.
The formula sits for around 90 minutes or so, depending on the length of your tresses.
Step 4: Seal it in.
The treatment is then sealed with heat via a blow-dryer or flat iron. This creates a humidity-resistant and frizz-free finish.
Step 5: Don't wash your hair!
After you have the formula applied, you'll have to let it sit untouched for 72 hours. This means no wetting or even placing behind the ears (extreme, we know). You will then have to use sodium and sulfate-free shampoo to help maintain the treatment. In general, you can expect your treatment to last for around two to two and a half months.
Who should try keratin treatments?
Since these treatment options create straight and smooth locks, those with curly or frizzy hair are the ideal candidates. Because keratin treatment makes hair straight, you can use keratin treatments for curly hair and keratin treatments for wavy hair. They may be beneficial for someone who constantly blow-dries or flat irons their hair who is also looking to cut down on styling time. They are also ideal for someone seeking a solution for healthy hair, as keratin treatments can make locks healthier and feel more nourished over time. This treatment also works on a variety of hair textures, including natural hair types and those who have color-treated or chemically processed hair.
Who Can't Use Keratin Treatments
Pregnant women should speak to their doctors if they ever want to try these treatments, as some formulations may have higher concentrations of chemicals than others. Also, keep in mind that the treatment is not ideal for those with straight hair, fine hair, or hair that is way too bleached or over-processed.
At-Home Versions
While you won't get the exact same results as you would in the salon, there are at-home keratin options you can use to get a similar, temporary effect between washes. These keratin treatment products offer similar results to a professional keratin treatment.
If you're not ready to take the leap and invest in and commit to a full keratin treatment, you may want to consider an at-home alternative like a keratin shampoo and keratin deep conditioner. We suggest using TRESemmé Keratin Repair Shampoo and Conditioner to get a feel for the effects of keratin and to benefit from the protein before deciding if you're ready to really commit.
Alternatively, consider Suave Keratin Infusion Smoothing Shampoo and Conditioner. This duo is designed to give you the same smooth and easy-to-manage effect of a keratin treatment. Plus, you can use the coordinating Suave Professionals Keratin Infusion Smoothing Hair Serum to further achieve sleek strands.
As far as keratin treatment basics go, these products are essential in finding a DIY route for keratin treatments. If you do decide to try out one of these styles, be sure to snap a picture and tag us over @AllThingsHairUS!
Prev Article
Next Article
Article
These Hair Care Products are a Must for that Long Flight
Make long flights an opportunity for a mini spa day for your strands
See article
All Things Hair on Instagram