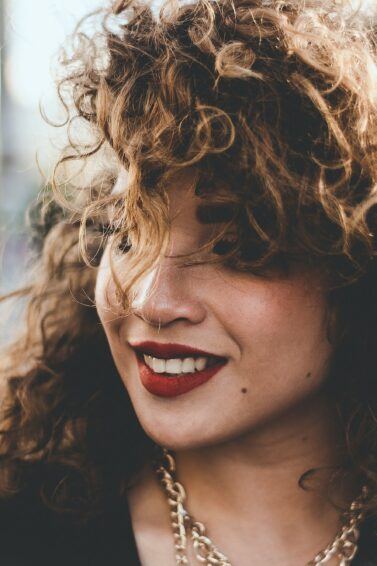 Keratin Treatments for Curly Hair: Everything You Need to Know
The right keratin treatment for curly hair can change the way you approach your curls. 
Are you curious about the options for keratin treatments for curly hair? When it comes to relaxing or straightening curly hair, the process can be a complete drag and take hours on your own. That's why many women turn to keratin smoothing treatments, a magical chemical process that helps relax hair into a straighter pattern. You've probably heard of this popular treatment, but doing your research before committing to a treatment like this is key. We've got all the info you need to decide if keratin treatment for curly hair is the right move for you.
Keep scrolling to learn everything you need to know about keratin treatments for curly hair.
Here's everything you need to know about the best keratin treatments: 
What is a keratin treatment?
A keratin treatment is a chemical process that works to smooth and relax hair, giving it a shiny and manageable finish by injecting keratin protein into the hair follicle. This treatment became popular in South America, particularly in Brazil, when a mortician noticed that the formaldehyde used to embalm bodies was also straightening the hair of the deceased. Today, most stylists don't use formaldehyde for the treatment but have found similar chemicals that relax hair and are safer to use.
The keratin conditioning treatment process is appealing because they make hair more manageable and easy to style, plus they can last up to 3-5 months. Many people with curly hair choose this route to relax their hair and give it a different texture.
Is keratin good for hair?
A keratin treatment is a great option for those with curly hair who want a more relaxed and shiny finish. Depending on your exact hair type and how curly your strands are, there is no promise of a completely straight finish, but it will be much more relaxed and shiny! It's also a great way to tame frizz and flyaways, which can be very common for curly hair types. One concern for Keratin treatments on curly hair is doing it incorrectly, which can lead to irreversible heat damage and a change in natural curl pattern.
How do keratin treatments work?
Okay, let's break it down: genetics takes center stage regarding your curl pattern. Genetics are responsible for determining the number of disulfide bonds that live within your hair proteins. Disulfide bonds occur when two sulfides (sulfur atoms) collide and, in turn, create a spiral in your hair. Curly hair has TONS of these disulfide bonds—hence a head full of bouncy, sometimes pesky, curls.
In order to disrupt the curl pattern to create straight hair, a process of breaking down the disulfide bonds must be used.
When using keratin treatments, your hair will go through three stages: relaxing, neutralizing, and conditioning. The relaxing stage changes the way proteins merge through alkalis, which causes hair to break down enough to lose the curl without permanently damaging the actual strands. Next comes the neutralizing stage restores the pH balance in order for hair to not be quite so delicate after going through controlled damage. Lastly, the hair is conditioned to add just the right amount of TLC to your newly non-curly hair. Who knew hair could be so scientific?
What is the best keratin treatment for curly hair?
Not sure what keratin-based curly hair treatment you should use on your strands? Learn about the various treatments below to determine which is best for you.
Brazilian Blowout
This is likely the keratin treatment for curly hair that you're most familiar with. The Brazilian treatment is known for maintaining volume while eliminating frizz and smoothing hair. It's a simple hour-long process where the treatment is blow-dried in and then sealed with a flat iron. The best part? You're looking at three to six months of gorgeous hair as a result of one hour with your stylist. #Sold
Japanese Keratin Treatment
Think Brazilian plus Japanese hair straightening. This three to four-hour treatment is brought to life by first applying the traditional Brazilian treatment, followed by completely sealing the cuticle with the Japanese treatment. The pro of this treatment is that you can essentially kiss your heat styling tools goodbye because your hair will dry pin straight after every wash.
Keratin Express
This is the Keratin treatment for curly hair that works with your waves. In as little as four to five minutes, your hair will be frizz-free and ready to take on the humidity without so much as a flyaway for four to six weeks.
Soft Keratin Treatment
For those of you who want to embrace your curly beauty, look no further than this two-month keratin treatment solution. Re-cap your curl spray and put away your styling crèmes because this keratin treatment for curly hair is known for keeping your curls intact while transforming them into frizz-free spirals without so much as a pump of mousse.
Our Favorite Best Keratin Hair Products
When it comes to maintaining a keratin treatment, it's important to use products that will help with longevity and mimic what the initial treatment achieved. These keratin treatment products are also great for those who aren't ready for an actual keratin treatment but want some of the benefits that using keratin protein offers. Here are some of our favorite keratin hair treatment products:
Shampoo and Conditioner
If you're looking for an in-shower keratin shampoo product, we highly recommend a cleansing duo like TRESemmé Keratin Repair Shampoo and Conditioner. One of the best keratin shampoos and keratin deep conditioners, this duo will help you maintain your silky-smooth finish using smart Bond Plex™ technology.
Shampoo and Conditioner for Colored Hair
If you have colored hair, you're still able to get the benefits of keratin. TRESemmé Keratin Smooth Color Shampoo and Conditioner. We love how this set uses Moroccan Argan oil to help tame frizz and smooth strands while
Serum
Continue your keratin hair care with a natural keratin-intense serum. TRESemmé Keratin Smooth Shine Serum will create a shiny and frizz-free base for you to style your hair. You can apply it on damp or dry hair, and it will work to smooth your strands.
Dry Shampoo
Didn't think a dry shampoo could also give you the keratin you crave? Suave Professionals Keratin Infusion Dry Shampoo works to absorb oils for in-between washes, but it also provides a smooth and soft finish.
Heat Protectant
Suave Professionals Keratin Infusion Heat Defense Leave-In Conditioner is one of our favorite heat protectants because it acts as a protectant and a smoothing treatment in one. Protect your strands from heat damage and get a similar keratin treatment finish that's shiny and frizz-free.
Leave-In Treatment
TRESemmé Pro Collection Keratin Repair Leave-In Treatment is the perfect keratin leave-in treatment if your hair needs extra TLC. We love this treatment because it helps repair split ends and makes your hair extremely healthy looking. After shampooing and conditioning your hair, spray this product throughout your damp strands and then comb through and style as usual.
Keratin Treatment Before and After
Before and after a keratin treatment won't be the same for everyone; it depends on your level of curl and how many chemicals your stylist uses. You can work this out with your stylist before beginning! After your treatment, your hair will be smoother and shinier, and your curls will definitely be looser, potentially even very straight!
Are keratin treatments safe for natural hair?
Keratin treatments are safe for natural hair! It's important to know what chemicals your stylist is using for all hair types. Formaldehyde (a common chemical for the treatment) contains carcinogens, which can lead to cancer. It's also important to make sure you go to a professional to ensure the chemicals are applied to the hair properly and left on for an appropriate amount of time. If not, it can lead to more damage.
Will this treatment work for men's curly hair?
Yes! Keratin treatments work on men's curly hair, too! Men's hair is no different than women's, and the follicle can receive the same injection of keratin protein. It will also have the same effects and become smoother and less frizzy. This option is perfect for anyone who is interested in smoother and sleeker hair.
Now that you've got the full scoop on keratin treatments and how they work for curly hair types, the rest is up to you! Make sure you ask your stylist plenty of questions before making it official, and take aftercare seriously to make your relaxed hair last as long as possible.
Are you thinking about trying a treatment? Be sure to share the results with us over @AllThingsHairUS!
Prev Article
Next Article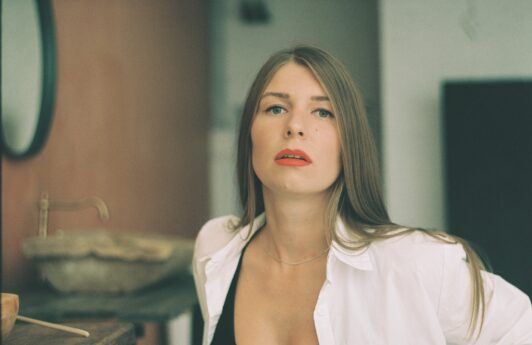 Article
3 Life-Changing Hair Straightening Treatment for Your Hair Type
Not all hair types need to undergo the same process.
See article
All Things Hair on Instagram