The Ultimate Halloween Beard Guide: Costumes for All Scruff Lengths
Get ready to huff, and puff, and blow your competition out of the water!
Welcome, bearded buddies! Halloween's right around the corner. This is definitely one of the best times to showcase that glorious beard you've been growing out all year. Last time, we showed some love to clean-shaven costume ideas like the '90s curtained hairstyle (for all you boyband fans out there) and even some vintage hairstyles for all you officers and gentlemen. Since there are literally dozens of Halloween getups that include facial hair as an archetypal part of the look, we're here to edit down the best-bearded looks to recreate at the last minute.
Whether you're all about a low-key mustached look or are going full wizard beard, scroll down for a list of the most recognizable bearded looks you can have fun with this Halloween. From a minuscule mustache to a full-length beard, there's something for all scruff lengths. Read on to check out some of our favorite Halloween beard styles.
---
---
SHORT
---
---
1. Pirate Halloween Beard
So you were finally able to grow in that skinny, Guy Fawkes mustache and are reluctant to shave it off for the 31st. We don't blame you! Work that mustache's angular, slightly devilish vibe with a pirate costume that goes perfectly with that scruff. Dressing like the original bad boys of the open sea takes a lot of swag, so be ready to learn how to maybe do some dreadlocks and get comfy with eyeliner. We love the hair-taming yet workable hold of SheaMoisture Men Maracuja Oil & Shea Butter Beard Balm for grooming and styling that fuzz.
2. Baron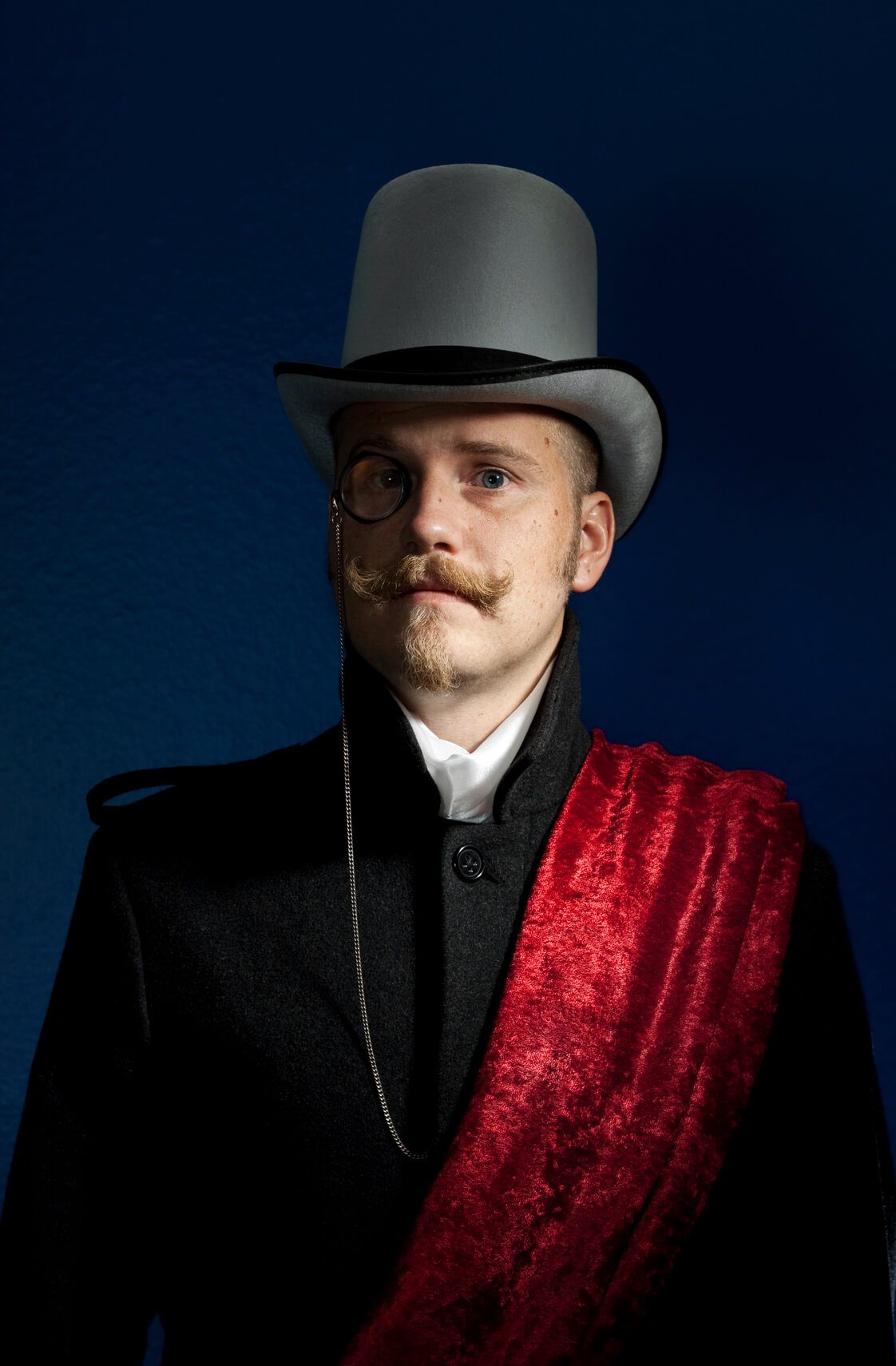 Workaround a handlebar that's starting to grow into a goatee. This look is all about being the most well-groomed of the pack. Looks that mimic feudal lords and aristocrats, such as old-school barons, are super-easy to recreate. All you have to do is scour neighborhood thrift shops for a top hat and a monocle, slap on a dark suit and get ready to #boss. Plus, bonus points if you have a matching hunting costume with your pet corgi or beagle!
---
---
MEDIUM
---
---
3. Vintage Brooklyn Barber
What do you get if you have a proper handlebar-goatee ratio, a white shirt, and some hair gel? Go as a badass Coney Island barber or barkeep, that's what! Roll up those sleeves, tie on a white apron at your waist, and go liberal with that hair pomade or gel such as the TRESemmé Extra Hold Hair Gel. After that, swizzle some on the edges of your mustache for an authentic, hipster-before-it-was-hip feel.
4. Steampunk Captain
It may not hold a candle to modern technology, but the industrial, steam-powered era brought about a lot of awesome ensembles, that's for sure. If you've got a flair for the dramatic—and perhaps some spare goggles, a mustache, small beard, and some tall boots lying around—why not dress up as a steampunk captain of your own airborne blimp or hot-air balloon? This unique look is sure to win any costume contest and the respect of your entire fleet—er, squad.
5. '80s Burnout
You know those small-town TV uncles that, even as grown men, never seem to move out of their mom's or brother's basements? It might be a depressing real-life thought, but the trope sure makes for an entertaining and super fun-to-wear costume. The ingredients for this Halloween beard look: A mullet, polyester errthang, and a mustache-sideburn-goatee variation. Next, pair with some tight bootcut pants, an overinflated ego and a six-pack permanently attached to one hand.
---
---
LONG
---
---
6. Mad Scientist
A full beard is great at hiding identities—especially if you're a former Chemistry teacher-turned-kingpin on the run from the DEA. Paired with nothing more than a bowler's hat, some glasses, and a geeky green tee, you'll surely be the most comfortably-dressed of all your buddies this Halloween.
7. Retro Athlete Halloween Beard
Never—nevar!—underestimate the power of ping-pong — especially during Halloween, when ironic retro costumes absolutely rule. If you've got a full, glorious Halloween beard, go full throttle with your facial hair and play on its old-school references with some saturated sports attire. Just add a terry-cloth headband and wristbands to whatever tracksuits you've already got lying around. Now you're ready to bring home that prize. Most importantly, a beard oil, like SheaMoisture Men Maracuja & Shea Oils Beard Conditioning Oil, keeps away any chafing that may salt your game.
8. Wizard
No one has the right to the coveted wizard yeard (or year-long beard) more than a guy with a full-on long Halloween beard. If you're lucky enough to be sporting long, thick, naturally-grown-out facial hair then this costume is for you. All you have to do is layer on those cloaks, get the next tree branch you see and waddle away spouting zen mysticisms and keys to life. However, just make sure you don't scare away the trick-or-treaters! A scarf tied on your head is a great substitute in case you can't find any pointy hats to finish up your ensemble.
BONUS: 1970s News Anchor
Don't have much scruff, or going for just a 'stache? Dress up your upper lip fuzz to mimic that of a retro newscaster's. All you have to do is trim that mustache to hit the top of your lip and part in the middle, handlebar-style. Keep it on the fluffier side, however—the era's TV reporters all had that hairy machismo virility going on for them. Make sure to pair with tons of brown corduroy, and your bearded looks are all set!
Prev Article
Next Article
Tutorial
Tutorial: How to Style a Quiff for Work
Just a tad more put-together than your weekend tousled look.
See article
All Things Hair on Instagram